« Tears of a Bitter Deranged Clown: Rosie O'Donnell Melts Down Over Tax Reform Passage in Serial-Killerish Way
|
Main
|
The Morning Report 12/5/17 »
December 04, 2017
Monday Overnight Open Thread (12/4/17)
(Simple but eloquent, just like The ONT)
*****
Quotes of The Day
Quote I

"When a gay politician gets married, it usually indicates that he is highly ambitious, and desires to put himself in a position to move up the power ladder," Joy Reid

Black and liberal And SJW.

Quote II

If a white grade-school teacher pretends to be black, that's totally racist and you should denounce him as such immediately;

But if a white professor pretends to be Harvard Law School's "first woman of color" and you point it out, then you're the racist. Mark Steyn
Quote III

Wherever the standard of freedom and independence has been or shall be unfurled, there will America's heart, her benedictions and her prayers be. But she goes not abroad in search of monsters to destroy. She is the well-wisher to the freedom and independence of all. She is the champion and vindicator only of her own. John Adams -POTUS
*****
I remember growing up reading the daily paper. The first editorial columns I recall were Evans & Novak and Art Buchwald
An interesting column from 1973 written by Buchwald.
*****
Greg Guttfeld has a new bitch. And that bitch is Patton Oswalt.
*****

The ONT isn't sure if this will help with TV repairs or your Christmas lights.
*****

They voted for panacea. They wanted utopia. Guess what? They didn't find it and are moving to do so.

The rent steals so much of your paycheck, you might have to move back in with your parents, and half your life is spent staring at the rear end of the car in front of you.

You'd like to think it will get better, but when? All around you, young and old alike are saying goodbye to California.

"Best thing I could have done," said retiree Michael J. Van Essen, who was paying $1,160 for a one-bedroom apartment in Silver Lake until a year and a half ago. Then he bought a house with a creek behind it for $165,000 in Mason City, Iowa, and now pays $500 a month less on his mortgage than he did on his rent in Los Angeles.
*****
'In moral philosophy it is useful, I believe, to think about plants.' The words were spoken to an audience of American philosophers in 1989. The speaker was trying to provoke a reaction, but this might have gone unnoticed. After all, Philippa Foot – nearly 70 by then – didn't look like a heretic.

There is a clue in her reference to moral philosophy. For at least the past 200 years, people who have thought about these things have suspected – or hoped – that morality is the one thing that sets human beings apart from nature (or should one say, the rest of nature?). Nature is the realm of laws, stern and unbreakable, and morality that of freedom. Nature is how things are, morality how they ought to be. If there's anything to these points of contrast, then what seems at first a mere platitude sounds more like an absurdity. We are not, in the relevant sense, part of nature – not even of that part of nature that consists in our fellow animals, and, still less, plants
*****
Of course we want people to die?
******

Blonde vs. Brunette. What about the ginger? Gingers have have genetic super powers.

Dr. Augustin Galopin first recorded this fact in his 1886 book Le Parfum de la Femme.
He reportedly detected that red-headed women emit a particularly distinct aroma — that of ambergris, an earthy and sensual scent. (Later, science proved that skin mantle — a thin, acidic film on our skin's surface — is actually more acidic in redheads, causing perfume to more quickly evaporate when applied and potentially emitting a unique smell of its own.)
This and other fascinating facts fill the new tome The Big Redhead Book (St. Martins), out now, by scarlet-haired writer Erin La Rosa.
*****

What the hell is a Bioetchicist? Well if it is Tauriq Moosa, you're talking about one sick dude.

Opponents of human exceptionalism work overtime to normalize or OK behavior long deemed inherently wrong.

The latest example appears in Big Think, where a South African bioethicist named Tauriq Moosa argues that copulating with the dead should not be considered immoral.

Moosa correctly believes that respecting the dead flows from believing that human beings have unique value. But as a denier of human exceptionalism, he doesn't, and hence, does not think that necrophilia should be considered a big deal. From, "Is Necrophilia Wrong?"

There is a difference between frigidity and room temperature Doc.
*****
The ONT Musical Interlude
Pretend that it is Two-fer Tuesday.
***
*****
My, how the times have changed. Values then and now.

Over the Thanksgiving weekend, I caught two police drama TV shows in which a young woman called her man her "partner" rather than her boyfriend. I thought, "That's weird. Why didn't she simply say her boyfriend?" Then, it dawned on me. Homosexuals use the term "partner". So now Hollywood producers are telling us we must be what they call "gender inclusive". We must abandon traditional gender distinctive terms like boyfriend and girlfriend. This is yet another under-the-radar baby-step by Leftists to implement the LGBT agenda.

Some of you are saying, Lloyd, you're nuts, seeing conspiracy everywhere. Okay, explain to me why boyfriends are now called partners. Public schools are banning teachers from addressing students as boys and girls. Leftists claim saying boys and girls is bigoted, ignorant, insensitive and mean.
*****

Another reason the NFL is losing viewership? Thuggery? If you or I did this on the job I think we would be facing criminal charges.
The funny thing, sports thugs have been charged before.NHL players criminally charged.

Is the NFL shortchanging charitable organizations?

San Francisco 49er Eric Reid shocked even the left-leaning Slate when he told the magazine in an interview Saturday that the NFL intends to use money slated for breast cancer charities and the "Salute to Service" veterans fund to pay for a seven-year, $89 million "social justice" program designed to placate protesting players.

The NFL announced the nearly-$100 million initiative last week as a way of "settling" with a coalition of players who have been kneeling during the national anthem since the start of the season — a group led by now-former 49er, out-of-work second string quarterback Colin Kaepernick, Philadelphia Eagles' Malcolm Jenkins and retired NFLer Anquan Boldin
*****

You. Had. One. Job. To. Do. Silverdome implosion fails.

That didn't happen. An executive from the demolition company, Adamo Group, told the Detroit Free Press wiring failed on the demolition attempt. The structure could still fall, but they're not sure when.

"Unless we find something in the next few hours researching the wiring, we will take it down mechanically," Cuppetilli said. "We haven't found the wire yet. It's going to take us a while to research it all."
*****
What does The ONT say on a regular basis? We are always looking out for you. Tonight is no different. Ice can be bad but whiskey is good.

Given microbes' ubiquitous nature, we expect a certain amount of bacteria to be in our kitchens, on items like raw chicken and filthy dish sponges. But, there are certain places where finding bacteria is a bit more surprising, for example, in the freezer.

However, a new paper challenges that assumption and may make us pause before we add that "clink" to our drink.

A research group surveyed ice cubes that are made and sold for human consumption, also known as "food grade ice," for the presence of bacteria. In the United States alone, there are 5,600,000 bags of ice sold each year. This ice is used either for direct usage, such as to be placed into drinks, or indirect usage, such as to keep fish cold in the seafood counter of the grocery store.
*****

Preparation can be punished. As Miss Fat finds out.
*****

We've talked about National Reciprocity, How does it really work?
*****
The madness continues, first it was too hot. Now, it's too cold!

Just a few miles from Lake Erie, farmer Mike Jordan takes me on a walk through his vineyard. On a work utility vehicle we move through the rows of vines bursting with purple and high yellow grapes.

…

Recent years have been some of the warmest globally. And Jordan remembers well the extreme weather that hit his farm.

"We've had a very mild winter [in 2016] so almost everything survived," he said. "But prior to that, the winter of 2014 to 2015, were extremely cold temperatures that I've never seen before.

"And it killed a lot of vineyards that in the past we've had success with. We've done a lot of replanting and we try to choose varieties that can survive the winter."
*****

Hillary Clinton Will Never Be Convicted President of the United States of America.
*****
The West Virginia woman who last month pulled a knife on two men and announced, "Somebody is going to eat my pussy or I'm going to cut your fucking throat," pleaded guilty today to assault and was sentenced to 90 days in jail
*****
Modern medicine, it still pleasantly surprises us. Tonight's Feel Good Story of The Day.
*****
Tonight's ONT has been brought to you by Welcome Mats.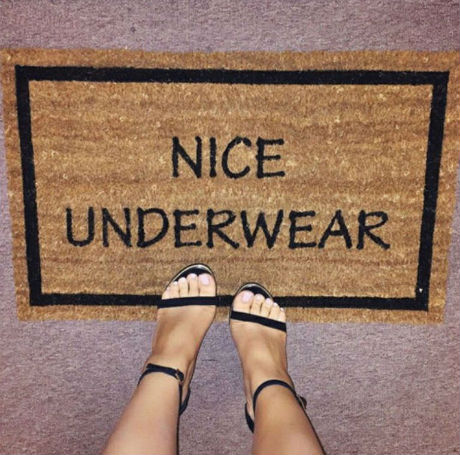 Notice: Posted with permission by AceCorp, LLC. Where we know Dasher and Dancer, Prancer and Vixen, Comet and Cupid, Donner and Blitzen.
Weekly commenter stats for week of 12-3-2017
Top 10 commenters:
1 [570 comments] 'Insomniac - Nobody in Particular' [80.02 posts/day]
2 [470 comments] 'Deplorable Jay Guevara
3 [368 comments] 'Grump928(C)'
4 [351 comments] 'J.J. Sefton'
5 [342 comments] 'garrett'
6 [341 comments] 'rickb223'
7 [315 comments] 'Miklos Molnar'
8 [298 comments] 'Steve and Cold Bear'
9 [297 comments] 'logprof'
10 [289 comments] 'Lizzy'
Top 10 sockpuppeteers:
1 [263 names] 'Miklos Molnar' [36.92 unique names/day]
2 [58 names] 'John Marston'
3 [55 names] 'The Political Hat'
4 [52 names] 'Under Fire'
5 [50 names] 'Buzzsaw90'
6 [49 names] 'Hands Solo'
7 [47 names] 'texcat'
8 [40 names] 'Count de Monet'
9 [39 names] 'Steve and Cold Bear'
[39 names] 'Semi-engaged Scroller'

posted by Misanthropic Humanitarian at
10:07 PM
|
Access Comments