« Tuesday Overnight Open Thread (11/28/17) Woot-Woot Edition!!
|
Main
|
Mid-Morning Open Thread »
November 29, 2017
The Morning Report 11/29/17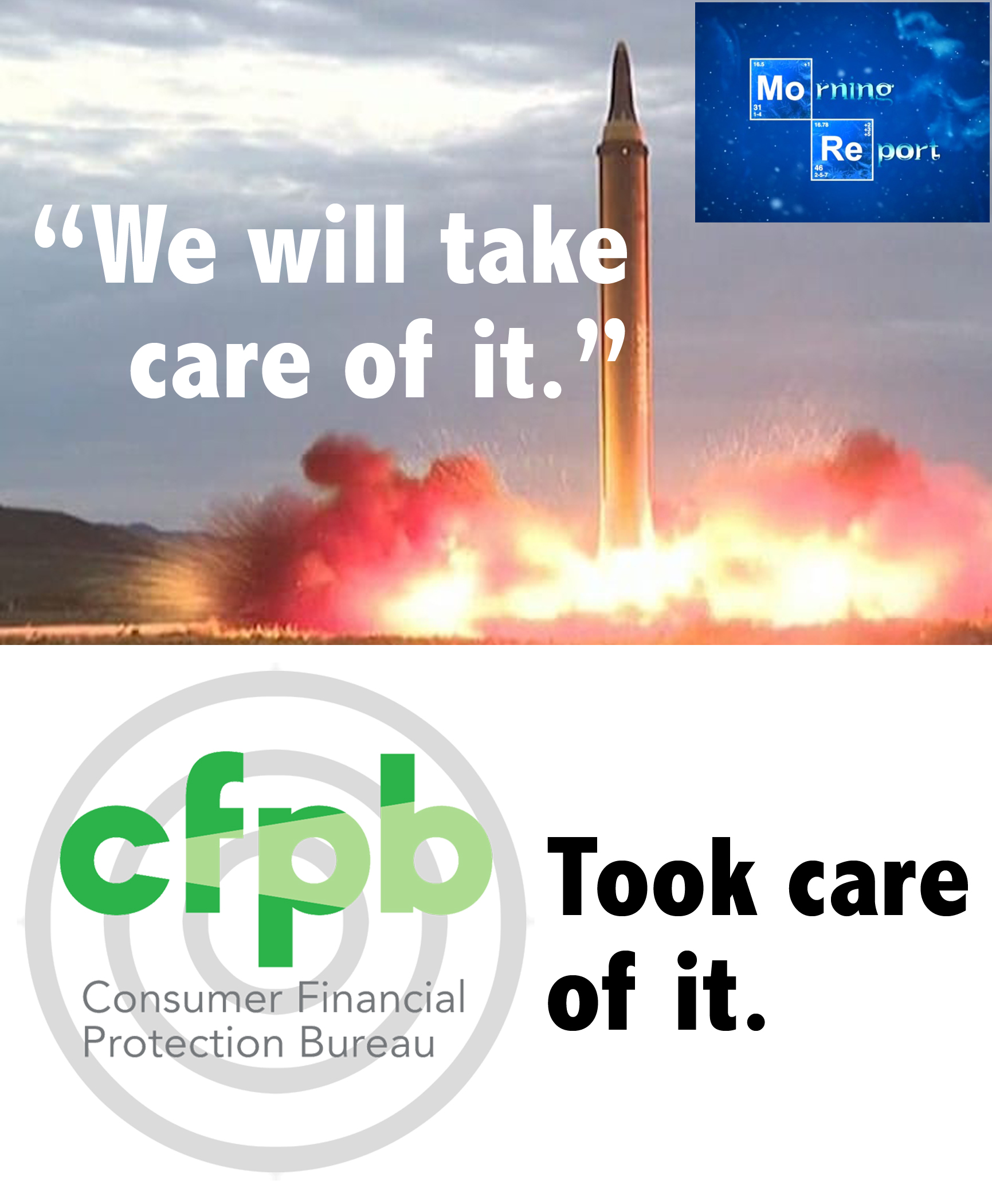 Good morning kids. Hump day is here and since Bob from the NSA has been paid off by Pixy, we're back up and running again. The big news is that Whoa, Fat! has launched another ICBM that is reportedly now able to hit anywhere in the continental US. The President's reaction has been muted but the war of words and/or Tweets has only limited effectiveness. The only response I can see is a military one since the next move for the NorKs is to launch another missile with a nuke warhead on it and detonate it in the Sea of Japan (or elsewhere).
Back here in the target area, the big news is that PDT and the American people scored a YUUGE win with a judge ruling in favor of the President, allowing for the installation of Mick Mulvaney to chair the CFPB. Of note, the judge is a Trump appointee (and this is a key reason why we voted for him) and Mulvaney who is a fiscal conservative is already gumming up the works of the crooks, hacks and commies by announcing a hiring and regulatory freeze. Rush has a great take on the CFPB; it's not just a way for Leftists to have a permanent mechanism to sabotage any attempt to roll back the Leviathan, but it's yet another money-laundering/bank shakedown scheme to take our money and fund Leftist causes and organizations. In my own words, "KILL IT."
The Senate tax plan, warts and all, has cleared the committee and is heading for a floor vote. Corker and Johnson are actually on board to vote yes but the perpetually dying John McStain is still a big question mark. In related news, PDT is totally pwn3ing the MFM and the Dems (BIRM) vis a vis the Pocahontas statement and by preemptively attacking Chuck Schemer and Nancy Palsi about the government shutdown, and since they have refused to negotiate with him he has shifted the blame to their side. And by the way, see the link about consumer confidence. Winning. Still not tired of it.
Anyway, links from around the world, across the nation and up your street. Have a better one and remain blessed.


posted by at
07:17 AM
|
Access Comments