« Well, Isn't This Special? Unv. of PA No Longer Police, Judge, Jury And Executioner
|
Main
|
Weekend Gun Thread »
November 26, 2017
Food Thread: It's Time For Festive Food: Boeuf Haché Avec Du Fromage Entre Le Pain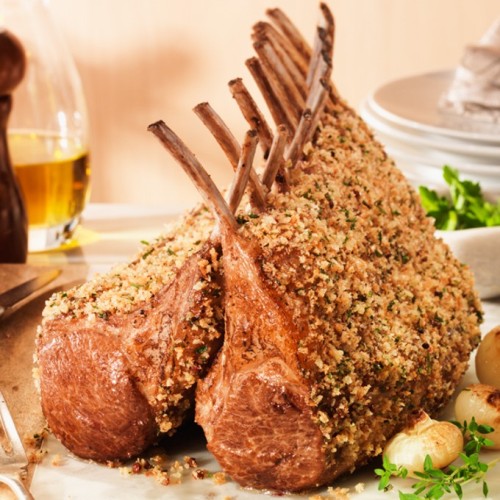 As much as we all enjoy the Thanksgiving feast, there isn't anything particularly festive about the foods traditionally served. There are other holidays that demand more refined and special food, Christmas, and maybe New Year's Eve being the top of the pyramid of fancy stuff most people don't cook the rest of the year.
One of my favorites is rack of lamb, but not Frenched the way it is in the photo above. Frenching belongs in the bedroom, not the kitchen. Anyone who purposefully strips away the fatty, unctuous, lovely meat from the ribs is a horrible person and deserves to burn in the fires of hell.
We are lucky in this part of the Northeast to have access to some pretty damned spectacular scallops, and a simple dish of pan seared sea scallops is about as elegant and decadent a meal as I can imagine. It also works well as an appetizer, and because sea scallops are pretty pricey, just a couple per person is fine. Remember to use lots of butter though...
Desserts too can be wonderful additions to a festive occasion. My favorite is a molten chocolate cake, and I have a recipe that I have refined somewhat over the years. And it's pretty easy too, but don't tell your guests that.
But I haven't touched on hundreds of wonderful Christmas dishes that have arrived here from Italy and France and Germany and Spain and Eastern Europe and.....
So what is your blowout dish or dishes for a big night?
******
We will never speak of this again, but....I made biscuits for Thanksgiving dinner from a recipe that swore up and down that they could be made ahead, frozen, then baked to perfection straight out of the freezer.
It was a dirty filthy stinking bolshevik lie.
I threw them away. Although one of our guests, someone who now has a lifetime invitation, ate an entire biscuit and lied through his teeth, saying that it wasn't bad.
Now THAT is a guest!

******
When I was a lowly freshman there was a PhD student living in my student housing. His name was Doug Whitman (now retired from academia), and he was getting his PhD in Entomology. One of his pet projects was the use of insect protein to replace conventional sources of human food. He used to host something he called "Bug Snack," and it was everything you could imagine.
Finland Bakery Makes Bread from Crushed Crickets

"It offers consumers with a good protein source and also gives them an easy way to familiarize themselves with insect-based food," Juhani Sibakov, head of innovation at Fazer Bakeries, told Reuters.
This is all very interesting, but it begs the question: Do we need to familiarize ourselves with insect protein? Because the issue of malnutrition and under-nutrition in the world has nothing to do with supply, and everything to do with politics and logistics.
******
On Smith Island, Crab Is Everything. But It Might Not Be for Much Longer. What happens when no one's around to catch Maryland's prized blue crab?
There are standing orders for restaurants and markets, and if you're not on the list of repeat buyers, you'll have to wait for a waterman to have a flush day to pick up any extra.

That's the rub, though -- there aren't a lot of watermen anymore. The crab population is abundant. It's the human one doing the labor that is diminishing.
Blue crab is quintessentially American, I while I am confident that the free market will discover a way to supply the demand, a part of me is saddened by the possible demise of a lovely part of Americana. Of course I can romanticize it from afar...I don't have to bust my ass in a difficult and dangerous job.
******
I have made this drink, and enough of the salted caramel to pour over ice cream. I love it when a recipe leaves you with something yummy to be used at a later date!
Grand Salted Caramel Old Fashioned
******
Food and cooking tips, real Maraschino cherries, Perfectly marbled prime NY strips, good biscuits (not the crap I made for Thanksgiving) and other goodies with impressive girth:
cbd dot aoshq at gmail dot com

posted by CBD at
04:00 PM
|
Access Comments