« Weekend Gun Thread
|
Main
|
Lena Dunham: Life...You Know...Okay? I Can't Even...it Like, Comes at You Fast...Does That Make Sense? (MJ) »
November 19, 2017
Food Thread: To Bake, Or Not To Bake; That Is The Question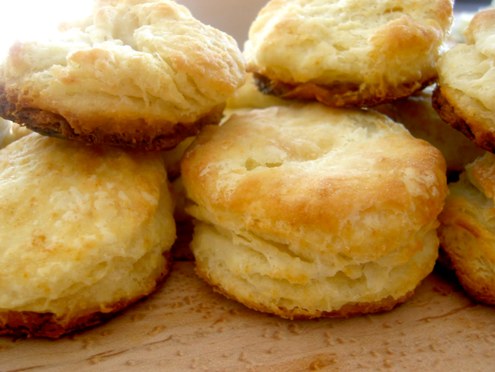 Biscuits or rolls or baguettes or big crusty loaves or....
I usually say, "screw it" about mid-afternoon on Thanksgiving, and never bother to bake rolls. Yes, I am a bad man. I have been told by a commenter who should know that serving yeast rolls on Thanksgiving is in the bible! But rolls and biscuits are best right out of the oven, and I am sick of the kitchen at exactly the time I should be making the rolls!. And I have yet to find a dinner roll that was good the next day, although I am not a professional baker by any stretch of the imagination, so don't take my word for it.
It's certainly a lot easier to buy or bake a couple of good loaves of bread, or buy a few baguettes (baking them is a pain in the ass!). But the aroma of freshly baked bread is hard to beat, so I am contemplating either dinner rolls or simple buttermilk biscuits.
******
For the Moron Cookbook, commenter "JT" submitted sort of a long-form Thanksgiving plan, complete with shopping lists! it's a bit too long for the cookbook, but perfect for the Food Thread.
I have linked to a PDF,
so take a look...it's fun to read and see how other people do it.
My favorite meal is my father's Thanksgiving. The recipe is an amalgam of various twists and turns that he has added over the years. Several years back, I spent a Thanksgiving watching and writing down everything he did. I think this is a recipe that even aficionados can appreciate but it is truly meant for the moron who wants to host their first Thanksgiving but feels overwhelmed by the notion of doing so.
******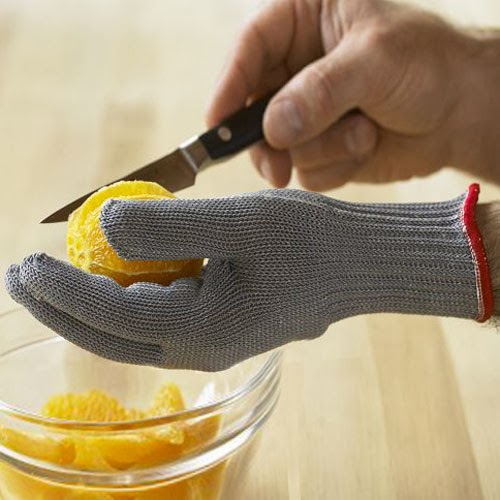 I have finally gotten to the point on my very shallow knife-skills learning curve that I don't hit an artery every few months. I am actually quite proud of that!
But....I have a highly developed skill that compensates; I am fantastic at burning myself! last week I made some granola, and while taking the sheet pan out of the oven one corner of it bounced off my bicep. How this happened I have no idea. It makes no sense. It is an awkward motion, but somehow I managed. I now have a fine burn in an oddly regular pattern, and it shows no sign of going away anytime soon.
But all is not lost. Last night I seared some steaks in a cast-iron pan that I had preheated in a hot oven. I am happy to announce that I did not grab the handle of the pan with my bare hand!
By the way, has anyone used those cutting gloves? I have seen them in oyster houses and the occasional butcher shop, but how about for home use?

******
Crescent-Wrapped Cranberry and Brie
Yes. It is good. Trust me on this one. I am no fan of cranberry sauce, but if I must eat cranberries to complete the idyllic Thanksgiving scene in your head, then I will cheerfully eat this.
******
Anybody ever use leftover stuffing to make waffles? I may have mentioned it in the past, but if not, give it a shot. I usually mix in an egg to keep everything together. It's damned good eating, and really easy.
******
Yes yes, we have already established that I am an iconoclast, so you shouldn't be surprised that I am not going to make mashed potatoes, but rather an interesting dish from one of the few NYT food writers I pay any attention to.
Melissa Clark writes straightforward recipes
that are almost always worth making at least once. I'll get back to you next week about this one.
Mashed Potato Casserole
INGREDIENTS


14 tablespoons unsalted butter, softened, and more for the pan

6 pounds Yukon Gold potatoes, peeled and cut into chunks

2 tablespoons plus 1 teaspoon kosher salt

1 ½ cups sour cream

1 teaspoon black pepper

6 tablespoons finely chopped chives

2/3 cup bread crumbs

2/3 cup grated Parmigiano-Reggiano cheese
PREPARATION
Lightly grease a 9-inch-by-13-inch baking pan.
In a large pot, bring the potatoes, 4 quarts water and 2 tablespoons salt to a boil. Boil potatoes until fork tender, about 20 minutes. Drain.
Mash potatoes with 10 tablespoons butter, sour cream, 1 teaspoon salt, and pepper. Mash in the chives. Taste and adjust seasoning, if necessary. Spread potatoes into the prepared pan. Cover and refrigerate for up to three days.
In a small bowl, combine the remaining 4 tablespoons butter, bread crumbs and cheese. Mix together until it forms coarse crumbs. Crumbs can be refrigerated for three days.
Heat the oven to 400 degrees. Sprinkle crumbs over the top of the potato casserole and bake until golden and crisp, 30 to 40 minutes.

******
Food and cooking tips, real Maraschino cherries, Perfectly marbled prime NY strips, fresh Morels and other goodies with impressive girth:
cbd dot aoshq at gmail dot com

posted by CBD at
04:00 PM
|
Access Comments