«
|
Main
|
The Mealy Mouth NFL »
November 12, 2017
Food Thread: Rock-Hard...Rock-Hard...Rock-Hard...Rotten. The Travails Of An Avocado Lover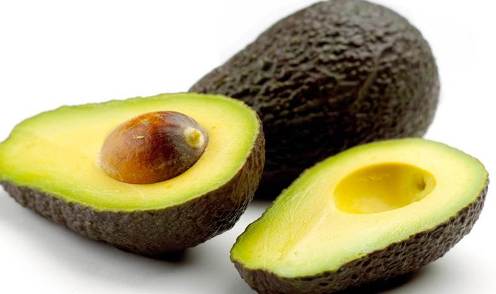 I am not a big fan of fruit, unless it is mixed with sugar and baked in a nice fatty crust. Even then, unlike much of The Horde, who live and die by pie, I can go for months without a thought of an apple pie or, for that matter, an apple. And stone fruits are sort of gross, unless they are great quality, which doesn't happen very often or for long. Okay...I will admit to a weakness for blueberry pie, and I recently had a couple of blueberry crumbles from a bakery in Vermont that were spectacularly good. And a good raspberry scone is a fine thing too.
What was my point?
Anyway, avocados are a conspicuous exception to my disdain for most fruits, which is maddening because they vary wildly in quality and price and availability. Oh yes...it's a fruit. Specifically a berry with a single seed.
By the way, for the purposes of this discussion, I am referring to the typical "Mexican" avocado, not that weird mutant Florida avocado that shows up in stores occasionally. I have tried those, and they are a pale and disappointing imitation of the real thing, and all right-thinking people should shun them!
The problem is that avocados ripen only after they are picked, so they arrive at most stores in a condition that can most easily be described as "a baseball." So any last-minute inspiration for dinner that requires the services of an avocado, unless as a counterweight, is going to be an exercise in futility. I usually wander past the avocado enclosure whenever I am in a market, in the usually forlorn hope that there is a perfect, large ripe avocado sitting in the pile. It almost never happens, and when it does, it's usually at the most expensive point in the season.
I don't know about other parts of the country, but damn, they are expensive around here! $2-$3/avocado is the norm now, but that is up sharply from just a few years ago.
And that's not the worst part! I will buy an avocado with a plan for tuna tartare or a great guacamole or whatever, and the damned thing will transition seamlessly from baseball to mushy, rotten mess, with nothing in between. And I am careful to avoid the avocados with thumb prints in them or without stems or other signs of rough handling, but it still seems like a crap shoot. I am not willing to do what restaurants do, which is to buy by the case so there is always a supply of avocados in varying stages of ripeness. I'm nuts, but I'm not that nuts.
******
Here's a really strange recipe with weird ingredients and combinations that I would love to try!
Courtesy of Artisanal'ette....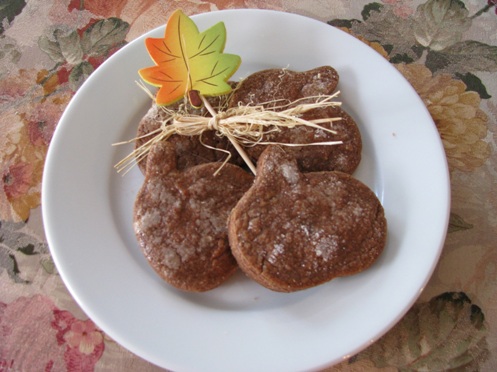 On a whim I bought some raw pumpkin and sunflower seeds (in bulk) because they were on display at my local supermarket and I thought, well, this must be the time of year that they are harvested, right? I have no idea, and it was probably covered on a Garden Thread ( help, KT! )

Regardless, I decided to try to find a dessert recipe for our weekend treat using one or the other, or both seeds. I found a fairly quick and easy recipe in my Bon Appetit Desserts cookbook, 2010 edition, for the pumpkin seeds. The recipe, ]Mexican Chocolate and Pepita Shortbread Stars, was a delicious melt-in-your-mouth cookie. Velvety luxury. Not a hard shortbread, but mine came out light and fluffy, heavenly.

I opted for a pumpkin-shaped cookie cutter versus a star. You toast and grind the cooled pumpkin seeds (which I toasted quickly stovetop in a pan), and it is your choice on how fine you want to grind the seeds. The recipe says "coarse", but I ground mine almost flour-like, so that the flavor and texture were consistent throughout (I do that a lot with my chocolate chip cookies too, grinding, instead of chopping my pecans or walnuts, and mixing them into the cookie dough like flour. Becomes more like a Pecan Sandie with chocolate chips that way.)

These cookies are probably finicky if you don't allow the butter to be at true room temperature, so be sure to give it the time it needs. You could use larger sugar crystals, but I sprinkled with the finer ones and coated them completely.
Mexican Chocolate and Pepita Shortbread Stars
Green hulled pumpkin seeds are also known as pepitas. They are popular in Central American, Mexican, and southwestern cuisines. They stand up well to cooking and give a crunchy texture and subtle, nutty flavor to all sorts of dishes, including these lovely shortbread stars. You can find pumpkin seeds at many supermarkets and at natural foods stores and Latin markets.
Makes about 1 1/ 2 dozen.
INGREDIENTS
3/ 4 cup shelled unsalted pepitas, toasted
4 ounces bittersweet or semisweet chocolate, chopped
1 cup ( 2 sticks ) unsalted butter, room temperature
1/ 2 cup plus 2 tablespoons sugar
3/ 4 teaspoon ground cinnamon
1/ 4 teaspoon salt
2 1/ 4 cups unbleached all purpose flour
1 large egg white, lightly whisked
PREPARATION
Preheat oven to 325F. Grind pumpkin seeds in coffee grinder or processor until coarsely ground.
Stir chocolate in top of double boiler set over simmering water until melted and smooth. Transfer chocolate to large bowl. Cool slightly.
Add butter, 1/2 cup sugar, ground cinnamon and salt to melted chocolate. Using electric mixer, beat until well blended. Add flour and ground pumpkin seeds and stir until just blended.
Roll out dough on floured surface to 1/ 2-inch thickness. Using 3-inch star-shape cookie cutter dipped into flour, cut out cookies. Transfer cookies to heavy ungreased rimmed baking sheets, spacing 1 inch apart. Reroll dough scraps; cut out additional cookies and place on baking sheets. Brush cookies with egg white; sprinkle with remaining 2 tablespoons sugar.
Bake cookies until just firm to touch, about 18 minutes. Cool 5 minutes on baking sheets. Transfer to rack and cool completely.
DO AHEAD: Cookies can be made 2 days ahead. Store in airtight container at room temperature.
******
******
From commenter SkinnerVic, with his take on Thanksgiving.
I take Sundays off from the electronic world figuring I work on them the other six. While I lurk mostly, I'm late responding to your call on what I'm eating. With Thanksgiving coming up soon, your reference to that broth is mirroring my work today. I have a hungry clan of my own on Turkey Day, and this will be no exception. I'm usually a wet brining guy, but I wanted to venture off the reservation this year, lest not making the experimentation on the actual day.

This year, I'm pulling a couple different levers with dry brining, citrus compound butter and use of the Pit Barrel Cooker. We did a "dry" run today with a single whole chicken, and the whole experiment was a raging success. When the eldest son actually admits to liking the chicken, you know you've hit a winner. So this is how I did it:

Basic Flavors well done is the mantra. I went with a simple Kosher Salt and Lemon Peppercorn (from Trader Joe's) in an overnight dry brining. I figure people are a bit light with usual recommendations of ¾ tsp salt per pound of meat – you can venture up to a shy teaspoon without injury for Turkey. I did a both inside and outside salt coverage of the carcass, with Lemon Peppercorn cracked on a reasonable basis; nothing crazy. I left it for 15 hours but figure a 10-15 pound bird will require closer to 48 hours of seasoned refrigerator love.

The Pit Barrel Cooker (PBC) was the Father's Day / Birthday / Anniversary gift from The Boss. She's been enjoying my addition to the cooking arsenal for the past few months. There are a couple videos on Turkey cooking in the PBC, with the one from Ballistic being closest to what I came up with on the Citrus Compound. People like getting too stupid with Triple-Sec, extraneous spices, etc. The goal is a simple compound butter with roughly 1 tsp of Lemon, Lime, and Blood Orange zest per stick of butter and it worked well. The only addition was a touch of heat – chili powder, cayenne or the like in the compound is to taste but I keep it minimal to have the citrus come through. The use of light flavor wood chips, like Apple rather than Pecan, seemed a better pairing.

Couple notes on it working extra fine: The dry brining seems to hold the juices better than a wet brine, but also the butter too. I took some extra care not to pierce the skin, sewing up the top onto the hanging hook no less. With it hanging drumstick down, the butter will run down from where it has been compacted between the skin and the breast. I made the mistake of hitting the instant read thermometer later from the side only to have it upon removal act like someone pulled the oil plug from a small block Chevy. Still ended up very moist and flavorful. Total time from prep to after rest carve – two hours.
We ended up with a bird that hit all metrics: Moist, flavorful, with some aromatic elements of the apple smoke and citrus. Nothing overwhelming like with the boring standard Sage, Rosemary, Thyme, etc. People "going foodie" isn't welcome with the crowd I serve, so this hits the spot.
He is spot-on about the salt. I wonder whether the tendency to under-salt is based, at least in part, on the use of iodized salt, which is denser than what many people nowadays use, Kosher salt. And of course part of it is the reflexive and unjustified fear that too much salt will immediately cause high blood pressure in all of your guests.
And simplicity of flavor is really important too. So many recipes call for herbs and spices that combine into a mess of flavors.

******
I'm sure I have posted this before, but it's a great appetizer for your Thanksgiving guests while they slurp down the Margaritas and bourbon before dinner. It is an easy recipe, although it does take some time. Caramelizing onions always takes longer than the recipes say.
Caramelized Onion Toasts
1 stick (4oz) of unsalted butter
3 big Vidalia or yellow onions, sliced
4 anchovy halves, chopped
3 teaspoons chopped fresh thyme leaves
Kosher salt and freshly ground black pepper
1 baguette
Extra-virgin olive oil
Shaved Parmigiano-Reggiano
Heat ½ stick of butter in a large skillet over medium heat. Add the onions, chopped anchovies, thyme, salt and pepper and cook until the onions are golden brown, about 20-30 minutes, but it could take longer. Be careful not to burn the onions. If necessary, turn the heat down. The onions will eventually caramelize at the lower temperature; it will just take longer.
Preheat the oven to 400 degrees F.
Meanwhile, holding the knife parallel to the cutting board, shave off the rounded top and bottom of the baguette with a serrated knife so that it lies flat. Don't cut too much; just enough so that the baguette doesn't roll around. Then cut the baguette in half lengthwise and then each long slice into 3 equal pieces to make 6 slices of bread so that it fits easily on the baking sheet. Melt the remaining butter and brush both sides of the bread.
When the onions are cooked, put the bread slices on a baking sheet and spread with the onions. Drizzle with olive oil, but not too much; there is plenty of fat in this dish!. Place in the oven and bake until the bread is crispy, about 10-15 minutes. Sprinkle with Parmigiano-Reggiano shavings. Cut into pieces on the diagonal and serve hot.
******
Food and cooking tips, great sourdough baguettes, spare bottles of Oban Scotch Whisky, fresh Morels and other goodies with impressive girth:
cbd dot aoshq at gmail dot com
&topic=world_news">

posted by CBD at
04:00 PM
|
Access Comments