« Randomly Generated ONT
|
Main
|
Mid-Morning Open Thread »
November 10, 2017
The Morning Report 11/10/17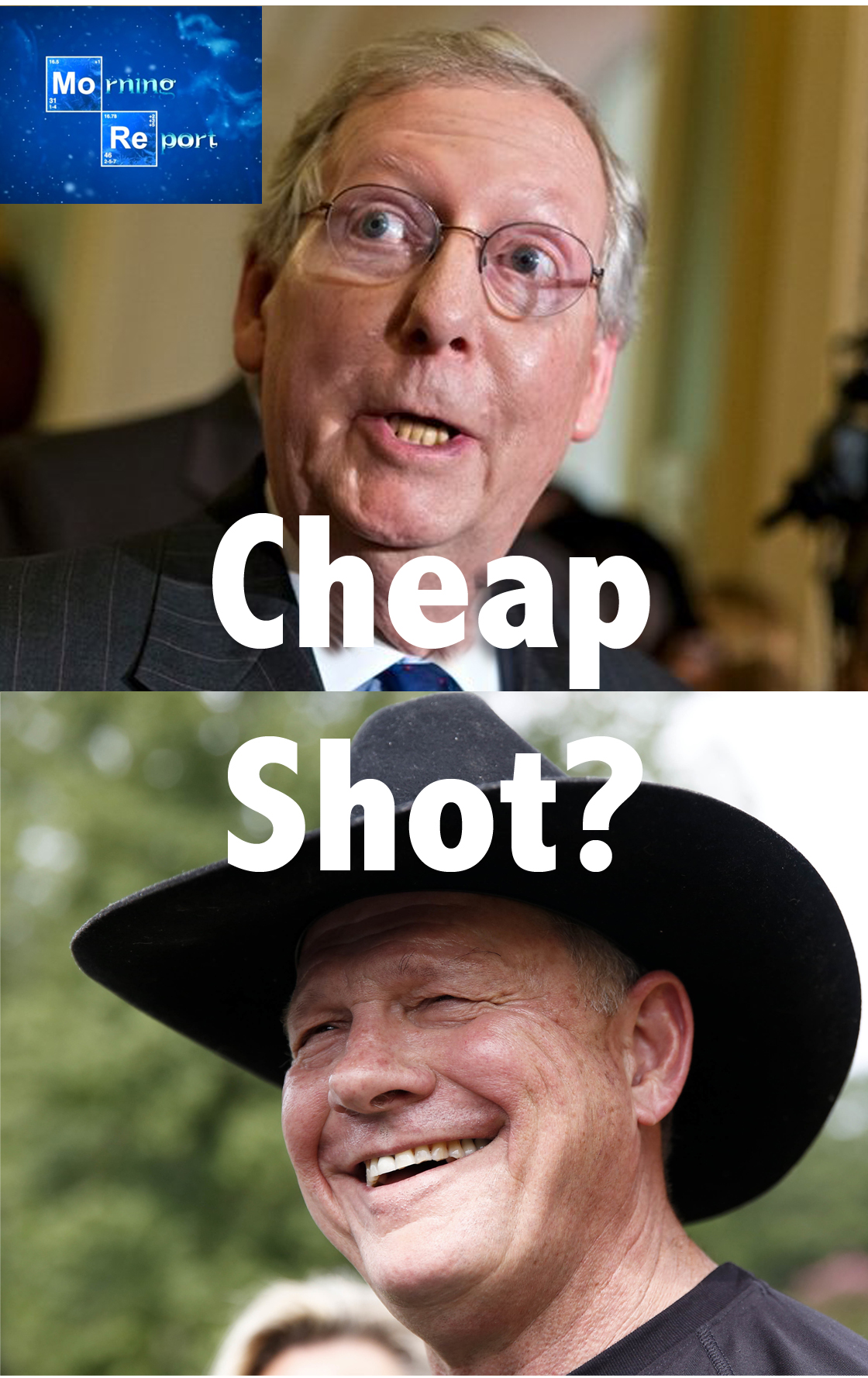 Good morning kids. The weekend is here and with it the cold slap in the face of yesterday's accusations against Roy Moore. I probably reflect the sentiments of most if not all of you in the Horde in that my initial reaction was to call this an abject, unmitigated smear to derail Moore's candidacy and throw a gimme seat to the Democrats. I still feel this way, and in fact, considering the absolutely disgraceful reaction from the GOP, I would not be at all surprised if it is they who were behind this. I'm looking at the be-goitered, flabby face of Mitch McConnell. The GOP pumped millions into that race to install Establishment lackey Luther Strange and he was rejected. In any case, what I'm trying to say is 12 hours later, it would be hypocritical of me to discard the accusations outright considering my feelings about Harvey Weinstein, Kevin Spacey, Bill Clinton, etc. etc. I have linked to a fine essay up top from D.C. McAllister at PJ Media, and here's a pull quote:
While I want to hold all people to account for their crimes, I do not want to become so blinded by my own fear and lust for vengeance that I stop seeing the humanity in others and the rights they have as citizens of this great nation. To allow accusation, allegation, rumor, and innuendo to rip people from their jobs and drive them from the circles of respectable society is to allow for mobs to rule with torches and pitchforks.

I am particularly concerned by this increasing cascade of accusations leveled against men in positions of power, because it is set against a backdrop of political hostility and cultural animus toward men in general. Again, this is not a defense of the guilty or even a criticism of those who want to take steps to bring the guilty to account - legally. But we must realize that how we are going about it is uncivilized and threatens to rip apart the fabric of trust that is essential in holding the civil society together.
Unlike the GOP, the MFM, Dems and others, who it's safe to say couldn't give two shits about the alleged victims but are more interested in derailing Moore for political gain, guilty or innocent, I will stand by Roy Moore until it is absolutely proven beyond any doubt that he is guilty of a crime or of behavior that would have obviated my support at the outset of his candidacy. Sadly, as the shabby Dick Gephardt would say, it's not about guilt or innocence, it's all about the seriousness of the charge. So guilty or innocent, odds are Moore may be sunk. That stinks to high heaven and I hope he can overcome what is now a cheap, desperate smear.
Moving along, the other top stories include the President's Asia trip where he is scoring points with the Chi-Coms on a host of issues, yet standing firm on American interests. I'm very wary of Xi Jinping and his motivation is for Chinese domination of the globe within 30 years. But for now, thankfully we have a president that is not going to bend over and allow them to run roughshod over our strategic interests in the region, unlike you-know-who.
Under the radar, we have a potential war brewing in the Middle East and surprisingly Israel is not one of the parties involved, at least not openly. The Saudis have ordered their citizens out of Lebanon and are calling for Israel-like sanctions against Iran. Hold onto your biryani and stay tuned...
Meanwhile, the GOP tax plan has been released and to no one's surprise it offers very little in the way of real reform although it does give John McStain a golden opportunity to stab us in the back politically and vote "no" on it. Winning! Well, the GOP is going to die, probably after 2018 by all indications. On the one hand, that is a good thing. On the other hand, it means allowing the Democrats to control the Legislative branch going forward. All that said, next year's midterms are both a long way off or a heartbeat away. Perhaps the recent spate of resignations/retirements means outsiders have a chance of holding both houses as well as installing Trump-supporting reformers. We shall see.
Anyway, links from around the world, across the nation and up your street. Have a better one and remain blessed.


posted by at
07:05 AM
|
Access Comments