« Schadenfreude Alert: Two Middle-Aged Leftist Men with Bad Dye Jobs Have Public Tiff
|
Main
|
Always Ready To Take The Easy Way Out »
October 29, 2017
Food Thread: Best Before? Drink By? Oh Hell, Just Drink Fast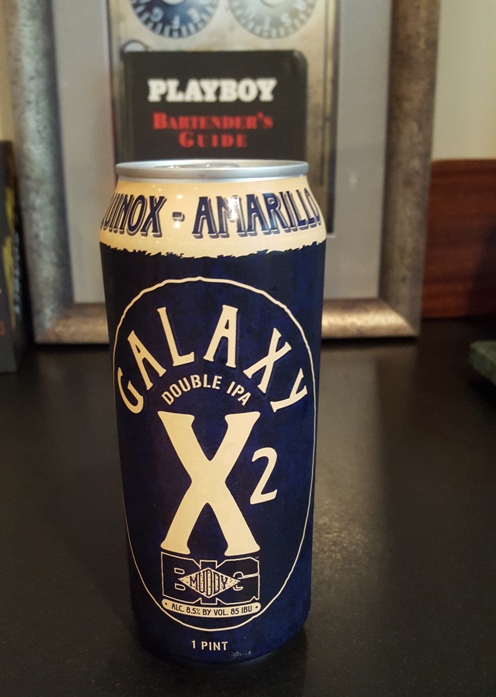 I recently drank a can of Big Muddy Brewing Galaxy X2, which is a fine double IPA, and one that I am finding increasingly difficult to find. It was the last of a four-pack I had bought a month or two ago, and I found it to be flat tasting and thin, a far cry from its expected glory. It's a dirty little secret among beer makers that even stored correctly, some beers decay much more quickly than others.
This is not a criticism of Big Muddy Brewing....I just bought some more Galaxy X2 and am happily contemplating when to drink it. In fact, it is an indictment of my sloth. I should have never procrastinated; when there is good beer in the house...drink it!
As for the photo....yes, that is a Playboy guide to cocktails. And it's a valuable resource. And behind that? There is only one commenter I know of who has the slightest idea what that is.
******
Ignoring its White-Separatist connotations, this recipe from Jamie Oliver is pretty standard.
White sourdough
is what most San Francisco sourdough is...other parts of the country tend to use more whole wheat flour, and one recipe I have uses a bit of rye flour too.
But for fvck's sake...speak English! What the hell does this even mean?

"This recipe uses a levain (a dedicated quantity of well-fed starter). You'll need a 1kg banneton or proving basket, and a bench scraper. A disposable plastic shower cap is also a handy piece of kit, brilliant for covering bowls of dough or proving loaves, as they are easily removed and aren't as restrictive as clingfilm. "
Well, I know what he means, but still....what a weird language.
******
Lunch? Why yes, I had lunch. Some fantastic cheese curds from Vermont, then a slice of an oversized gourmet Reeses-like thing, but with bacon. Yes, I am alone. Why do you ask?
Come on, you can tell The Horde. What did you eat today? Only weird need apply.

******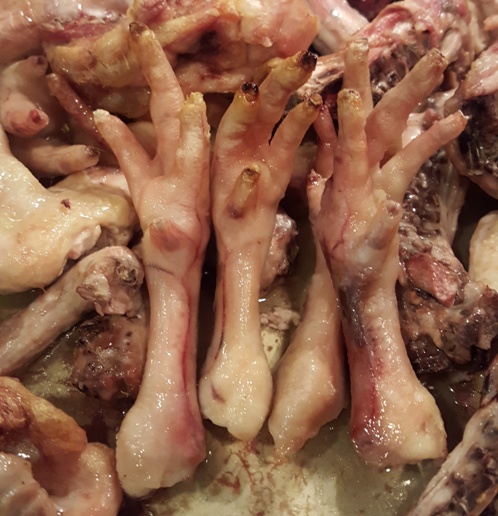 I made a batch of chicken stock this week. It is, after all, almost Thanksgiving, and I need lots of stock for the squash soup and the stuffing. Anyway, I used chicken feet, because A: I haven't used them in years and years, and 2: because my last batch of stock was a bit anemic and I wanted to make sure this one was up to the rigorous standards of Chez Dildo.
As some of you may have noticed, I roast the chicken parts (and vegetables) before I make the stock. It gives it a nice depth of flavor and a gorgeous deep brown color. And...as creepy as raw chicken feet look? They look even weirder when they are roasted. I think next time I will get extra feet and garnish something with the roasted feet.
But I digress. The feet add a bit of flavor, but mostly they had a large shot of collagen...the gelatinous stuff that adds thickness and mouth feel. And I think it works well. There was a bit left over after I transferred the stock to the freezing vessels, and I put it in a mug with a pinch of salt to try. Excellent!
And one more thing; why is it that when I don't need plastic containers for food storage they are everywhere in the kitchen. Falling out of cabinets and drawers and getting underfoot. But the second I make stock I can't find any and have to scrounge. The last quart is frozen in an old rubber boot!

******
A few years ago I was asked to look into marijuana as an appetite stimulant. Now, I am a drinker by choice, and have very, very little interest in anything other than a great cocktail, some good bourbon and a nice bottle of wine. But I dutifully did some research and discovered that marijuana is a very lightly-researched drug, but that a lot of the research points to it being pretty damned worthless. It is a highly charged political issue, so I am not going to debate whether it is a valuable pharmaceutical in the pages of the Food Thread. But what I learned about was how to extract the active ingredient of marijuana, THC.
For you chemists and cooks out there, the first step is to find out what common cooking staple it is most soluble in. Water won't work, so I was left with alcohol (ethanol) and fat. Alcohol is a great cooking ingredient (Vodka Sauce anyone?), but fat is even better because pretty much everything can be improved with its addition. So back to the books, because I needed to know about temperature and time.
And then there was the whole, "I don't know anyone who smokes dope. How will I get some" issue. Which I solved (Thank you...uh...someone). So I waited until the house was empty and I extracted THC out of the marijuana into four ounces of drawn butter over about one hour at about 200 degrees. And the entire fvcking house stank of dope.
Shit!
So I made brownies with the THC infused butter and the person who asked for them said, "Oh, gee, never mind."
Shit.
What reminded me of this? Well, a Moron who will remain nameless unless he 'fesses up sent me this recipe! How to Make the Best Possible Pot Brownies

******
I have not made this yet, so I cannot vouch for its quality. But....
Roast Pork Chops with Baby Artichokes and New Potatoes
looks like it's damned fine eating. There is nothing out of the ordinary about the recipe, so I'll bet it's a keeper. Oh, there is one stupid thing that you should definitely not do: Frenching the chops. That's just dumb.
******
Food and cooking tips, great sourdough baguettes, spare bottles of Oban Scotch Whisky, fresh Morels and other goodies with impressive girth:
cbd dot aoshq at gmail dot com
&topic=world_news">

posted by CBD at
04:00 PM
|
Access Comments