ę Holy Crap: Investigation Found Widespread Bribery and Kickbacks by Russia to Increase Their American Uranium Holdings During Obama Administration... While Hillary Was Approving Uranium Sale to Russia
|
Main
|
Monday Night Football Ratings Fall to Season Low Ľ
October 17, 2017
Outstanding: Salon Announces the 25 "Conservative" Twitter Accounts That Salon Readers Would Love Reading
Tim Miller (@TimoDC), former Jeb Bush campaign staffer.
Ana Navaro, #FakeNews CNN "Republican" who donates a lot of money to Bob Menendez, currently being tried for corruption in a case largely ignored by CNN, because "he's part of our family."
Jennifer Rubin, who recently stopped pretending to oppose the Iran Deal and now wants to keep it in force #BecausePrinciples.
Ben Howe, noted Twitter omnipresence. To give him credit, one of the few of the general-election #NeverTrumpers to forthrightly admit that he supported Hillary. The rest of them lie about it while making it pretty clear that they're lying about it. You know, like they learned from their mainstream media buddies.
"The" Rick Wilson, the super ethical and super important Republican that no one except for some twitter shut-ins ever really heard of until he went full #ImWithHer.
Oh, and this sounds riveting:
Bill Kristol. Obviously. A guy who came into conservative prominance the old fashioned way, through the birth canal. His wife recently announced her donation to the Democrat candidate for Virginia's governor.
Steven Hayes, puttering Chief Purser to Captain Kristol on the Snooze Cruise, still trying to prove the captain's theory that the Russian mess boys stole the Vote Strawberries.
John Weaver, adviser to John McCain and John Kasich.
Tom Nichols, a guy who wrote a book stating that people should defer to experts in all things, but feels free himself to opine on everything, not just his area of actual credentialed expertise (Russian affairs). Apparently once you've decided you're Generally A Smartie you become a Expert Emiritus.
By the way, the academic field concerning the study of knowledge is epistemology. I am aware of no credentials making Tom Nichols an expert in, or even a student of, this field.
Kat Timpf, respected Fox newsblonde.
Stuart Stevens, former Mitt Romney adviser.
Noah Rothman, liberalish establishment fetchbot of Jon Podhoretz. He notoriously called for the purging of all Republicans who supported Trump in the general election. Yet he remains nominally Republican himself.
Jon Podhoretz, another noted lesser scion of a conservative intellectual who reviews movies and makes terrible, awkward-silence jokes in his few TV appearances.
SE Cupp, two-trick pony.
And of course David Frum, another one of the "conservative" media geniuses who was born into the gig.
The list is rounded out by a veritable Who's Who of Who Cares? (Joke stolen from Diversity and Comics.) Including some guys from the preposterously-named "Buckley Club," who also have the Urge to Purge.
A friend pointed out that some of these people seem to think the only big thing Buckley did was excommunicating the Birchers.
Finally:

AllahPundit, noted conservative Republican.
He's having a snit, of course, about being named in this list, and suggesting maybe it's a #FalseFlag operation to discredit the real conservatives:
I got a kick out of the Salon piece because I knew the moment I saw it that it would trigger the type of RINO panic evinced by Rush in the clip. If the left says you're worth paying attention to, thatís mathematic proof that youíre not worth paying attention to.
It is and you're not.
...

(Which follows logically from the definition of conservatism in the age of Trump, "Whatever makes liberals cry.")
He says this every second day. That, and suggesting "nationalism" is a species of racism, without explaining how he can be for All the Wars without believing in nationalism.
If you don't believe that you have a greater duty to protect American lives than non-American ones, how can you ever agitate for a foreign war?
You can't. That's why transnational progressives are stridently anti-war -- unless it can be conclusively proven that American interests cannot possibly be advanced by the war.
...

Everyone on there is *broadly* right-wing but they run the gamut from centrists like David Frum and Ana Navarro...
Sure. Ana Navarro. Super conservative just like you, Allah!
Itís not a list of 25 conservatives, itís a list of 25 people across the righty spectrum who are willing to crack a joke at Trumpís expense.
The blue left of the spectrum. The people who actively propagandized for Hillary Clinton's election while lying and claiming they were doing no such thing.
Why else would Salon be interested in our accounts? You think the Salon audience is eager for challenging rebuttals to the glories of single-payer?
#FalseFlag operation. Just trying to keep AllahPundit's scary-important policy analyses from gaining any traction on the right.
Here's Super Conservative (just ask him!) Allahpundit retweeting Max Boot's claim that it's time for the Super True Cons to abandon the GOP: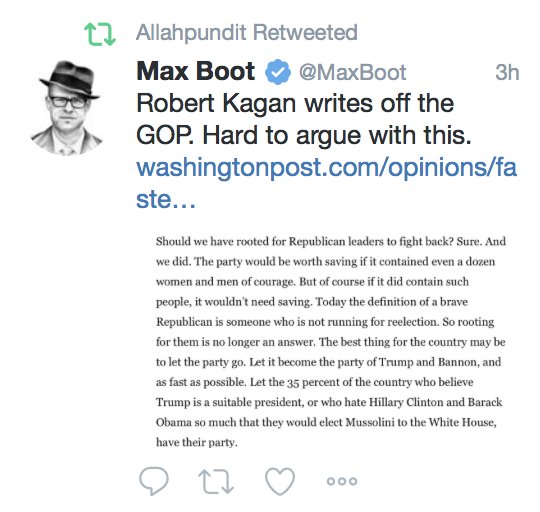 Just "crackin' jokes at Trump's expense," I guess.
If you want a taste of AllahPundit, review his pre-election poll "analysis" pieces (which he seems to specialize in, despite not having any demonstrable training in or interest in statistics) in which he basically repeatedly trolled Hot Air's readers by telling them they were essentially #ScienceDeniers for claiming Trump even had a chance to win.
He doesn't even bother hiding the contempt he holds for Hot Air's audience or conservatives who want to do little things like keep Hillary Clinton out of the White House. His real audience is his twitter buddies.
So there you go -- your Salon-endorsed True Conservatives that Salon readers will find to their great liking.


posted by Ace at
01:41 PM
|
Access Comments