« Jimmy Kimmel on Republicans Who No Longer Watch His Show: It's Not "Good Riddance, But Riddance"
|
Main
|
The Morning Report 10/17/17 »
October 16, 2017
Monday Overnight Open Thread (10/16/17)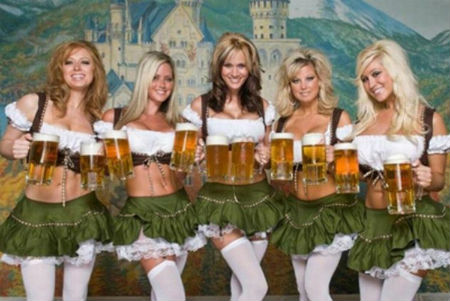 (ONTfest Oktoberfest!)
*****
Quotes of The Day

Quote I

Kind words do not cost much. Yet they accomplish much. Blaise Pascal
Quote II

The only power any government has is the power to crack down on criminals. Well, when there aren't enough criminals, one makes them. One declares so many things to be a crime that it becomes impossible for men to live without breaking laws. Ayn Rand
Quote III

No one in this world, so far as I know - and I have searched the records for years, and employed agents to help me - has ever lost money by underestimating the intelligence of the great masses of the plain people. H. L. Mencken
*****

Taking "Get Off My Lawn" to the next step. ATV used for getting man off lawn.

A furious farmer drove his quad bike at anti-hunt campaigners and threw a flurry of punches during a shocking attack.
The man targeted members of the West Midlands Hunt Saboteurs as they filmed by his farm on Saturday afternoon.
In footage captured by the group, the farmer, dressed in green John Deere overalls, tears up to them on his quad before shouting 'get off my land'.

Walt Kowalski pleased?
*****
Well, this certainly is some Bad News. Wi-Fi security has been breached say experts.

At about 7AM ET this morning, researchers revealed details of a new exploit called KRACK that takes advantage of vulnerabilities in Wi-Fi security to let attackers eavesdrop on traffic between computers and wireless access points. The exploit, as first reported by Ars Technica, takes advantage of several key management vulnerabilities in the WPA2 security protocol, the popular authentication scheme used to protect personal and enterprise Wi-Fi networks. "If your device supports Wi-Fi, it is most likely affected," say researchers.

So yeah, this is bad.
*****

Meet the new boss, same as the old boss.

It seems that House minority leader Nancy Pelosi (D-CA) has handpicked the man who will replace her as leader of the leftwing caucus, and she's chosen one of her more divisive colleagues to take her place.

Pelosi told ABC's George Stephanopoulos that she had already chosen Congressman Adam Schiff (D-CA) to take her place as the face of the Democrat minority in the House.

This should be interesting to watch.
*****
Oh-oh, Affirmative action hurts more than it helps. So says a UCLA professor.

Sander said that while this seems like a topic that should receive more attention, academia tends to sweep the information under the rug or try to discredit it. He cited a situation stemming from his own campus as an example.

"Michael Schill (the former dean of the UCLA Law School) told me privately that he thought it was a breakthrough study," Sander said. But after it was published, Sander said that Schill sent an email to the student body suggesting "there are those of us who seriously question the credibility of this research."
*****
The teachings of Islam could have prevented the pig like behavior of Harvey Weinstein so says Qasim Rashid.

I'm a Muslim, and a civil rights lawyer with a special interest in advocating for women's rights. My advocacy is informed not just by the law, but by strategies detailed in Islamic teachings and Prophet Muhammad's example to pre-empt sexual abuse. Yes, the cancer of sexual abuse against women that we see in Christian majority America is just as prevalent in Muslim majority Pakistan, but also in Hindu majority India and state atheist China. This proves that men worldwide are failing in our responsibility to end sexual abuse and gender based violence.
*****
The Anti-Gun lobby. It didn't take long after the Las Vegas shootings to file suit.

The massacre in Las Vegas caught a lot of people off-guard. No one foresaw anything of the kind happening in Sin City. However, it does appear to have been enough to prompt at least one lawsuit for an unimplemented law passed via ballot initiative in Nevada. The group known as Nevadans For Background Checks, with the help of the Bloomberg-backed Everytown For Gun Safety, managed to convince Nevada voters that universal background checks were not only desirable but beneficial.
*****
They say that the grass is always greener on the other side. Megyn Kelly is finding that old saying is bullshit.

Her "Megyn Kelly Today" viewership slipped from 0.77 ratings points on Monday to 0.54 ratings points on Tuesday of last week.

"It's a possible all-time low for 'Today.' It may even be lower than her [Fox] cable show. [NBC News president] Noah [Oppenheim] and [NBC News and MSNBC chairman] Andy [Lack] are in big trouble," a source told us.

Another source added, "That's a big drop. They have to turn this around."

Kelly also appeared for the first time on MSNBC earlier this week.

"It's unthinkable. You don't see Matt [Lauer] or Savannah [Guthrie] on MSNBC … It's not a good sign.
*****
The ONT Musical Interlude
1961, Decca records released 'Crazy' by Patsy Cline. The ballad, composed by Willie Nelson gave Cline a No.2 country hit in 1962. Nelson originally wrote the song for country singer Billy Walker, but Walker turned it down. The song's eventual success helped launch Nelson as a performer as well as a songwriter. It spent 21 weeks on the chart for Cline, and eventually became one of her signature tunes. via thisdayinmusic.com
***
October 16, 2001, Two security guards were sacked after refusing to allow Bob Dylan into his own concert. Dylan who had demanded that security on his 'Love and Theft' tour should be tighter than ever didn't have a pass when he arrived backstage. via thisdayinmusic.com
*****

Hustler publisher Larry Flynt offers up an impeachment bounty on PDT. How is he able to pony up such money? Unlike Hugh Hefner, diversity.

But how does he pay for it all? Many were shocked last month when Flynt's peer, Hugh Hefner, died at age 91 with what may have been as little as $15 million in assets. That was in part because the rise of internet pornography gutted Hefner's Playboy empire, and one might think Flynt had been battered by the same storm.

But when he was considering taking the company public in 2014, the now 74-year-old Flynt told USA Today that the privately-held Larry Flynt Publications was worth more than $500 million. That's plausible because, while Hustler's print circulation, like Playboy's, was decimated by digital disruption, Flynt has aggressively diversified into a sprawling empire. His businesses now include video porn production, brand licensing, real estate, and even a casino. He told Forbes in 2014 that publishing accounted for less than 5% of his company's revenue.
*****

The pain continues for Harvey Weinstein. France to strip Weinstein's French Medal of Honor.

President Emmanuel Macron says he has begun procedures to strip U.S. movie producer Harvey Weinstein of his Legion d'Honneur following allegations of sexual harassment.

"Yes, I've begun the procedures to withdraw the Legion d'Honneur," Macron said on TF1 television. "Because his actions lack honor.
*****
I feel better now knowing that German soccer players are concerned about peace, love and understanding. Soccer players imitate NFL players.

A Berlin-based soccer team knelt before a game on Saturday.

Both players and officials of Hertha Berlin got down on one knee prior to the game "For a tolerant Berlin and an open-minded world, now and forevermore!" according to a tweet by the team.

"We are living in the 21st century, not the 18th century, but there are some people who haven't developed their ideologies accordingly," one of the the teams players, Sebastian Langkamp, told Sky Sports in an interview, according to the BBC. "If we can give them a bit of help in doing so, then that's good."
*****

I wonder what would happen if you say, "It's none of your Goddamn business.

NHS doctors and nurses in England will be required to ask every patient from the age of 16 to declare their sexual orientation.

Anybody having a face-to-face appointment will be asked about whether they are heterosexual or straight, gay or lesbian, bisexual or other, including asexual.

NHS England says it needs to record the sexual orientation of adults to fulfil its legal duties to provide equally for gay people.
*****
1:45AM, shower, young couple and then a Genius Award Winner.
*****
Brocktoberfest, turning grief into Tonight's Feel Good Story of The Day.
*****
Tonight's ONT has been brought to you by Ace's Installation Company, Inc.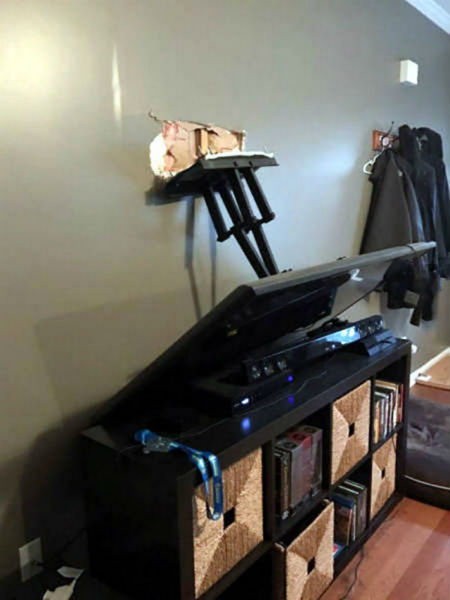 Notice: Posted with permission by AceCorp, LLC. Home of the two appliances installed for the price of one.

posted by Misanthropic Humanitarian at
09:55 PM
|
Access Comments