« What's Next....Will Germany Sell Zyklon B to Iran...Just In Case?
|
Main
|
Open Thread »
October 15, 2017
Food Thread: Easy, Inexpensive, Tastes Good: Pick Three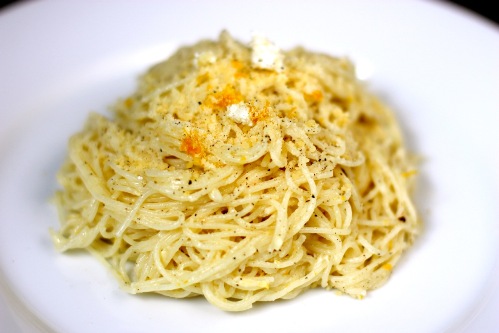 [photo is not of actual dish. Only penne was injured in the writing of this post]
I got home quite late one night this week and had absolutely nothing in the refrigerator that would make a quick meal.
What to do.....
I sliced a large yellow onion quite thin, and caramelized it in a bit of olive oil and salt. While it was perfuming the entire house I made a pound of penne pasta (and reserved some of the cooking water, just in case). Just before the onions were done I tossed in a few cloves of chopped garlic and a pinch of red pepper flakes.
Then I tossed it in the pasta with some Parmesan and some black pepper. it was good, but not quite there yet. So back to the refrigerator for a cup of ricotta cheese, and my masterpiece was complete (after a splash of the cooking water!).
The sweetness of the onion, the little bite from the pepper and the garlic, and the creaminess of the cheese was just perfect. Serendipity is a fine thing in the kitchen.
Start to finish was 30 minutes, and that's because I was watching baseball and didn't want to stand over the stove to caramelize the onions, so I did it on a lower heat.
******
Should You Really Only Cook With Wine You'd Drink? The Truth About Cooking With Wine
The Money shot?
The old, spoiled wine, which had begun to smell like acetone while sitting out, also made a braise that tasted good; in this case the off flavors seemed to cook off during the braise.
Bingo!
******
Cook County pop tax one step away from repeal after 15-1 test vote
Et tu Philadelphia?
But the best part is the Chicago Tribune's insistence on blaming "Big Soda," instead of the understandable reluctance of Chicagoans to pay another ridiculous tax in an already overtaxed city.

Big Soda's win here is remarkable, both because Cook County is by far the largest jurisdiction in the country where such a tax was enacted and that it comes after a series of defeats elsewhere.

Despite spending tens of millions of dollars to oppose soda taxes last November in three California locales — San Francisco, Oakland and Albany — each city won approval through voter referendums for penny-an-ounce taxes on sugar-sweetened beverages. That was a year after voters in Boulder, Colo., approved a 2 cents-an-ounce tax on sugar beverages.
******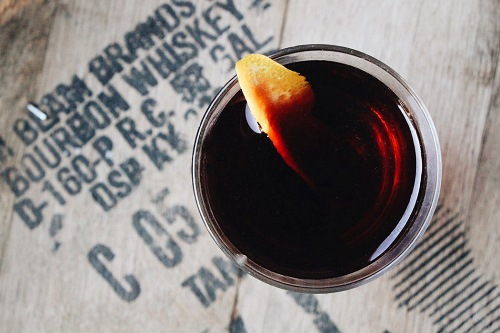 Boulevardier Cocktail
Yeah, I think Campari is disgusting, and Negroni's are simply the Devil laughing at hipsters with more money than sense or taste.
But...some of you maniacs actually like the flavor, so here is a good recipe for a famous cocktail. My old bartender used to sneak this kind of stuff into the rotation, but I caught him every single time.
Yuck.

******
Oh, FOR FVCK'S SAKE! This recipe had a recipe within it for mashed potatoes. I deleted it.
My nephew is in Edinburgh for a MS in Distillation Science. Yeah I'm jealous. Anyway, he went down to London for a long weekend and had a stupendous Shepard's Pie and a couple of pints of some great English bitters. He tortured me with some photos, so I now have Shepard's Pie on an endless loop in my head.
SHEPARD'S PIE


2 tablespoons extra-virgin olive oil

3 tablespoons unsalted butter

1 medium onion, diced

3 medium carrots, peeled and sliced

1 rib celery, sliced

1/2 pound cremini mushrooms, quartered

2 cloves garlic, minced

1 tablespoon kosher salt

3/4 teaspoon dried oregano

3 tablespoons tomato paste

1 pound ground beef

1/4 cup canned low sodium beef broth

1/2 teaspoon Worcestershire sauce

Freshly ground black pepper

4 cups Mashed Potatoes, recipe follows (nope...not on Dildo's watch)

1/4 cup grated Parmesan, optional
Preheat oven to 375 degrees F.
Heat the olive oil and 2 tablespoons of the butter in a large skillet over medium heat. Add the onion, carrots, celery, mushrooms, garlic, half the salt, and oregano. Cook until vegetables are tender, about 10 minutes. Stir in the tomato paste and cook until mushrooms are soft and tomato paste has turned brick red, about 8 minutes more. Stir in the beef, the broth, the remaining salt, the Worcestershire, and some pepper, breaking up any large clumps of meat, cook until the meat is no longer pink, about 3 minutes.
Transfer the meat and vegetables to a 2-quart oval casserole dish and spread the mashed potatoes over the top, leaving a 1/4-inch boarder around the edge. Make a decorative pattern on the top of the potatoes, if desired. Sprinkle with cheese, if using, and dot with the remaining tablespoon of butter. Bake until potatoes brown and the juices bubble around the edge, about 40 minutes. Let cool for 10 minutes before serving.

******
Food and cooking tips, great sourdough baguettes, spare bottles of Oban Scotch Whisky , fresh Morels and other goodies with impressive girth:
cbd dot aoshq at gmail dot com

posted by CBD at
04:00 PM
|
Access Comments