« Suppressors, Death Squads And Hearing Loss: Larry Correia "Fisks" An Attack On Guns
|
Main
|
After Food Thread Open Thread »
October 08, 2017
Food Thread: Tomatoes And Baseball Both End In October: Coincidence, Or God's Plan?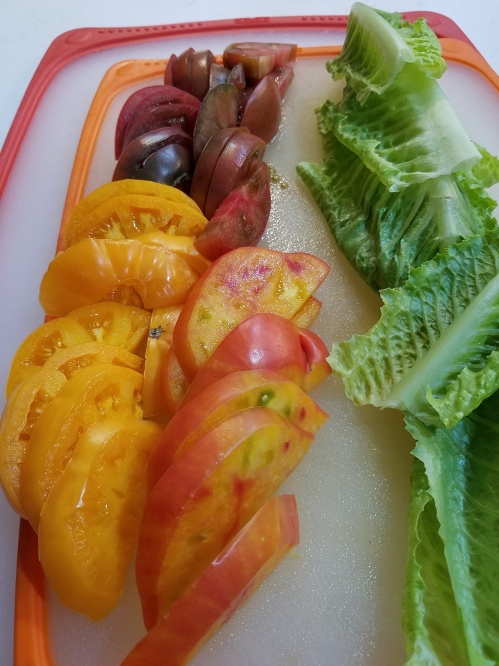 [photo courtesy of commenter westminsterdogshow]

We are rapidly approaching the void (not the baseball one, but that is a problem too), where most tomatoes are horror-shows of mealy-textured, flavorless simulacrums of the real thing. But until that horrible and depressing time arrives, I'm going full-tilt into the tomato world.
My favorite is sliced tomatoes with good mozzarella and a drizzle of olive oil and balsamic vinegar. I think it is the perfect expression of Italian cooking, and it doesn't make me feel like I am eating healthfully.
By the way, those tomatoes are home grown: Hillbilly, Kellogg Breakfast and Cherokee Purple. And westminsterdogshow is expecting snow on Monday, so she has had to build a temporary greenhouse for those lovely tomatoes!
******
Here is Hank Shaw, over at "hunter-angler-gardener-cook" discussing
How to Preserve Peppers
. I like cooked peppers, and they are great over pasta, but the preserved pepper is a marvelous thing on a good deli sandwich. The problem is that most of the commercial canned or jarred ones are sort of boring tasting. There are good brands, but they are pricey.
******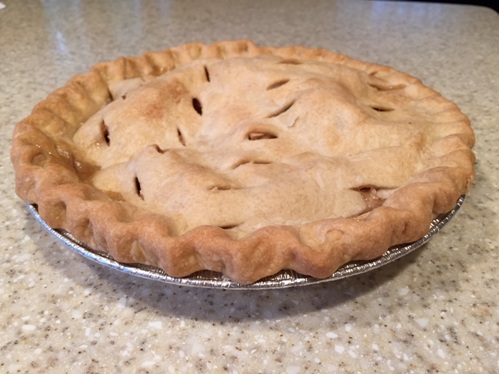 Yup. Apple pie. I'm not a big fan of pie, but a good apple or blueberry pie with a well-made crust and a big scoop of vanilla ice cream is a fine thing indeed. I wonder if they can get good ice cream in the state pen?
But please, somebody explain the whole "cheddar cheese and apple pie" lunacy. That is a combination that doesn't even come close to sounding appealing. Yuck.

******
This made me laugh. It is commenter (and cookbook mogul) Weasel's, and I want both one of those coolers and the label!
Coolers are immensely useful, but the styrofoam ones are crap, and even the mass-market ones don't last very long.
One trick I learned a long time ago is to put the cooler in the refrigerator with the top off or open (assuming it will fit). that way the inside is cold and it will extend the useful time by a bit.

******
I just replaced my old and broken vacuum sealer with a fancy new one, and it really does work better. The design makes more sense, and the whole thing feels more robust than the old one. I just sealed two racks of ribs, which will either go into the freezer or, if I am feeling peckish, into the smoker tomorrow. The third one from the Costco three-pack is quietly cooking away as I type.
Any of you folks use vacuum sealers? I think they are useful for some things, although my default is to freeze or store as little as possible, simply because my freezer and refrigerator have an annoying habit of filling up completely in a matter of seconds if I am not careful.
I think I will try to restrict my sealer to things like great steaks on sale and stuff that takes well to freezing. For instance, pulled pork freezes marvelously, so if I find pork butt on sale i will make a bunch of it and seal it for a rainy day.

******
I love spaghetti with oil and garlic. There are a bunch of recipes that make a simple dish just a bit too busy and complicated, but here is one from my favorite progressive shill chef:
Mario Batali's Pasta Aglio e Olio
. I think it is too busy, and makes a simple dish far too complicated.
It's just gently sauteed garlic tossed with lots of olive oil and a bit of red pepper flake. Everything else is just details.

Dildo's Spaghetti Aglio e Olio


1 pound spaghetti

Eight garlic cloves, sliced thin, or minced (but not crushed)

1 teaspoon of red pepper flakes

1/2 cup olive oil

salt and pepper to taste (optional)
Make the spaghetti according to the package directions, but subtract one minute so that it is al dente. Reserve a bit of the cooking water.
Meanwhile, in a small pot, gently saute the garlic in the oil. The goal is to poach the garlic, not to brown it. it will take a bit of time, so be patient. When it is almost done add the red pepper flakes.
When the pasta is done, drain it, put it back into the pot and pour the olive oil/garlic/red pepper mixture over it. Toss gently, and add some of the reserved pasta water if it looks a bit dry.
You can also toss in a bit of good Parmesan cheese, but that is controversial, so keep it to yourself.

******
Food and cooking tips, great sourdough baguettes, spare bottles of Oban Scotch Whisky , fresh Morels and other goodies with impressive girth:
cbd dot aoshq at gmail dot com

posted by CBD at
04:00 PM
|
Access Comments