« Sebelius' Testimony at the Menendez Corruption Trial: Harry Reid Inveighed on Me to Meet with Menendez and His Million Dollar Donor, To Convince Me to Pay Him More Money from the Government's Medicaid Coffers
|
Main
|
Oh My »
October 04, 2017
Breaking Gun News from CBS: The "Automatic Rounds" that the Vegas Killer Used Are Currently"Perfectly Legal"
"Automatic rounds." As one person speculated on twitter, these must be rounds that convert a semi-auto rifle into a fully auto one.
What the fuck are "automatic rounds," these deadly things which are, we're told, "perfectly legal" (and, presumably, need to be made illegal)?
Well, there actually is a difference between cartridges used in semi-autos and cartridges used in revolvers.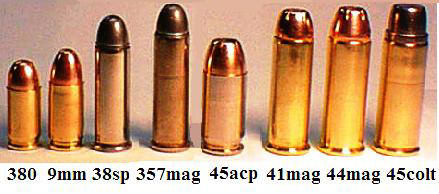 Compare the butts of the .45 ACP (a round for the exotic space-age Colt .45, just invented in 2011, oh wait, I mean 1911, which is why it's called an M ("model") 1911) and the 45 Colt (a round for the Colt revolver).
The 380, the 9mm, and the .45 ACP are all "automatic rounds," whatever that means, you dolts. They're rounds for semi-automatics. The other rounds have prominent rims at the back -- they're revolver rounds.
Revolver rounds have ridges -- "rims," they're called -- at their backs that are slightly bigger than the circumference of the cartridge. This allows them to be held in the revolver when you drop them into the chambers.The cartridge goes mostly through but then the ridge catches them and holds them in place. Otherwise they'd just keep falling through.
(And the rim lets them fall out easily when you tip the chamber backwards and give it a shake-- it doesn't hold them from the rear.)
Rounds intended for use in semi-autos aren't held in chambers like those in a revolver; instead, they're stacked one on top of each other in a box magazine. You don't want the ridge on the back to be larger than the circumference of the cartridge. Because Reasons.
So you see with most semi-auto rounds, there is a crimped bit right above the ridge at back, which makes the ridge bigger than the crimped bit but not bigger than the cartridge.
This has nothing to do with rate of fire. This just has to do with the way bullets are fed into, ejected from, and held during firing as between a semi-auto round and a revolver round.
This is like why you have to use a philips head screwdriver with philips head screws and flathead screwdrivers with flathead screws: Just because that's the way the things are made.
One type of screw is not deadlier or more rapid-fire than the other.
In other words: As usual, we have an urban pansy who's never held a gun, nor even a woman's hand, attempting to guess at what parts of a gun go up.
The subretarded article even admits as much:
Machine guns -- weapons that fire multiple shot with one pull of the trigger -- have been technically illegal since the mid-1980s.
"Technically."
Yet while the guns that Stephen Paddock used to shoot more than 500 people in Las Vegas fired automatic rounds, they were perfectly legal, according to rules established by the Bureau of Alcohol, Tobacco, Firearms and Explosives (ATF).
They still do not seem to understand the very most basic principles of a semi-automatic's action.
The modifications he appears to have made to his semi-automatic AR-15s, which by one estimate allowed him to fire as many as nine rounds per second, can be bought in many different forms on the internet....
While not explicitly saying so, this article sure suggests that the "modifications" he made to his guns included swapping out the Things Where The Bullets Go to make them capable of firing semi-auto rounds.
Um, no. They always fired those. Because the only guns that don't fire semi-auto rounds are revolvers, and lever action rifles, and pump action shotguns.
Now, let's see this urban pansy explain that things are just so complicated xhe can't be held responsible for not understanding:

The complicated structure of our nation's gun laws defies anyone who's not an expert on the subject. And since each state, and sometimes individual cities, has different gun laws, it makes it even more complicated. Those who are knowledgeable often don't want to talk on the record.
Are you fucking kidding me with that? You have 100 conservative gun expert bloggers and reporters trying to explain to you the difference between semi-auto action and full auto action (and revolver action, etc.) every time a fucking gun crime occurs, and you put your hands over your ears and say "My ears are hurting" like that childish retard on MSNBC.
Every single time. This is not our first go-round on this, Media Gun Control Experts. It's not even our hundredth go-round.
Actual gun owners and experts are begging to explain the basics to you -- but you won't listen. Instead, you babble on ignorantly about "automatic rounds" and the modifications you need to make to your gun to get it to fire these exotic bullets.
Also, the difference between a semi-auto action and revolver action is not complicated. "Action" refers to the mechanical movements by which a fresh bullet is moved to the firing chamber (and a spent bullet moved out of it), and also how the trigger is pulled and released. It's called "action" because it describes all the mechanical, get this, action going on inside the gun.
For now, let's focus on the advancing-the-bullet part of action.
"Revolver action" is so-named because, see, a cylinder revolves with each trigger half-pull (or full pull, for double action only models) to move the old bullet to the left of the firing chamber and the new one into it.
A "semi-auto" is so-named because part (and only part) of the process is "automatic." In a semi-auto, a small amount of the gas that propels the bullet is used to trip a bit of mechanical clockwork to push the spent shell out of the firing chamber and open the door into the chamber, permitting the springs pushing up the bullet stack to push a fresh bullet into the chamber. See, as that part of it, the ejection of the old bullet and placement of the fresh one, is not done by a trigger pull but by borrowed energy from the firing of the last bullet, it's called "semi-automatic," because, see, human energy doesn't do that part of it. It's only semi auto, though, because only a trigger pull will actually fire the bullet now in the chamber.
This has nothing to do with rate of fire. Revolvers and shotguns and lever-action rifles and semi-auto rifles which fire "automatic rounds" still only fire one bullet per trigger pull.
Compare to a fully automatic weapon (or a weapon with an automatic-simulating gizmo attached to it, like a bump stock), which also automatically retracts and then releases the hammer automatically for as long as the trigger is held down -- thus firing many bullets with one trigger pull, the rest of the process being automatic. Hence, "fully automatic." Not just the feeding of the new cartridge into the chamber, but the retracting of and then releasing of the hammer as well.
This is not that difficult.
I think these fucking morons just believe that the "semi-automatic" weapon (and they always say it with this sinister stress on the word "semi") is some kind of exotic paramilitary weapon, when in fact they're easily the most common type of weapon in the fucking world. Pretty much any gun that is not a a revolver (or pump action, or those old-timey lever actions) is a semi-auto.
I think they'd be shocked to learn that any gun where you don't see that cylindrical bulge in the middle is in fact a "semi-automatic."
it's very simple, guys:
Is it a cowboy-style gun?
No?
Then guess what? It's one of those exotic "semi-automatic" newfangled guns (invented in fucking 1905, but whatever) you're so fucking a-scared of.
Bulbous in the middle? Revolver.
Flat through the middle? Semi-auto.
I can explain basic shapes to you, but if you can't tell the difference between "round" and "flat," well, I guess I'm just all out of dumbing-down.
Amazing.
They cover these stories will All Hands On Deck fury every six months but still can't bother to learn the most basic things about what the fuck they're talking about.
Thanks to Alex the Chick.

posted by Ace at
02:35 PM
|
Access Comments