« Mass Shooting at Mandalay Bay Casino in Las Vegas
Update: Shooter Dead
|
Main
|
Mid-Morning Open Thread »
October 02, 2017
The Morning Report 10/2/17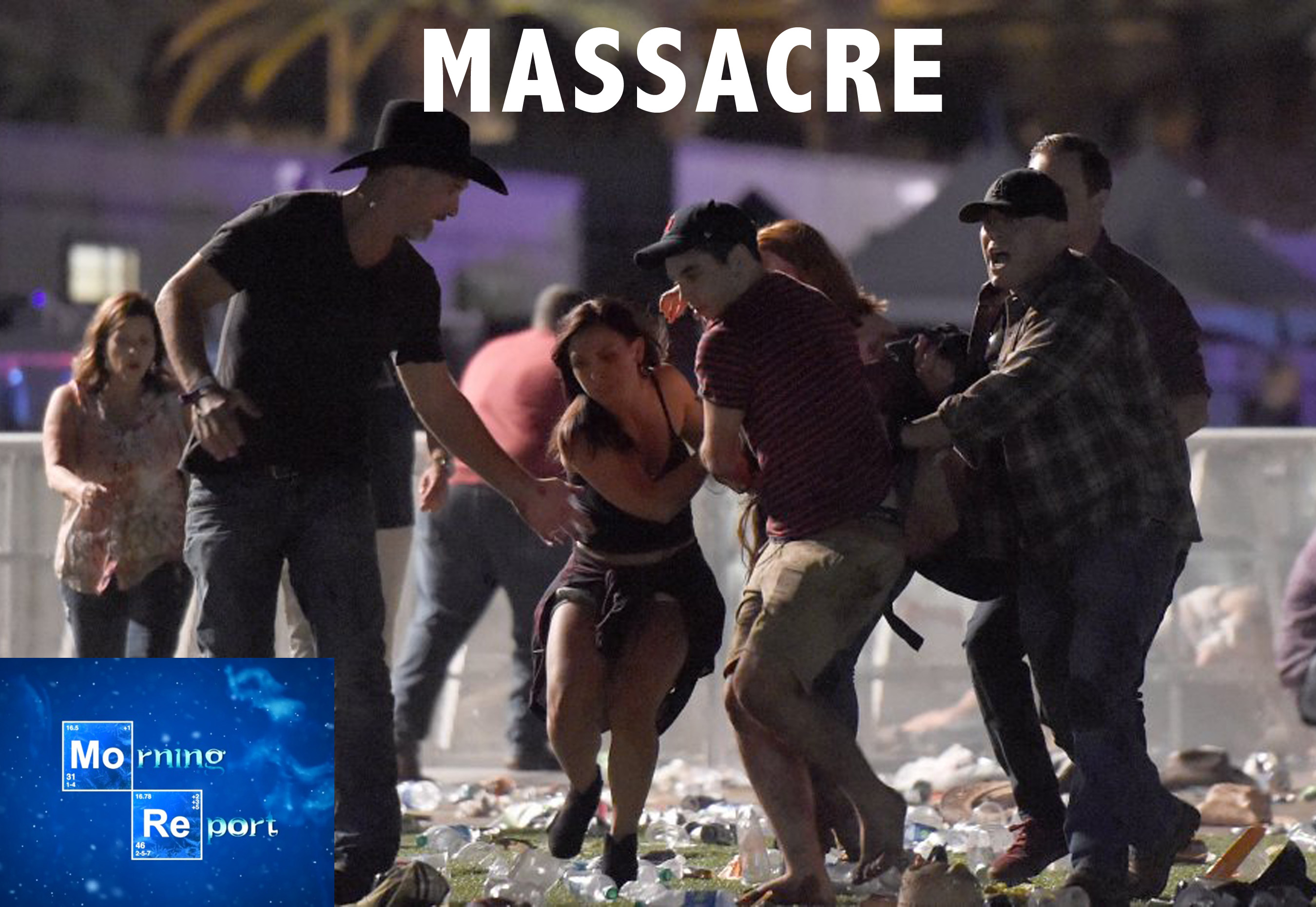 Good morning kids. What a way to start a week. Obviously the mass shooting at the Mandalay Bay Casino in Las Vegas is only a few hours old. There seems to be conflicting reports of the number dead; some say 2 other upwards of 20 or more. So as of this posting, there are definitely multiple confirmed deaths and dozens or scores of wounded. The shooter was taken out by a SWAT team on the 32nd floor of the hotel. His identity has not been released, but we know he's Asian and was a local. Although they say he acted alone they are now searching for an Asian female, one Marilou Danley who they say was his roommate. So far, this has not been called an act of terrorism. As always, stay tuned here for updates. Prayers for the victims and anyone related in any way.
UPDATE: Shooter identified as STEPHEN PADDOCK, white male, age 64.
UPDATE: At least 50 dead in what is now the worst mass shooting in US history.
UPDATE: Shooter's companion in custody, lips zipped.

In other news, the major story is the hideous behavior of the hack mayor of San Juan, Carmen Yulin Cruz. First she praises FEMA for their response then, I guess after receiving her talking points from the Media Complex, blasts away at President Trump for letting people die in the streets; kind of an ironic statement from Cruz considering when she gave it, she was standing in front of a warehouse full of foodstuffs and supplies just brought in from the mainland. In fact, she was so utterly full of shit that even the grand wizard of being full of shit, Geraldo Rivera, called her on it. But unlike Dubya, who just silently sat by and allowed assholes like Spike Lee and Kanye West to accuse him of committing genocide against Chocolate City, the President and his team are having none of it. And the collective head of the Left is exploding because neither is a large majority of Americans having any of it either.
Meanwhile, on the NorK front, as Sec. of State Rexxon is all about continuing the jaw-jaw with Whoa, Fat!, the President is seemingly realizing what most of us already do and have really since Madeleine Notbright and Dhimmi Carter surrendered to Fat's fat father in '94. It's a waste of precious time which makes the situation that much more deadly with each passing second. Stay tuned.
Well, the first Monday in October means it's time yet again for nine flawed individuals in black robes to decide the fate of 315 million of their fellow citizens as the SCOTUS opens up for another term. Several big cases are on the docket and the seating of Neil Gorsuch as an associate justice is looming large.
From hither and yon, as the NFL continues its death spiral, Spain is channeling its inner Franco and beating up on Catalans who want independence, and the FBI has concluded that much of the spike in violent crime this year is a direct result of the riots in Ferguson, MO and its aftermath. Thanks Obama and Holder! We love racial healing heeling!
Lastly, I did not want this to get lost in the headlines; Don Malarkey, a member of the Screaming Eagles whose exploits along with his comrades were immortalized in the series "Band of Brothers" has passed away at 96. Godspeed and thank you for what you have done for us. Anyway, links from around the world, across the nation and up your street. Have a better one and remain blessed.
***Mandalay Bay Mass Shooting Update: Multiple Dead, Dozens Wounded, Shooter Dead, McCarren Airport and Part of the Strip Shut Down (Graphic Content Warning)***