« Hurricanes. Our Next Power Source
|
Main
|
Mass Shooting at Mandalay Bay Casino in Las Vegas
Update: Shooter Dead »
October 01, 2017
Sunday Overnight Open Thread (10/2/17) Paradise Edition
(Looks like paradise)
*****
Quotes of The Day
Quote I

A love for tradition has never weakened a nation, indeed it has strengthened nations in their hour of peril. Sir Winston Churchill
Quote II

The pursuit of happiness is a most ridiculous phrase; if you pursue happiness you'll never find it. C. P. Snow
Quote III

Happiness is a mystery like religion, and should never be rationalized. G. K. Chesterton
*****

Hmmmm. Stabbing. Vehicle attack. Five injured in Edmonton. If it walks like a terrorist and strikes as a terrorist. It must be a terrorist.

"The Government of Canada and Canadians stand with the people of Edmonton after the terrorist attack on Saturday that sent an Edmonton Police Service officer to (the) hospital and injured a number of innocent people who were out to cheer on their football team and to enjoy an evening in their city," said Canadian Prime Minister Justin Trudeau in a statement Sunday.
Stand? What's next cute little ribbons?

Edmonton Terrorist had ISIS flag on vehicle that struck pedestrians.

Sharif was on a "police watch list," but apparently he wasn't being watched closely enough. It is worth noting that Somalia is one of the countries on President Trump's travel ban order. If that order were in effect, Abdulahi Hasan Sharif would not have been permitted to enter the United States. I have written that the president's travel ban doesn't go far enough to do much good, but this is one example of a terrorist attack that the travel ban, if in effect when the terrorist sought to enter the U.S., would prevent.
If Trudeau and the rest of "The Enlightened class" want to stand with their fellow citizens, start paying attention to the people on the "Watch Lists".
*****
When is enough, enough? Madison, WI man revived after 19th heroin overdose.
The Misanthropic part of me says..............
The Humanitarian part of me agrees with the Misanthropic part of me.
*****
The ONT Musical Interlude
***
*****
Paradise. So if you had all the money in the world for your home, would it look like any of these six homes?

When it comes to buying or renovating your own home, you probably have a tick list of things that really matter: a functional kitchen, for example; a decent bathroom; maybe some outdoor space. But when money is no object, the list of what's considered to be essential drastically changes.

Everyone knows that rich people have swimming pools in their houses, and cinemas, and wine cellars, but some of these properties go even further than that. We scoured the internet to find some of the planet's most expensive – and extravagant – homes, so that you can focus on hunting down your own.
A little rich for my blood. 3 bedrooms, 2 baths on a lake would make me a richer man.
*****
*****
Once in awhile, The ONT displays some class.
Mark Steyn interviews Paul Sorvino
*****
The nice thing about the internet? Sometimes the truth comes out. Lyin' politician caught and caught big.

San Juan Mayor Carmen Yulin Cruz, a Democrat, went on a tirade on Saturday, accusing President Trump of allowing Puerto Ricans to die because he just doesn't care.

But now it turns out Cruz is not in the loop and hasn't even bothered to participate in meetings with officials from the Federal Emergency Management Agency (FEMA) or other federal agencies.
*****
*****
Most of us have been at or have to go to some type of business meeting. Meeting achievement stickers. Probably not a good idea.
*****
Posthumous Genius Award Winner.
*****
Cancer survivor goes on to help others. Tonight's Feel Good Story of The Day.
*****
Tonight's ONT has been brought to you by Fantasy Football Woe.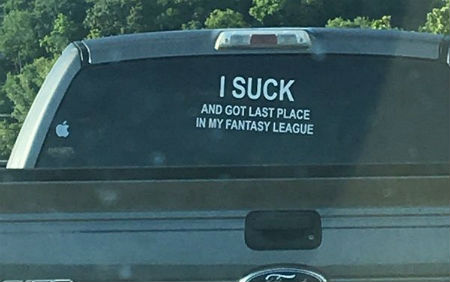 Notice: Posted with permission by AceCorp, LLC. Enjoyment guaranteed or your money back.
Weekly commenter stats for week of 10/1/2017
Top 10 commenters:
1 [711 comments] 'Mortimer - disappointed' [99.77 posts/day]
2 [509 comments] 'willow'
3 [472 comments] 'Mr. Peebles'
4 [457 comments] 'Deplorable Jay Guevara'
5 [442 comments] 'Insomniac'
6 [432 comments] 'Steve and Cold Bear'
7 [383 comments] 'mnw'
8 [382 comments] 'J.J. Sefton'
9 [376 comments] 'Meremortal, hand over heart'
10 [375 comments] 'TheQuietMan'
Top 10 sockpuppeteers:
1 [91 names] 'Steve and Cold Bear' [12.77 unique names/day]
2 [77 names] 'Meremortal, hand over heart'
3 [48 names] 'Widespread Pepe'
4 [46 names] 'Under Fire'
5 [44 names] 'andycanuck'
6 [43 names] 'Adirondack Patriot'
7 [40 names] 'Joe Biden'
8 [36 names] 'Slippery Slope Salesman'
9 [33 names] 'bicentennialguy'
10 [31 names] 'freaked'


posted by Misanthropic Humanitarian at
10:07 PM
|
Access Comments