« EMT 10/01/17
|
Main
|
In Case You Weren't Sure Of The Incoherence Of The Modern Left... »
October 01, 2017
Sunday Morning Book Thread 10-01-2017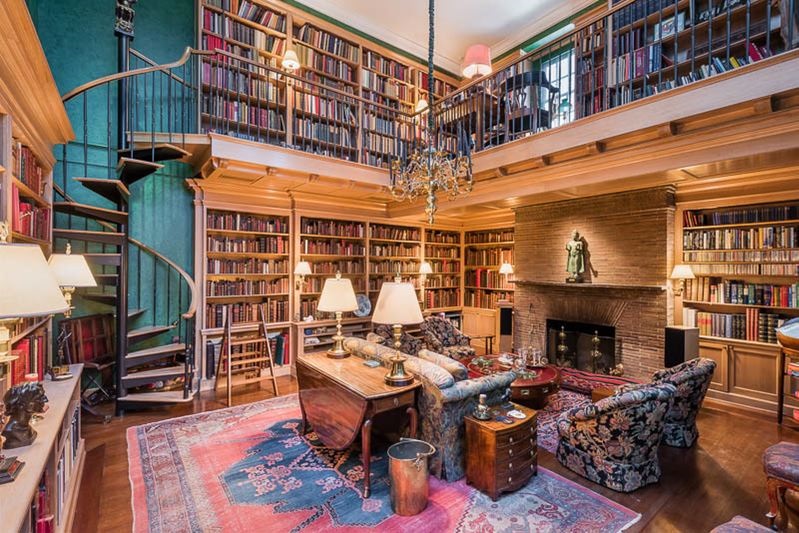 Personal Library of Craig (Craigslist) Newmark

Good morning to all you 'rons, 'ettes, lurkers, and lurkettes. Welcome once again to the stately, prestigious, internationally acclaimed and high-class Sunday Morning Book Thread, a weekly compendium of reviews, observations, and a continuing conversation on books, reading, and publishing by people who follow words with their fingers and whose lips move as they read. Unlike other AoSHQ comment threads, the Sunday Morning Book Thread is so hoity-toity, pants are required. Even if it's these pants, silly as they are, aren't quite as ridiculous as the guy's shoes.

Pic Note
Today's library pic was stolen from this article, which describes Newmark's conversion of a duplex into a 2-family house.
Steeped in historic details, the home features 11-foot ceilings, a wood-burning fireplace with a carved stone mantel and stained glass windows, among other ornamentation. A landscaped garden with stone fountain sits right off the dining room.
It's good to be a 1%er.

The Book Thread Gets Results
A (mostly) lurking moron heard this from one of his author friends after I mentioned his book on one an earlier book thread:
"The day your two-line review appeared on Ace of Spades, my daily book sales on Amazon jumped by about 125 copies, with another 100+ copies the next day. By contrast, the day an official review appeared in a major magazine, with circulation of about 300,000, my daily sales only jumped by about 25 copies and declined from there."
I occasionally get notes like this, and I always feel awed and humbled at the same time. It's good to know that if a book appeals to you morons, you will put your money where your mouth is. So to speak.

It Pays To Increase Your Word Power®
BIBULANT (adj.) fond of drinking
A GULCHCUP is a heavy drinker.
Usage: On election night, a bibulant Hillary gulchcupped an entire fifth.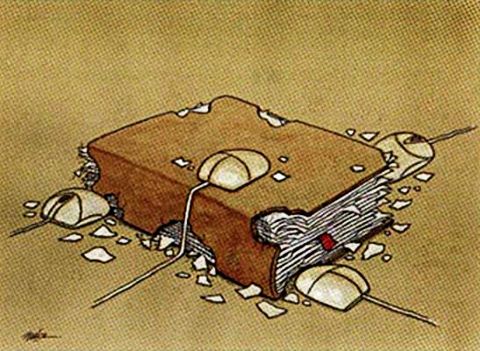 Making Science Fiction Great Again
Superversive Press is gearing up to release an anthology of "Trump-themed" science fiction stories, entitled MAGA 2020 And Beyond:
MAGA 2020 & Beyond is the best alternative to all of the over-the-top anti-Trump press and social media out there. More than a dozen writers came together to envision a brighter future for America inspired by the election of Donald J. Trump...
br<>MAGA 2020 & Beyond tells the tales of a prosperous future where evil is defeated, the border wall is built, society has righted itself, space exploration is common and world peace has been attained. These aren't just fantastical stories of a far-fetched future, they are stories of a future that can be obtained.
Uh-uh. This might be fun. On the other hand, it kind of sounds like a mirror-image of the Obama speech where he declared that his adminstration will be remembered as the time when the atmosphere replenished itself, the ocean levels stopped rising, etc., and so I'm trying not to cringe. Trump ain't God. Let's calm ourselves and not get carried away.
By the way, these are the guys who also published the science fiction short story anthology Forbidden Thoughts, which deserves a re-mention:
You are not supposed to read this book.
You are not supposed to think about reading this book.
In fact, just plain thinking at all is unacceptable.
You have been warned....

From hilarious to horrifying to dangerously insightful, a selection o f stories that must not be told, for they slaughter the sacred cows of our age.

Do you dare read them?

Stories by Nick Cole, John C. Wright, Sarah A. Hoyt, Brad R. Torgersen, Vox Day and more…

Non-fiction articles by Tom Kratman and Larry Corriea
(h/t moron author Daniel Humphreys)

The Death of Hef
Since Hugh Hefner has now assumed room temperature, this is probably a good time to note that life at his fabled Playboy Mansion was not all you might think it would be. We know this because of some women who actually lived there. And wrote books about it, to wit: Bunny Tales: Behind Closed Doors at the Playboy Mansion by Izabella St. James and also Down the Rabbit Hole: Curious Adventures and Cautionary Tales of a Former Playboy Bunny by Holly Madison:
At 21, small-town Oregon girl Holly Cullen became Holly Madison, Hugh Hefner's number one girlfriend. But like Alice's journey into Wonderland, Holly's plunge down the rabbit hole took her to a world where all was not as it seemed. The fairy-tale life inside the Playboy Mansion—which included A-list celebrity parties and starring in a number one television show—quickly devolved into an oppressive routine of strict rules, manipulation, and battles with ambitious, backstabbing Bunnies that nearly drove Holly to take her own life.
I've read small excerpts of both which give some sordid details of Hefner's personal life, which I think are probably accurate, but I will admit these women have a credibility problem: they've lived at Hefner's mansion, ate his food, accepted his cash and gifts, and now they're complaining that he made them do things they didn't particularly like in return? Did they honestly think the relationship with him was going to be a platonic one?
Now, with Hefner's death, a royal boatload of sycophants, hangers-on, groupies, gropies, grifters, bunnies, etc., are going to be dumped into the Los Angeles area job market, which is already overcrowded with such parasites. CNN will most likely blame the bump in California unemployment on Trump.
(note: I tried to avoid the whole 'porn vs. art' debate, and I hope you do the same).

Moron Recommendations
I can't do better than to post this review:
236 There's a great book called "Harvard and the Unabomber." Kaczynski had a psychology prof. as a freshman at Harvard - Henry Murray - who ran DoD experiments on torture and resilience. He used his students as test subjects and subjected them to humiliations and interrogations and would measure their physiological response (he would ask his students to write up a bio of their lives, their hopes, fears, etc. during the first week of class and then use the content against them during these grillings). Kaczynski was younger, scrawnier, and poorer than the rest of the class and was the most sensitive to these experiments. The good professor was also hardcore into BDSM and other such things.

It's really an indictment of the sickos who have walked the hallows halls of Harvard, if anything. An excellent read.

Posted by: La Mauvaise New Yorkaise at September 15, 2017 12:26 PM (ED4Lt)
Harvard and the Unabomber: The Education of an American Terrorist is not available on Kindle, and dead tree copies go for $60 and up. So you might want to see if you can find it in your local library.
___________
And thanks to Dan, who e-mailed a recommendation for Mark Bowden's book, "Hue 1968,", which he describes as "staggeringly good". Further:
Anyone who's read his other books, or just "Black Hawk Down," knows what a great journalist he is. He's portraying the central figures on both sides clearly and very fairly, so far -- I'm just halfway through, but his description of the Tet Offensive is better than anything I've ever seen. LBJ, Westmoreland, the Vietnamese allies and enemies, are all given extremely incisive and even-handed treatment. Strongest recommendation.
Hue 1968: A Turning Point of the American War in Vietnam by Mark Bowden. You might as well buy the hardback edition for $19.49 since the Kindle version is $17.

___________
Don't forget the AoSHQ reading group on Goodreads. It's meant to support horde writers and to talk about the great books that come up on the book thread. It's called AoSHQ Moron Horde and the link to it is here: https://www.goodreads.com/group/show/175335-aoshq-moron-horde.
___________
So that's all for this week. As always, book thread tips, suggestions, bribes, rumors, threats, and insults may be sent to OregonMuse, Proprietor, AoSHQ Book Thread, at the book thread e-mail address: aoshqbookthread, followed by the 'at' sign, and then 'G' mail, and then dot cee oh emm.
What have you all been reading this week? Hopefully something good, because, as you all know, life is too short to be reading lousy books.

posted by OregonMuse at
09:12 AM
|
Access Comments