« Social Justice Warriors Upset That Harvard Didn't Admit a Convicted Murderer
|
Main
|
Saturday Overnight Open Thread (9/16/17) Caturday Lite Edition »
September 16, 2017
Saturday Evening Movie Thread 09-16-2017 [Hosted By: TheJamesMadison]
I Demand Order!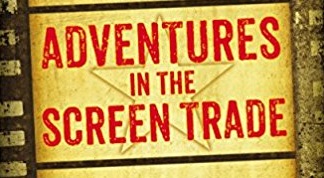 Screenplays are structure, and that's all they are. The quality of writing—which is crucial in almost every other form of literature—is not what makes a screenplay work.
-William Goldman, writer of The Princess Bride and Butch Cassidy and the Sundance Kid
I largely agree with this sentiment, but I think that Mr. Goldman oversells his idea a little bit. A well-structured story with terrible dialogue, poor characters, and an inflated sense of self-importance is going to be a hard thing to read or watch. I'm sure he meant that structure is more than just a very basic concept, but something that includes a whole lot more. And yet in my mind you might as well say, "Screenplays are movies. " It's so expansive to the point of meaninglessness.
Still, structure is really important to a movie. With bad structure, well-written characters and great dialogue become individual elements in a confusing mess of a story.
What is this Structure of which you speak?
Moron 'ibguy' sent me the video by Film School Rejects that outlines their Top 10 Best Structured Movies of all time. It's not really that, though, it's a list of top examples of 10 different structures. I found the video quite interesting and would recommend a watch. It also meshed well with some thoughts I had already been developing.
Structure is a rather large narrative concept and can be hard to pin down in a definition. You can approach it from a 30,000-foot level that looks at just large elements like acts of a story, or you could take it down to a much finer thing and talk about what specific pieces of information get revealed in what order and when.
In terms of the larger view, there are things like number of acts to consider and whether it should be told linearly or non-linearly, whether it circle back on itself, how many stories there are, and how they interact.
So, for this week, I'm just going to focus on the most common of structures in modern moviemaking: The 3-Act Linear Structure.

Beginning, Middle, and End
Why does the 3-Act structure get used so much in Hollywood? I think it's for 3 reasons: it's easy, it's simple, and it's effective.


(click for slightly larger version)
What does that visual representation of the structure say? It says to me that there's an implied escalation that continues from the opening moments to the climax in Act Three. Stakes continue to grow, risks continue to build, and situations become more dire.
Digging in a little deeper we can see the definitions of the three acts: Set Up, Confrontation (I've always called it Escalation), and Resolution. What happens in each?
In Set Up, we establish characters, relationships, and themes. These are the scenes where we see our main characters living their daily lives as they always have, where characters establish how they view one another before any sort of complications arise.
Confrontation (or Escalation) is when the plot really gets introduced. The plot being the complications that remove the characters from their established routines. These are generally where things like the bad guy shows up and takes someone hostage, or a wife discovers that her beloved husband has a terrible secret.
Resolution is where the plot comes to its conclusion. This is usually where the dramatic climax occurs, where things like protagonists and antagonists come into direct conflict and settle the central conflict of the plot.
All of that settles pretty easily into the very basic concepts of Beginning, Middle, and End.

Par Example



Think of almost any major motion picture of the past 40 years. Let's look at Star Trek II: The Wrath of Khan because, well, why not?
Set Up: Establishes Kirk, Khan, supporting characters as well as basic motivations for the major players. Savak, for example, is a driven Vulcan who doesn't quite understand the No Win Scenario of the Kobayashi Maru nor Kirk's seeming nonchalance around the whole endeavor. Khan's hatred of Kirk is shown as well as his basic predicament. Arguably, the first act comes to an end with Khan capturing the U.S.S. Reliant and Kirk taking the Enterprise out of spacedock.
Confrontation: Khan attacks Kirk, Kirk barely escapes (in one of the most satisfying escapes because both opponents are actually very intelligent) while subtly revealing Khan's weakness (which is never made explicit), and Kirk meets with his old flame and son, complicating matters emotionally. This act ends as Kirk explains his approach to the No-Win Scenario ("I don't like to lose").
Resolution: Kirk and Khan face off again, Kirk ultimately triumphs, but not before Spock sacrifices himself to save the ship, recalling dialogue and sentiments from earlier in the film.
Out of all of the movie's strengths, it's perfect construction is one to almost marvel at because it seems so easy while watching. All of the pieces are introduced quickly and effectively. The clashes of the second act are impactful, changing the complete direction of the plot. The third act comes to a satisfying denouement where the antagonist shines brightly while the protagonist completes a change. When done well, the three-act structure really can hold wonders.

Conclusion
Nobody knows anything...... Not one person in the entire motion picture field knows for a certainty what's going to work. Every time out it's a guess and, if you're lucky, an educated one.
-William Goldman
I think the appeal to Hollywood, an industry that spends tens and hundreds of millions of dollars on individual products, is obvious. When you can't predict much in terms of what will work for audiences, what will make money and what won't, it's nice to have something reliable on which to fall back on consistently.
Hollywood has a hard time predicting which heroes and conflicts will appeal to an audience, done in which styles. All of these preferences change rapidly, especially while considering the average 2-year cycle for a movie to go from concept to finished product. Hollywood knows that the three-act Structure is something that audiences don't actively reject.
So, have you noticed the single most common structure in movies before? Is it something that you notice while watching? Do you have any favorite examples where the structure was used most effectively?
Discuss away, for next week we go non-linear.

Movies of Today
Opening in Theaters:
mother!
American Assassin
Next in my Netflix Queue:
OSS 117: Lost in Rio
Movies I Saw This Week:
Creed (Netflix Rating 5/5 | Quality Rating 3.5/4) Poster blurb: "Effectively a remake of Rocky, but a damn fine one." [Amazon Prime]
The Overnight (Netflix Rating 4/5 | Quality Rating 3/4) "An interesting little movie that's equal parts intentionally uncomfortable and clear headed." [Netflix Instant]
Inside Llewyn Davis (Netflix Rating 5/5 | Quality Rating 4/4) "A very funny little character piece with wonderful performances and a great sense of the time and place." [Amazon Prime]
Mishima: A Life in Four Chapters (Netflix Rating 5/5 | Quality Rating 3.5/4) "A complex portrait of an artist that effectively uses his own works to highlight a view of who he was and what he thought." ["Library"]
Night People (Netflix Rating 3/5 | Quality Rating 2/4) "Middling Cold War tale which can't decide if it's a hard edged morality play or a typical procedural." ["Library"]
The Stoning of Soraya M. (Netflix Rating 4/5 | Quality Rating 3/4) "A good portrait of a terrifying event." [Netflix DVD]
The Beaver (Netflix Rating 2/5 | Quality Rating 1.5/4) "Disjointed to the point of distraction, but with some solid performances." [Netflix Instant]
In the Shadow of the Moon (Netflix Rating 5/5 | Quality Rating 3.5/4) "An engrossing look at the Apollo program from the men in the capsules." [Amazon Prime]
American Ultra (Netflix Rating 2/5 | Quality Rating 2/4) "A real hodgepodge of tones and genres that never finds its feet." [Amazon Prime]
OSS 117: Cairo, Nest of Spies (Netflix Rating 5/5 | Quality Rating 4/4) "A comedy classic. Absolutely hilarious from beginning to end." [Amazon Prime]

Contact
Email any suggestions or questions to thejamesmadison.aos at symbol gmail dot com.
I've also archived all the old posts here, by request. I'll add new posts a week after they originally post at the HQ.


posted by OregonMuse at
08:45 PM
|
Access Comments