« Open Thread
|
Main
|
The Morning Report 9/18/17 »
September 17, 2017
Sunday Overnight Open Thread (9/17/17)
(Diving Jumping into The ONT)
*****
Quotes of The Day
Quote I

As you move through life, set aside good ideas and give them to others to encourage and inspire. Peter J. Daniels
Quote II

Culture is to make a nice drinking bowl from one's enemy's skull. Civilization is to go to prison for that. Anonymous
Quote III

The point at which life becomes 'worthless,' and the point at which the means necessary to preserve it become 'extraordinary' or 'inappropriate,' are neither set forth in the Constitution nor known to the nine Justices of this Court any better than they are known to nine people picked at random from the Kansas City telephone directory...[therefore] even when it is demonstrated by clear and convincing evidence that a patient no longer wishes certain measures to be taken to preserve her life, it is up to the citizens of Missouri to decide, through their elected representatives, whether that wish will be honored. Antonin Scalia Cruzan v. Missouri Department of Health
Quote IV

Disobedience, in the eyes of any one who has read history, is man's original virtue. It is through disobedience that progress has been made, through disobedience and through rebellion. Oscar Wilde
*****
There has to be a better place to watch a football game than this place? BWW mutes National Anthem.

In California, an employee at a Buffalo Wild Wings muted the national anthem playing before a Monday Night NFL game despite protests from the customers. He blamed "company policy" on during down the anthem, because it was too controversial.
*****

Kids will be kids. Victory for free speech on a college campus.

WICHITA, Kan., Sept. 14, 2017 — Administrators at Wichita State University have reversed course after launching a Title IX investigation into a fraternity for hanging a banner outside their fraternity house that read "New Members Free House Tours!" An administrator initially justified the investigation, saying, "I think we're all a little more sensitive because of the statements Betsy DeVos made" about Title IX enforcement the previous week.
Offensive? Good Lord.
*****
What happens in Vegas, Doesn't always stay in Vegas.

A Nevada high school football game turned into a chaotic scene as two teams broke into a brawl that had to be stopped with police and pepper spray.

Tensions were already high at the Basic High School homecoming game Friday hosting Canyon Springs, when the heated game turned into a near riot, according to the Las Vegas Review-Journal.
As an official I've never seen anything close to this. Plenty of blame to go around, coaches, parents, players and maybe even the officials.
*****

"We apologize to everyone affected," Smith wrote in an op-ed posted to USA Today's website Sept. 12. "This is the most humbling moment in our 118-year history."NO SHIT.

Equifax Inc. said two of its senior executives are leaving as the credit-reporting company faces mounting public anger for losing data on 143 million Americans in one of the biggest cyberattacks in history.
The ONT wonders what the size of their golden parachutes are?
*****
What drives the left nuts? President Trump, shooting from the hip and being spot on.

"Another attack in London by a loser terrorist. These are sick and demented people who were in the sights of Scotland Yard. Must be proactive!" Trump tweeted.
*****
Outrage, it's a one-way street. Sarah Huckabee Sanders has pissed off the perpetually offended.

"When Sarah Huckabee Sanders called for Jemele Hill to be fired by ESPN, she crossed the line and put herself in dubious legal territory," Jon Cooper, Chairman of the Democratic Coalition, said in a statement. "Even in Donald Trump's America, there's still such a thing as freedom of speech. For Sanders to publicly call for the dismissal of a Trump critic is bizarre and disturbing, to say the least. If anyone is to be fired, it should be her."
Since I'm not employed by the WH may I say, Piss off Jon Cooper?
*****
Hate crimes.California using pretense of "hate crimes" to confiscate firearms.

This bill would also add to the list of misdemeanors, the conviction for which is subject to the prohibition on possessing a firearm within 10 years of the conviction, the above-referenced interference with the exercise of civil rights, as specified. Because a violation of this provision would be a crime, this bill would impose a state-mandated local program.

So, a Californian convicted of a misdemeanor "hate crime" stands to lose their guns and gun rights for 10 years. What could possibly go wrong?
Nothing?
*****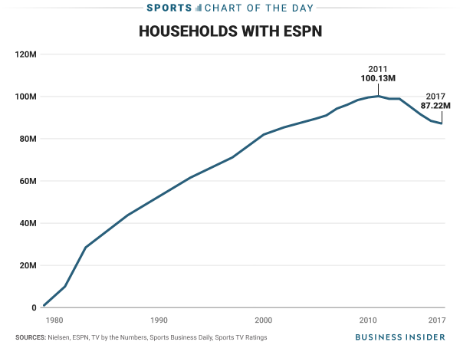 ESPN is losing subscribers. Yet their income grows.

ESPN has indeed lost nearly 13 million subscribers in the last six years, from its peak of 100.12 million in 2011 to 87.22 million in the most recent estimates, according to Nielsen (continued below).

While that is not good, it is not as bad as it sounds. Those are simply people who subscribe to cable and satellite services that have ESPN and does not distinguish whether or not those people were actually watching ESPN. In fact, it appears that most were not regular ESPN viewers.
*****

Smoking? Bad for you! Second hand smoke? Bad for you! Third hand smoke? C'mon Bull shit!!!


Links between disease and tobacco have been clear for half a century now, while the harmful effects of second-hand 'passive' smoking have been studied since the mid-1980s.

Now we have reason to suspect that the residue left behind by the aerosols from cigarettes on clothing and furniture can continue to affect our health, making third-hand smoke a health risk we need to start paying attention to.
*****
The ONT Musical Interlude
September 17, 1923, Born on this day in Mount Olive, Alabama, was Hank Williams (born Hiram King Williams). The American singer-songwriter and musician is regarded as one of the most important country music artists of all time. Williams recorded 35 singles (five released posthumously) that would place in the Top 10 of the Billboard Country & Western Best Sellers chart, including 11 that ranked No.1. During his last years Williams's consumption of alcohol, morphine and painkillers severely compromised his professional life. Williams died aged 29 on January 1, 1953. via thisdayinmusic.com
***
*****
Guns don't kill people. People kill people. Study delves into gunshot deaths, ages and logistics.

The first study, led by Dr. Bradley Herrin, a pediatrician at the Yale School of Medicine, concluded that the age a child is injured by a gun is closely related to where they live — specifically, in an urban or rural area. A summary of the study, "Hospitalizations for Firearm Injuries in Children and Adolescents in the U.S.: Rural Versus Urban," will be presented Monday, Sept. 18, at the American Academy of Pediatrics National Conference & Exhibition in Chicago.

Using statistics compiled by the Kids' Inpatient Database, which contains information on hospital stays for those younger than 21, researchers found older teens (those between 15 and 19) living in urban areas were the ones most likely to be hospitalized for gun injuries, but among younger children (ages 5 to 14) the rate of hospitalization was higher in rural areas.
*****

Always a fun interview, Mark Steyn, on Cankles book and book tour.
*****
A failing relationship? A pair of Genius Award Winners.
*****

Berkeley area cops sure seem to be on the wrong side of most issues these days. Good Samaritans to the rescue Tonight's Feel Good Story of The Day.
*****

Tonight's ONT has been brought to you by Problem Solving Techniques.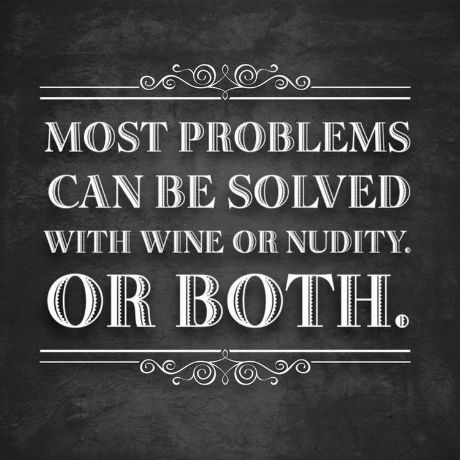 Notice: Posted with permission by AceCorp, LLC. The Surgeon General is hands off on The ONT.
Weekly commenter stats for week 9-17-2017

Top 10 commenters:
1 [537 comments] 'Insomniac' [75.40 posts/day]
2 [431 comments] 'Steve and Cold Bear'
3 [409 comments] 'Mike Hammer, etc., etc.'
4 [405 comments] 'Grump928(C)'
5 [369 comments] 'Vic We Have No Party'
6 [366 comments] 'Christopher R Taylor'
7 [361 comments] 'Your Decidedly Devious Uncle Palpatine. All Honor & Glory to Kekistan! '
8 [309 comments] 'garrett'
9 [305 comments] 'Skip'
10 [294 comments] 'Village Idiot's Apprentice '
Top 10 sockpuppeteers:
1 [124 names] 'Steve and Cold Bear' [17.41 unique names/day]
2 [89 names] 'Joe Biden'
3 [55 names] 'andycanuck'
4 [43 names] 'bicentennialguy'
5 [40 names] 'Duncanthrax'
6 [39 names] 'Bertram Cabot, Jr.'
7 [35 names] 'an indifferent penguin'
8 [31 names] 'tu3031'
9 [30 names] 'Adirondack Patriot'
10 [26 names] 'Cicero (@cicero)'
*****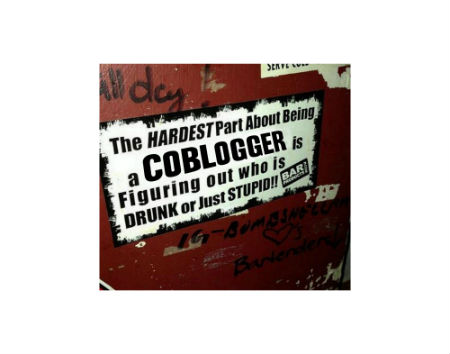 A friendly ONT reminder, we don't swim in your toilet, you don't piss in our pool.

posted by Misanthropic Humanitarian at
10:00 PM
|
Access Comments