« Gimmie an "O", Gimmie an "N", Gimmie a "T"! What's that spell?
|
Main
|
Mid-Morning Open Thread »
September 15, 2017
The Morning Report 9/15/17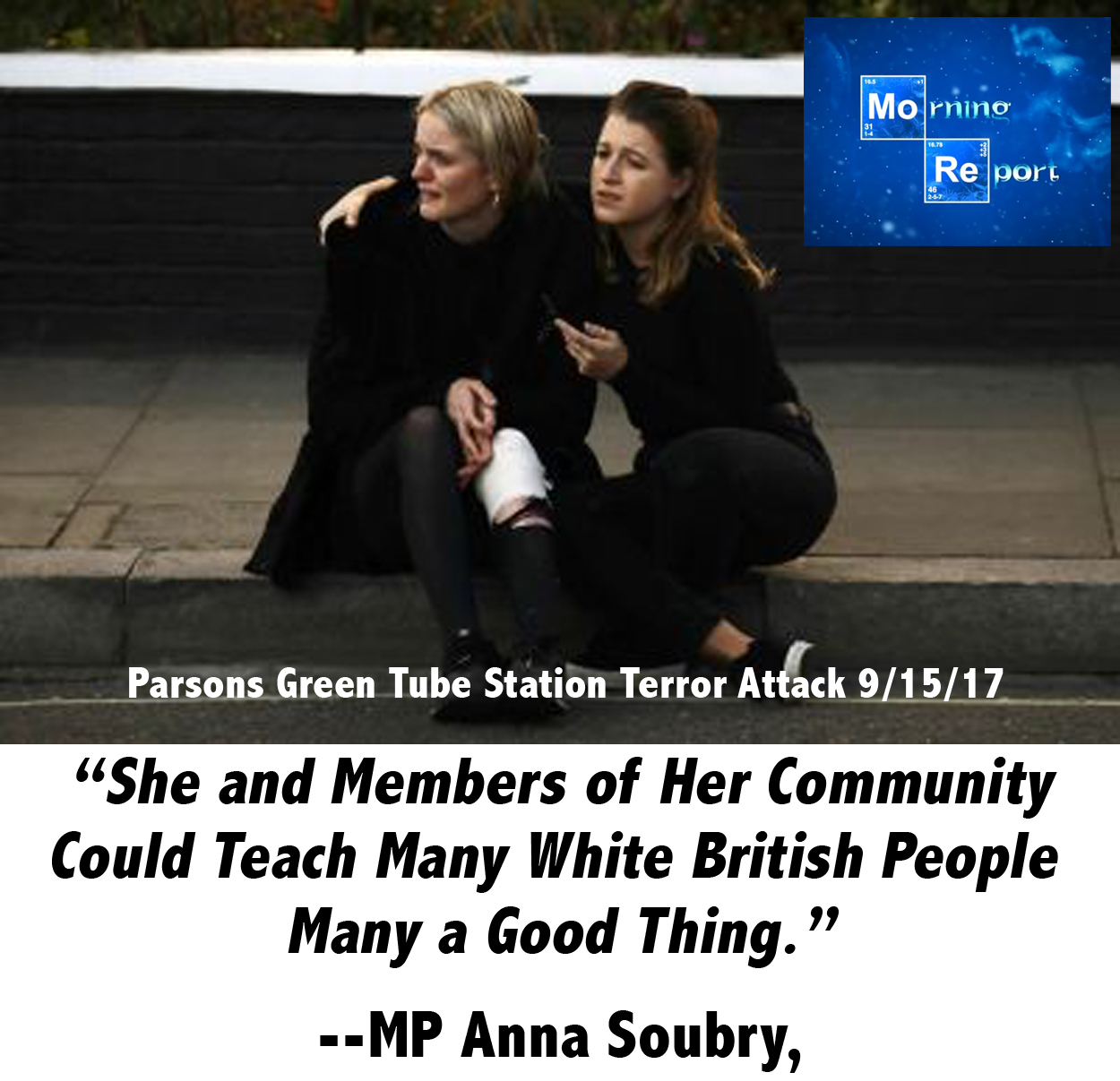 Good morning kids. First up, above the fold, we have a breaking/developing story in London where an explosion rocked a train in or near the Parsons Green station on the London Underground just a few hours ago during the Friday rush hour. If someone yelled "Shalom, PeeWee!" we'll find out (or not) soon enough. Also, Whoa, Fat! has launched another missile that overflew Japan and went 200 miles further than any previous launch; 2,300 miles. Hank Johnson's Tippy Island is now well within range.
The big story continues to be the fallout over PDT's meeting with Chuck Schemer and Nunzio Palsi, and the alleged "deal" that was struck, or minimally what was or was not discussed vis a vis Amnesty, immigration, the border wall, the Cleveland Indians and the marvel that is Prell shampoo. Yesterday, as you may recall, I leveled criticism at the President, which most of his die-hard supporters took umbrage at. Soon after I had some second thoughts considering the nature of today's media. Rush yesterday explained, and rightly so, that having utterly failed in their attempts to directly destroy Trump, the only way to defeat him is to attempt to separate him from his base. Now this is of course true. And in fact later in the day, whilst on the ground in Florida observing Irma recovery operations, he basically said that what his two dinner guests said was bullshit.
THE PRESIDENT: There was no deal, and they didn't say that. In fact, they just put out a statement. They didn't say that at all.

REPORTER: No release for DACA recipients unless you get the wall? Is that what you're saying?

THE PRESIDENT: The wall.... At some point, they're going to have to.... They cannot obstruct the wall. The wall, to me, is vital. If I don't get the wall, then we will become the obstruction.

REPORTERS: (crosstalk) What has to come first, the wall?

THE PRESIDENT: We have to have an understanding whether it's in the budget or some other vehicle, in a fairly short period of time, the wall will be funded. Otherwise, we're not doing any deal.
Okay, that seemed pretty clear, I guess. BUT, then he had this to say....
We're not looking at citizenship. We're not looking at amnesty. We're looking at allowing people to stay here. We're working with everybody. Republican, we're working with Democrats. I just spoke with Paul Ryan. He's on board. Everybody's on board. They want to do something. We're not talking about amnesty. We're talking about.... Uh, we're talking about taking care of people, people that were brought here-- people that have done a good job and were not brought here of their own volition.
What the hell does that supposed to mean? Not Amnesty, not citizenship but you let people stay? As what, 800,000 essentially stateless persons? Within seconds you are going to have such an outcry from the usual quarters that an entire group of people have been cruelly been made into what is essentially worse than second class citizens and either the hack Judiciary or hack Legislative branch will right this terrible injustice and voila! Millions more Democrat voters.
Look, I'm getting into the weeds here but this entire thing to me is turning into a YUUGE fiasco. I know some will look at this as 11-dimensional chess on PDT's part but frankly I don't see it. He ran on the platform of securing our borders, ending the cultural/societal/economic destruction wrought by 50 years of unchecked third world migration and draining the DC swamp. I realize that he is or purported to be "non-ideological" but he is intelligent; he surely has to see that the things he railed against during the campaign are indeed driven by a mad ideology. To jump into bed with two of its most smarmy figureheads and purveyors is beyond the pale. And I have not forgotten, nor will I ever forget, the bastards in the GOP for aiding and abetting all this and stonewalling the President as well. But as I mentioned the other week in my fantasy address to the nation, the President must declare war on both parties, the Deep State and the media/academia/culture complex on behalf of the people who put him in office. If he is prevented from doing what we want, I can completely understand that so long as he went to the mattresses for us. But this deal making just for the sake of making a deal will be the bitter end, especially on this (the Obamacare non-repeal and tax reform is something else as well). Mr. President, you and we are at a crossroads. You can be the catalyst that begins the road back and go down as a national hero, or squander the last legitimate chance we will ever have to save this nation. Here and now. Choose.
A couple of other items of note: the always great Daniel Greenfield speculates that Susan Rice's unmasked Trump's underlings on behalf of the Muslim Brotherhood, Harvard has actually backtracked and rescinded the invitation for the freak traitor Manning, the Russkies and Chi-Coms are propping up regime in Venezuela and Ben Shapiro's engagement at Berkeley went off without too much disruption.

Anyway, links from around the world, across the nation and up your street. Have a better one and remain blessed.


posted by at
07:15 AM
|
Access Comments