« For Your Viewing Pleasure: An Antifa Beatdown
|
Main
|
What Happened? (MJ) »
September 10, 2017
Food Thread: Just Shut Up And Eat!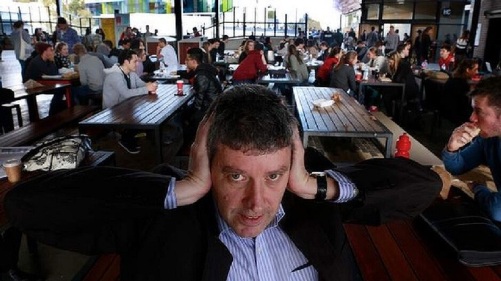 [photo courtesy of
Soundproofing America
]
One of the pleasures of dining is the conversation with one's dining companions. Whether it's about the food or politics or baseball or the silly shoes in the window of the shoe store next door to the restaurant is secondary to the simple joy of conversation.
And I am not that much of a curmudgeonly old fart that I don't get the loud bar vibe. It's high energy, and it works when people are mingling and drinking and trying to get laid.
But for fvck's sake, can I please have a simple meal in a bistro without the noise level of a catapult launch on an aircraft carrier? How hard is it to manage sound in a restaurant? I'm not asking for recording studio quality, but a few baffles on the ceiling and some soft materials on the walls will go a long way to dampening the racket.
And maybe while you are at it Mr. Restaurant Owner, get that loud table in the corner with the braying, combed-over asshat bragging about his new boat to tone it down a bit. Buying a meal in a restaurant is not a license to ignore social graces.
Hell, there's even some research that shows changes in taste perception corresponding to noise levels.Effect of background noise on food perception
I won't even mention the precious little snowflake children who squawk and scream and run around. My parents would have dragged my ass out of the restaurant and slapped me silly before tossing me into the car while they finished their meals.
******
Oeufs en Meurette
Oh man! This brings me back a long, long way. My mom used to make this every now and then. It's a great dish, but quintessentially French, so it might not be for everyone.
And what do I mean by that? I'm not sure how to describe it; maybe a reliance on dry and astringent flavors. In this recipe the red wine is in the forefront, and it doesn't provide any counterpoint of sweetness.
Yeah....I'm babbling. Somebody help me out!

******
Chicken sashimi is risky; and gross
No! Really? I sometimes joke about "chicken tartare," but it never occurred to me that there were actual human beings dumb enough to try it. I have read studies that show between 1/3 and 2/3 of raw chicken is contaminated with Salmonella or other even nastier bugs. It's partly a function of the natural filth of chickens (cloaca anyone?) and the way they are processed.
I will eat raw fish, and I will eat raw beef. I am aware of the risks and understand how to minimize them. But eating a food that is almost certainly contaminated with a pathogen is behavior I associate with profound stupidity.

******
I have been on a red pepper flake kick recently. For some reason the jar of the stuff in my spice cupboard seems to be awesomely flavorful, unlike the usual stuff which is just hot but without much complexity. So while poking around I came across this recipe. I haven't made it, so no guarantees, but it looks like a straightforward recipe.
Spicy Pasta Alla Norma
. I love the ricotta garnish, which is becoming a fixture on pasta here at Chez Dildo.
******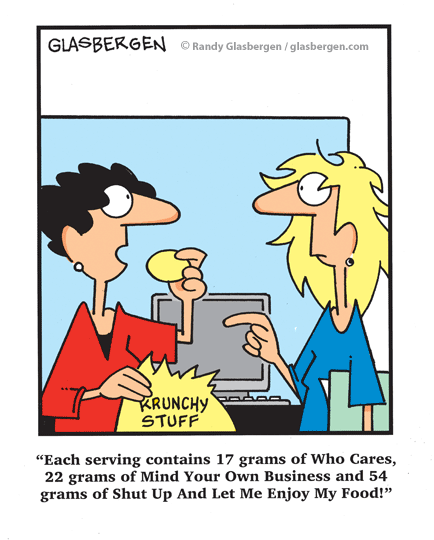 ******
I found this recipe at
Cooks Country
, and it's useful because the ingredients are almost infinitely flexible.
Needless to say it needs more bacon, and don't bother peeling the potatoes.
Spinach, Potato, and Bacon Frittata
10 large eggs
3 tablespoons half-and-half
Table salt and ground black pepper
1/2 cup crumbled goat cheese
1 (6-ounce) bag baby spinach
3/4 pound Yukon Gold potatoes, peeled and cut into 1/2-inch pieces
6 slices bacon , cut crosswise into 1/4-inch strips
1. Adjust oven rack about 5 inches from heating element and set oven to broil. Whisk eggs, half-and-half, 1/4 teaspoon salt, and 1/4 teaspoon pepper together in bowl until combined. Stir in 1/4 cup cheese.
2. Microwave spinach in large microwave-safe bowl, covered with plastic wrap, on high power until wilted, about 90 seconds. Transfer spinach to clean dish towel and squeeze out excess liquid. Microwave potatoes in now-empty bowl, covered with plastic wrap, on high power until tender, about 5 minutes.
3. Meanwhile, fry bacon in medium nonstick ovensafe skillet over medium heat until crisp, about 6 minutes. Transfer bacon to plate lined with paper towel and pour off all but 1 tablespoon fat from skillet. Add potatoes to skillet and cook until golden brown, about 5 minutes. Add spinach, bacon, and egg mixture and cook, using rubber spatula to stir and scrape bottom of skillet, until large curds form but eggs are still very wet, about 2 minutes. Shake skillet to distribute eggs evenly and cook, without stirring, until bottom is set, about 30 seconds. Sprinkle remaining cheese over top.
4. Broil until surface is spotty brown, 3 to 4 minutes (eggs should be slightly wet and runny inside). Remove from oven and let stand 5 minutes to finish cooking. Slide frittata onto platter and cut into wedges. Serve.

******
Food and cooking tips, great tomatoes, spare bottles of Oban Scotch Whisky , fresh Morels and other goodies such as fresh-killed possum:
cbd dot aoshq at gmail dot com

posted by CBD at
04:00 PM
|
Access Comments