« Saturday Gardening Thread: [KT]
|
Main
|
Saturday Afternoon Chess/Open Thread (Featuring Dress Pr0n) 09-09-2017 »
September 09, 2017
Ace of Spades Pet Thread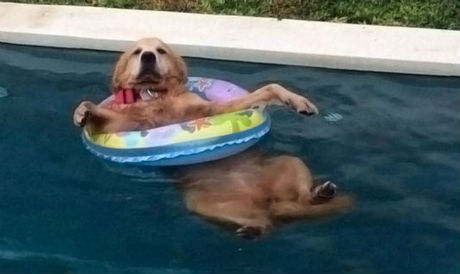 (Talk about living the dream!)
*****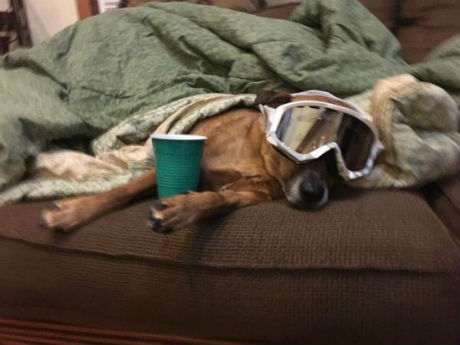 (Here's what happens when you don't live the dream.)
*****

Good afternoon. Thank you for stopping by. Take some time off, grab a refreshing beverage and enjoy the world of animals.

*****
A Little of This. A Little of That.

Who said veterinarians don't have a sense of humor? These signs say otherwise.

Are you lonely when you travel? Hotel attempts to help, Not a great dinner date.
Not our idea of a dinner guest.
*****
Meet The PetMorons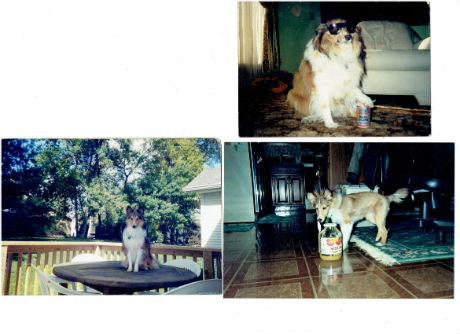 The top picture is of "Spiff the Wonderdog". It is from the late Eighties and he was my Bestest Doggy Ever, because he was our first Shetland Sheepdog, (Sheltie).

The bottom two are of "Scooter", who barked at everything. He was a purebred Sheltie who only lived for seven years due to leukemia.

My current Sheltie, "Paige" is not pictured because I've posted her picture enough around these parts.

If I'm around, I'll send a link to her most interesting picture.

God Bless our Furry Friends! Thank you for The Pet Thread!-Slapford J. Weasel
Thanks Slappy outstanding looking Shelties.
*****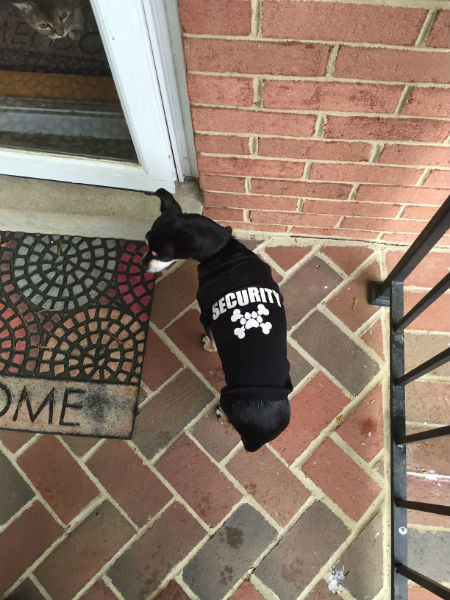 WeaselCat v1 looking at WD through the door
They look like quite the pair.
*****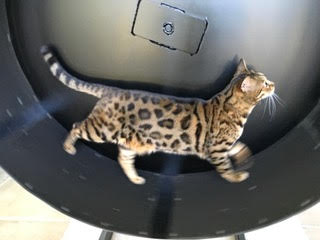 This is Reagan the Bengal cat running on her giant hamster wheel.-CaliGirl
Pretty cool exercise wheel. Sharp looking kitteh.
*****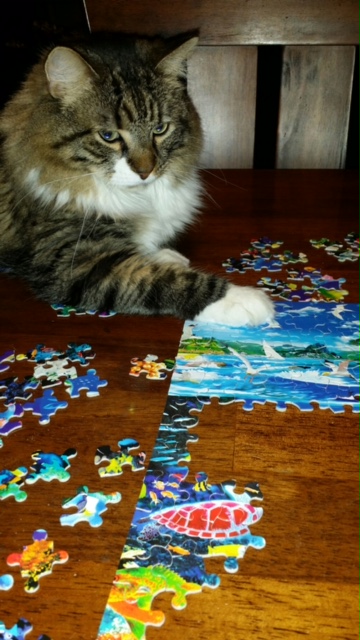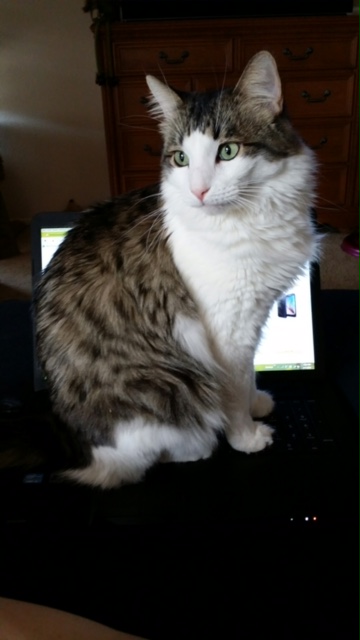 Hi MH!

Mrs. Cannibal Bob here. Two photos for the pet thread. First up is Miss Fluff who likes to "help" with puzzles. Next is Patch who is our tech support. We rescued the two after we lost our last cats (Ernest and Julio). We had just moved to a new house and, well, a house is not a home without at least one cat. Cannibal Bob said that if we got a cat, he wanted a BIG cat. When I saw the posting for Patch and it said "He's a big boy with big paws", I knew he was the cat for us. We found out Fluff, his sister, was available and we took the package deal! Fluff loves to drink Bob's coffee and my wine. Patch wages war with my hairdryer and any other small, loud appliance. Both are Main Coon mixes and quite large!

Thanks for the pet thread-a Saturday treat indeed.
Thanks Mrs. Cannibal Bob. What a fine looking pair of cats. We appreciate your kind words.
*****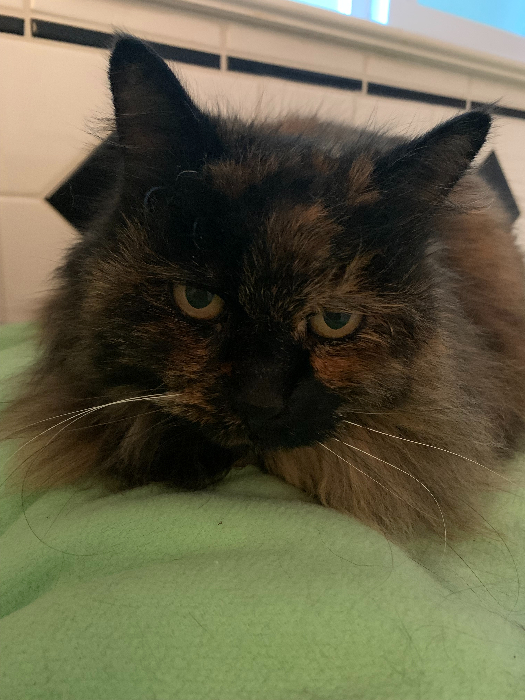 Never-commenter here, but long, long time lurker. I look forward to seeing all the pets who bring nothing but joy to all. Here's my Ruby June. Part golden retriever, part poodle and all rascal. She decides when and if you will be deemed worthy of cuddling with her incredible softness, but expect no doggy kisses. It seems those are beneath her. But she will chase a ball under any circumstance, without regard for her dignity! Here she is keeping a watchful eye on the neighborhood. -- LJHoward
A horrible and vicious looking attack dog if you ask us.
*****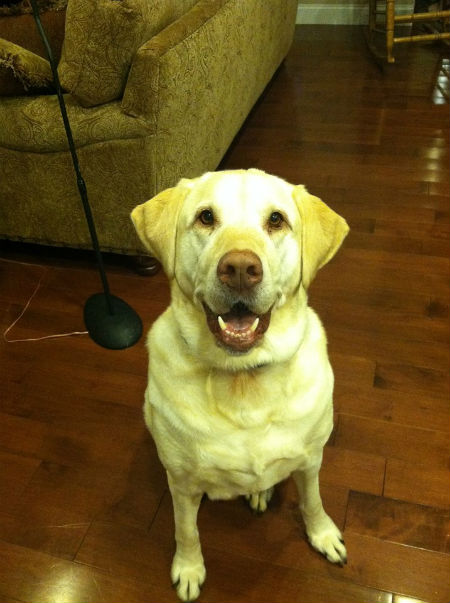 Pet Morons! Love this site. I read daily and it keeps me sane.

For your consideration are two pictures of my Moron pet- Yahoo. 10 year old Labrador Retriever. Unlike my hot wife and me, we have decided that Yahoo would fall in the Bernie Sanders school of politics. He's the perfect example of a 30 year old still living in his parents basement. Selfish, wants stuff for free and expects to be catered to. He is truly a millennial. But we love him!-Chuck
Thanks Yahoo & Chuck. I'm afraid most of our pets would fall into the Bernie Sanders camp. That's OK they are PetMorons after all.
*****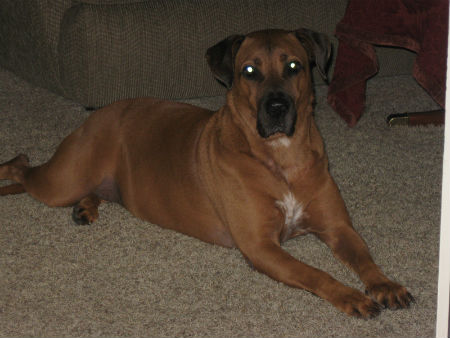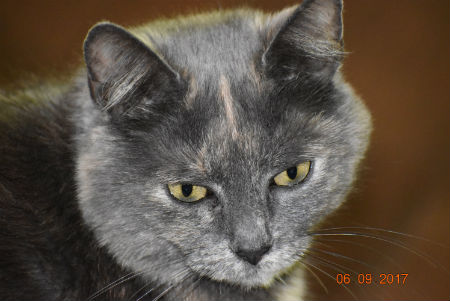 I have been a lurker for a long time. Have never commented. Started reading daily about six months before Ace made his first support request. He promised a personal thank you email to everyone who made a contribution. Took several weeks but I finally did get his thanks – I don't think he expected so many people to respond to his request for support. The dog is Jada (pronounced Jay-Dah) and the cat is Fuzbut. Kids brought the dog home about 12 years ago, and she is finally beginning to slow down a bit. The cat is a new addition rescue brought home by the kids – somewhat feral, but has taken a real liking to me for some reason. The cat is totally unimpressed by the dog – has taken over the dog bed on several occasions. Very comical to see Jada looking over at me for help with this intruder. -pjk
It sounds as if pjk is controlled by children and pets. Big group!!! Thanks for being a Moron.
*****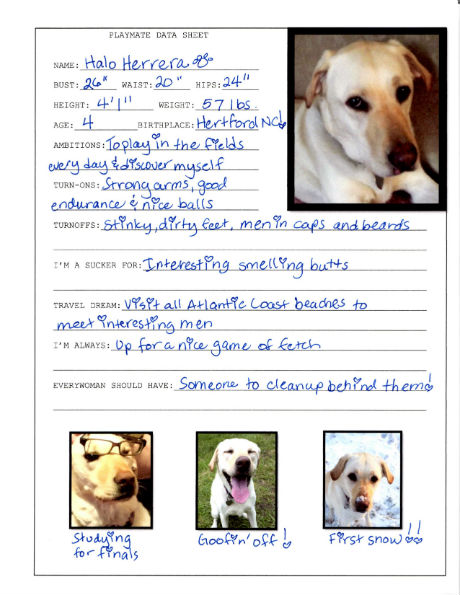 Our friend left his wonderful pet with us for about a week... this is what we sent to him... From a long time reader! -Bob
Aren't you a wonderful friend? Thanks for sharing with us.
*****

You folks certainly have some fine looking pets. The way you write about them the love is apparent. Thanks for sharing!!!!
We appreciate the photos you have submitted. We appreciate your patience as we get to them. You can reach us at petmorons at gmail dot com.
Have a great week!!!

posted by Misanthropic Humanitarian at
02:53 PM
|
Access Comments