« Irish Family Panics Over Bat In Kitchen
|
Main
|
The Morning Report 9/7/17 »
September 06, 2017
Wednesday Overnight Open Thread (9/6/17) Mid Week Edition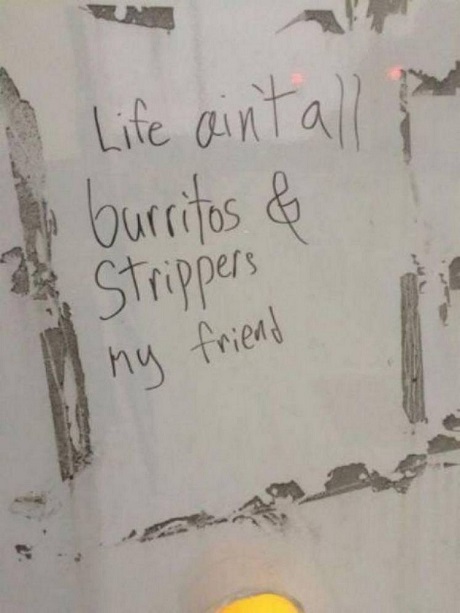 (No argument here)
*****
Quotes of The Day

Quote I

Muslims are allowed to get away with almost anything. They can shut down and intimidate prominent ex-Muslims. They're allowed to engage in the most brazen anti-semitism, even as they run for office in European left-wing political parties. And, of course, politicians and the media routinely turn a blind eye to the kind of sexism and homophobia that would instantly end the career of a non-Muslim conservative — and perhaps get the latter arrested for hate speech when he dared to object. Milo Yiannopoulos
Quote II

I believe in an America where the free enterprise system flourishes for all other systems to see and admire — where no businessman lacks either competition or credit — and where no monopoly, no racketeer, no government bureaucracy can put him out of business that he built up with his own initiative. John F. Kennedy
Quote III

We must forgive our enemies. I can truly say that not a day has passed since the war began that I have not prayed for them. General Robert E. Lee
Quote IV

"Jake Sullivan, my top policy advisor, told me it reminded him of a scene from the 1998 movie There's Something About Mary. A deranged hitchhiker says he's come up with a brilliant plan. Instead of the famous 'eight-minute abs' exercise routine, he's going to market 'seven minute abs.' It's the same just quicker. Then the driver, played by Ben Stiller, says, 'Well, why not six minute abs?' That's what it was like in policy debates with Bernie. We would propose a bold infrastructure investment plan or an ambitious new apprenticeship program for young people, and then Bernie would announce basically the same thing, but bigger. On issue after issue, it was like he kept proposing four-minute abs, or no minute abs. Magic abs! Hillary (Who will never be POTUS) Clinton
*****

22 rare photos you won't see in history books.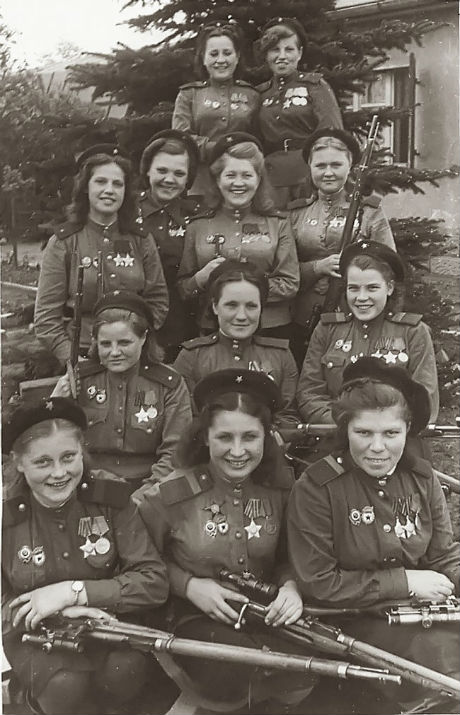 (Russian babes you don't want to mess with)
*****
Dark ending comics by The Perry Bible Fellowship. Twisted and dark and so you have been warned.

It tackles difficult topics head-on, and some of the most common themes include irony, religion, sexuality, war, science fiction, suicide, violence, and death.
"Sometimes I look at my work and think that it shows the idealism of my Dad colliding with the realism of my Mom," Gurewitch told Things In Squares. "Or, I see the idealism of my Mom colliding with the realism of my Dad. The idea of the "real" colliding with the "ideal" has been suggested to me by many artists."
*****
Care for a different type of humor? If the NFL was honest with you. Humor is built in truth.
*****
Bill Burr of course NSFW. Bill discusses the Nazi hysteria.
*****
Half-way across the world another tender box is set to ignite. Of course the American MSM isn't covering it. The Rohingya conflict, which erupted between Buddhists and Muslims in Myanmar's western Rakhine state in late August.And guess whose fingers are in it?

Meanwhile, the Burma Task Force, which comprises a number of organizations funded by George Soros, has been actively operating in Myanmar since 2013 calling upon the international community to stop what they call "the genocide of the Rohingya Muslim minority group." However, Soros's interference in Myanmar's domestic affairs goes deeper into the country's history.
*****
Causes for car crashes. Driving too fast for conditions? Failure to yield/stop at a controlling sign? Inattentive driving? Nope, global warming is.

Study Blames Global Warming, Not Cell Phones, For Spike In Car Accident Deaths

Global warming was responsible for thousands of road deaths in 2015, according to a new study, contradicting many public safety experts who blame increased cell phone use for the spike in traffic fatalities.

"As temperatures continue to increase from heat-trapping gases in the atmosphere, road deaths will likely increase more than expected unless there are major mitigating countermeasures," retired Yale University epidemiologist Leon Robertson said in a statement.
I guess texting and driving is now acceptable?
*****

Yawn. Stretch. Yawn. Settles back into recliner. Pass the popcorn, please.

From the "flexible deadlines department" and the World Economic Forum. Prince Charles said back in 2009 that "we have 100 months to save the world". That deadline looked like it wouldn't happen so in 2015 he extended the deadline 35 more years. You'd think these people would talk and get their stories straight.

Six scientists and diplomats have published a letter urging governments, businesses and others to address climate issues.
Three years to save the planet. Wow. Just Wow!
*****

All of this coddling of the Snowflake generation is going to come back and bite our nation in the ass. And there is no let up in sight.

The University of North Texas now offers students weekly healing sessions with therapy dogs.

According to an advertisement for the therapeutic sessions put out by the university's Counseling and Testing Services Department, students are invited to "join Rockstar the therapy dog for some de-stressing art" every Thursday throughout the semester.
*****
The ONT Musical Interlude
September 6, 1970, Jimi Hendrix made his final live appearance when he appeared at the Isle Of Fehmarn in Germany. The guitarist died 12 days later on 18th Sept 1970 after choking on his own vomit. via thisdayinmusic.com
*****
September 6, 1975, Glen Campbell started a two week run at No.1 on the US singles chart with 'Rhinestone Cowboy', his first No.1 after 13 Top 40 hits. The record gained three Grammy nominations and was the Country Music Association's Song of the Year for 1976. via thisdayinmusic.com
*****
Saturday's ONT covered the nurse at a SLC hospital who refused to draw blood for a cop/EMT. She was arrested and later the charges dropped. Karma found the arresting asshole without a warrant as well.

A Salt Lake police detective whose arrest of a University Hospital nurse sparked a worldwide outcry was fired Tuesday from his part-time position at Gold Cross Ambulance.

Gold Cross officials said Jeff Payne's termination was effective immediately.

"Although Jeff was not working for Gold Cross Ambulance at the time of the incident, we take his inappropriate remarks regarding patient transports seriously," the company said in a statement. "We acknowledge those concerned individuals who have contacted us regarding this incident and affirm our commitment to serving all members of the community with kindness and respect. We will continue to maintain our values of outstanding patient focused care, safety and the complete trust of the communities we serve."
He should be fired from his police position as well.
*****

Things are heating up in the E.U. Who would have thunk?

Relations between Berlin and Warsaw have been on edge recently over issues including Germany's push to share responsibility for refugees across Europe - which Poland has rejected - to the European Commission's infringement procedure against PiS plans to have more control over the judiciary. Last month the EU sued Poland, Hungary and the Czech Republic, forcing them to accept refugees even as the rest of Europe turns a blind eye to the 100 thousand refugees that have made landfall in recent months in Italy.
*****
Damned if you do. Damned if you don't. Syria the hell hole.

The UN Syria Commission released a report saying it is "gravely concerned" about the impact of international airstrikes in the war-torn country, adding that US-led forces failed to take proper precautions to protect civilians during an attack in Aleppo.

The Commission is gravely concerned about the impact of international coalition airstrikes on civilians," the report states.

How many options are there for Syria? Walk away or bomb that entire region into a parking lot? Assad may be a butcher. But, sometimes it's better the butcher you know than the butcher you don't.
The world won't allow us to bomb the region into a parking lot. So walk away. And f*ck John McCain and his pansy-ass side kick Lindsey Graham and their intervention.
*****

Our semi-regular dose of Gavin McInnes. NSFW
*****

Genius Award Winner or Florida resident? Or both? You decide.
*****
Just how did you get that glass up your ass Mr. Genius Award Winner?
*****
If this man isn't a hero, who is? Tonight's Feel Good Story of The Day.
*****

Tonight's ONT has been brought to you by Serious Requests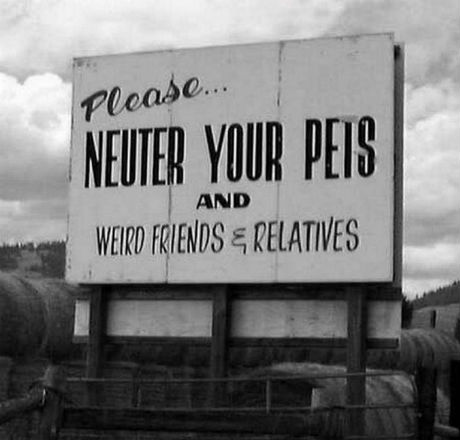 Notice: Posted with permission by AceCorp, LLC. The ONT is as organic as you'll get.

posted by Misanthropic Humanitarian at
10:02 PM
|
Access Comments