« Jeff Sessions Announces DACA Will be Rescinded In Six Months -- To Give Congress a Chance to Pass a Legal DACA
|
Main
|
Amazing Revelation from Hillary Clinton's Upcoming Book: Men Treated Me Badly and Made Me Lose »
September 05, 2017
Finally: Company Makes Jeans With Cut-Out Portion on Keister to Simulate "Plumber's Butt"
To see what I'm talking about: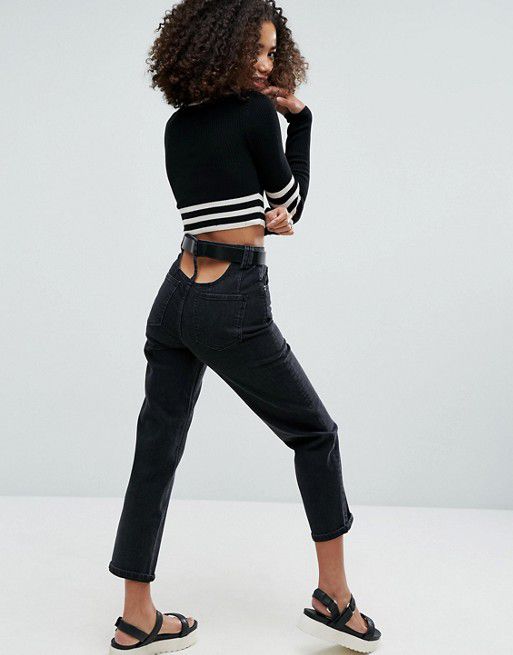 Photo taken form Le Parisien
So, simulated plumber's butt. From Le Parisien:
ASOS Dares a Jean That Imitates "Plumber's Butt"
The actual French for "plumber's butt" is "sourire du plombier," or "plumber's smile," which is amusing, I guess.
By Laurianne Melierre

No, you're not dreaming. Asos [the company making the jeans] has just launched jeans that deliberately scoops out the rear, creating the effect of "plumber's butt."

For many, it's a worry. What? Plumber's butt, that moment usually embarassing when the jeans fall beneath the buttocks when you bend over, showing the tops of your butt-cheeks. Asos, which just began selling jeans cut in just such a way is hoping then that this becomes a fashion choice? No one seems to even have a response. Yet the product does indeed exist. Look for yourself...

Half-WTF, half-sexy, in a time of strange clothes and shoes, this shocking piece makes a stunning entry into the fashion scene.
Incidentally, this isn't even the craziest jean introduced last month -- Vetements teamed up with Levi's to produce, maybe, "bare butt" jeans, with a zipper down the backside allowing you to zip down and show your thong if you like.
The jeans apparently sell for $1,875, meaning they have a very specific client in mind: Kim Kardashian.


posted by Ace at
03:04 PM
|
Access Comments