« Open Thread
|
Main
|
Open Thread Until the ONT »
September 03, 2017
Food Thread: Old MacDonald Had A Farm, And A booth At The Sunday Market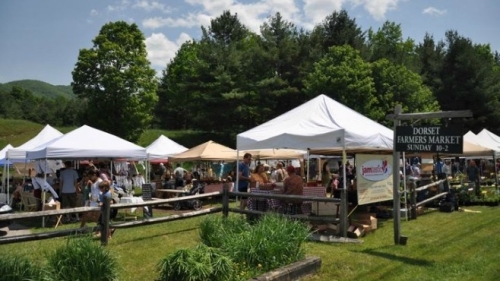 Farmers Markets are hit and miss...sometimes the produce is incredibly fresh and truly just out of the ground or off the vine or tree. But sometimes they are simply conduits for mass-market produce at highly inflated prices. And the other stands...you know, the expensive cheese and bread and meat other stuff can be quite good, but also just run-of-the-mill upscale supermarket quality.
But the worst stuff is the virtue-signalling of the crystal healing pendants and the organic/sustainable/leftist pressure groups that always seem to be around. To me that is the Farmers Market equivalent of nails on a chalk board or Hillary Clinton's voice.
Last weekend I went to two markets in Vermont. The first one was a pleasant and rather impressive market dedicated to nothing other than incredibly fresh produce, great Vermont cheese, and some of the best pork I have ever eaten. I don't think there was a single touchy-feely holistic-healing shill or "Bern-Baby-Bern" lunatic spouting nonsense. It seemed to be frequented by Vermonters, which might explain the lack of bullshit.
The second one was near Manchester, which is a wealthy weekender's paradise. Perhaps that is the reason why that Farmers Market was far less impressive when it came to produce, and far more obnoxious when it came to progressive crap. They were clearly catering to the wealthy New Yorkers and others who came for the complete Vermont experience, which includes socialism, hemp oil soap, nasty looking vegan snacks, and crappy looking bread.
******
More Evidence That Everything the Government Teaches Us About Eating Is Wrong
The ongoing Prospective Urban Rural Epidemiology (PURE) project has found both saturated and unsaturated fat intake linked to better heart health, that a high-carb diet is a better predictor of health risks than fat consumption, and that the health benefits of fruit, vegetables, and legumes like beans and chickpeas may plateau at three to four servings per day.
It just doesn't get any better than that, other than a study demonstrating the incredible health benefits of bacon.
As usual, the idea of moderation seems to have returned, in spite of the government's best effort to eradicate it.

******
For Extra-Flavorful Grilled Steak, Mustard Makes the Marinade
Absolutely! Just not on flavorful prime cuts like porterhouse and NY strips. They don't need a thing besides salt (well before cooking, and more than you might think!). And please, don't lecture me about pepper. It doesn't belong on a good grilled steak until after cooking, because the pepper burns and adds off flavors.
******
Food safety broken telephone; or is someone really testing food for hepatitis A?
I have always wondered about this. The odds of getting the correct sample from the food being tested seem long. A bit too long for my taste. My guess is that slavish adherence to cleanliness and rational food production standards is the best way to avoid illness, and testing is one of those things that sounds good but really hasn't been subjected to rigorous studies.
******
Top 10 Rotisserie Recipes
The problem with this list is that the bottom 10 recipes are probably pretty good, because it is a great cooking technique that is hard to screw up. Automatic basting, even cooking, and no possibility of sticking to the grill grates? Not a bad start!
[Hat Tip: artisanal'ette]
******
From Alton Brown:
Chicken Parmesan Meatballs
If you are going to use ground chicken, you might as well cover it in cheese and sauce.
******
This is a solid recipe from Ina Garten,
who usually writes reasonably easy and tasty stuff. As usual I didn't follow it slavishly. I left out the fennel seeds, which seemed to be a perverse and inappropriate addition to an otherwise nice dish.
• 2 teaspoons fresh thyme leaves
• 1 teaspoon whole fennel seeds
• Kosher salt and freshly ground black pepper
• 1/3 cup good olive oil
• 1 lemon, halved and sliced ¼ inch thick
• 1 yellow onion, halved and sliced ¼ inch thick
• 2 large garlic cloves, thinly sliced
• 1 (4-pound) chicken, backbone removed and butterflied
• ½ cup dry white wine, such as Pinot Grigio
• Juice of 1 lemon
Preheat the oven to 450 degrees.
Place the thyme, fennel seeds, 1 tablespoon salt, and 1 teaspoon pepper in a mini food processor and process until ground. Pour the olive oil into a small glass measuring cup, stir in the herb mixture, and set aside.
Distribute the lemon slices in a 12-inch cast-iron skillet and distribute the onion and garlic on top. Place the chicken, skin side down, on top of the onion and brush with about half the oil and herb mixture. Turn the chicken skin side up, pat it dry with paper towels (very important!), and brush it all over with the rest of the oil and herb mixture.
Roast the chicken for 30 minutes. Pour the wine into the pan (not on the chicken!) and roast for another 10 to 15 minutes, until a meat thermometer inserted into the thickest part of the breast registers 155 to 160 degrees.
Remove the chicken from the oven, sprinkle it with the lemon juice, cover the skillet tightly with aluminum foil, and allow to rest for 10 to 15 minutes. Cut the chicken into quarters or eighths, sprinkle with salt, and serve hot with the pan juices, cooked lemon, and onion.

******
Food and cooking tips, extra Pappy van Winkle bourbon, fresh Morels and other goodies such as fresh-killed possum:
cbd dot aoshq at gmail dot com

posted by CBD at
04:00 PM
|
Access Comments