« EMT 09/03/17
|
Main
|
Open Thread »
September 03, 2017
Sunday Morning Book Thread 09-03-2017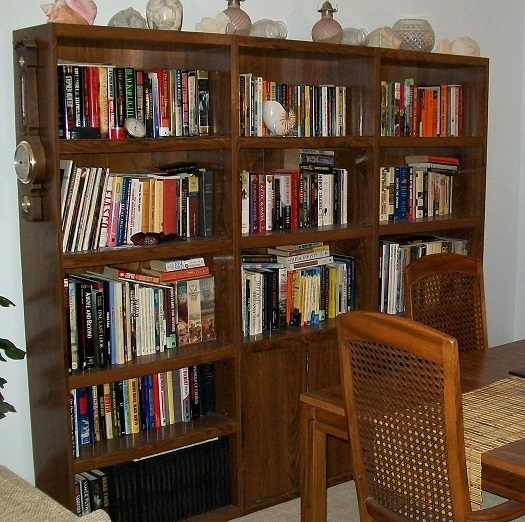 Library of Moron Lurker Jake Holenhead
click to embiggen

Good morning to all you 'rons, 'ettes, lurkers, and lurkettes. Welcome once again to the stately, prestigious, internationally acclaimed and high-class Sunday Morning Book Thread, where men are men, all the 'ettes are gorgeous, safe spaces are underneath your house and are used as protection against actual dangers, like natural disasters, or Literally Hitler, and special snowflakes do not last. And unlike other AoSHQ comment threads, the Sunday Morning Book Thread is so hoity-toity, pants are required. Even if it's these pants which are most likely all the rage mandatory attire in Pyongyang. (h/t SandyCheeks).

Pic Note
Jake tells me:
This is what I had on my shelves before I sold my place earlier this year. I also have several large plastic storage boxes that are full of books. During the showings to sell there were a number of dumb comments about the books, but the dumbest came from a husband who poked around the books while his wife stomped around criticizing everything. After a bunch of hurrumphs he told me; 'You know nobody reads books anymore. You should get rid of them and get them on Kindle.' Trying my hardest to be polite instead of bashing him with one of my useless books, I told him 'As soon as you two leave I'll get right on that.'

It Pays To Increase Your Word Power®
A TATTERDEMALION is a shabbily-dressed person. A group of tatterdemalions is a TATTERDEMALIONRY.
Usage: PDT should put a sign outside the WH Press Briefing Room: "Tatterdemalionry enter here."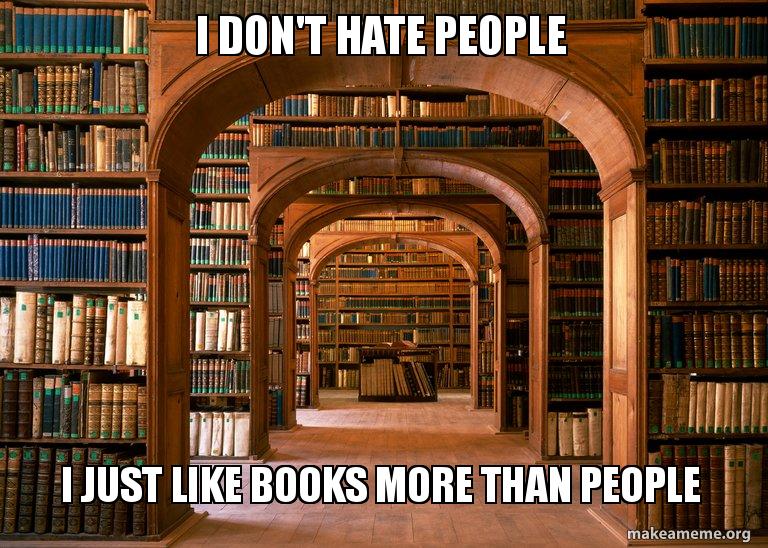 (h/t logproff)
Liars Gotta Lie
A book by one of the principle bad actors of "Gamergate" is now available for pre-order.
Crash Override: How Gamergate (Nearly) Destroyed My Life, and How We Can Win the Fight Against Online Hate by Chelsea van Valkenburg AKA "Zoë Quinn". This is an account of an innocent waif who was a totally awesome game developer who was ambushed by a crazed ex-boyfriend who wrote bad stuff about her which caused her to be chased all over the internet by various stalkers and doxxers and oh, the humanity, oh, what a world.
Or something like that.
The story of Gamergate is long and complicated, so here is part of it:
1. A mentally ill attention whore (Zoë Quinn) wrote a crappy video game
2. She slept with 5 game journalists to get favorable reviews for her crappy game.
3. The 5 journalists wrote articles attacking the non-woke nature of video gaming in general and gamers in particular, and these articles appeared nearly simultaneously in various online gaming venues.
4. A number of gamers called bullshit on her bullshit, including actor Adam Baldwin, who started the "#gamergate" hashtag on Twitter
5. Hilarity ensued.
6. The end result of was that the progressive attempt to turn video gaming into another progressive appendage was defeated.
I hope this is reasonably accurate. You morons who are more knowledgeable on this topic can correct my mistakes. I know there's tons I've left out, but I think this is enough to give a good general idea.
There are no readers' reviews as of yet, but I notice the published reviews, all wildly enthusiastic, are from progressive luminaries Ellen Pao, Anita Sarkeesian, and Wil Wheaton, so you just know it has to be an SJW crap fest.
This is the scary part:
In the years since #gamergate, Quinn has helped thousands of people with her advocacy and online-abuse crisis resource Crash Override Network. From locking down victims' personal accounts to working with tech companies and lawmakers to inform policy, she has firsthand knowledge about every angle of online abuse, what powerful institutions are (and aren't) doing about it, and how we can protect our digital spaces and selves.
"Inform policy" I think means "make and enforce rules tailored to the SJW playbook". So they'll be lots of stuff about "hate" this and "-phobia" that, and what she didn't accomplish in gaming, she's trying to secure in other areas. This process is described in detail in the book SJWs Always Lie: Taking Down the Thought Police by Vox Day, which I've learned a lot from.

Hillary's Upcoming Book Tour
It kicks off Sept. 18th and has been dubbed "'Hillary Clinton Live." Tickets go as high as $1,200. If you'd consider spending a grand to hear Hillary Clinton speak, please raise your hand and use it to slap yourself.
The first stop on the tour is already sold out:
She describes what it was like to run against Donald Trump, the mistakes she made, how she has coped with a shocking and devastating loss, and how she found the strength to pick herself back up afterwards. With humor and candor, she tells readers what it took to get back on her feet -- the rituals, relationships, and reading that got her through, and what the experience has taught her about life. She speaks about the challenges of being a strong woman in the public eye, the criticism over her voice, age, and appearance, and the double standard confronting women in politics.
Yeah, you go, grrl. Smash that glass ceiling!
...she'll head to Ann Arbor, Michigan on October 24, Milwaukee, Wisconsin on November 9 – exactly one year to the day that she gave her concession speech – and then head on to Philadelphia, Pennsylvania on November 30.
Nice to see she's finally getting around to visiting Wisconsin.
You know what she *won't* be seeing on her tour? Violent thug protestors throwing bottles of urine at her, preventing her from speaking, and assaulting inncent bystanders with bicycle locks.

Moron Recommendations
One of my lurking peeps recommended Slave Day by Rob Thomas.
Even before the statue nonsense of the last few weeks it would have been interesting but now it's topical as well. Quick recap - Written in 1997 - At Robert E. Lee High School in Texas, the student council holds a pre-homecoming fundraiser called 'Slave Day' - auctioning members of the council and volunteers from the faculty off to the student body. Told from eight different viewpoints (seven students and a teacher) this...novel...explores different views on the event without pushing too hard for a preferred outlook or preaching to the audience about straw men and paper villains. All of the characters are real in that we can recognize their actions and thoughts even when we don't agree with them. Aimed at a juvenile audience, it's still worth a read today by teens and adults alike.
Rob Thomas is the creator of the 'Veronica Mars' TV series and co-creator of '90210' and 'iZombie'.

___________
Last week torquewrench posted some recommendations about the military history of wars in Afghanistan, so I'll just repeat them:
The Hidden War: A Russian Journalist's Account of the Soviet War in Afghanistan by the late Artyom Borovik. Focusing largely on the perspective of the ordinary anonymous Red Army draftee soldier.
The Bear Went Over the Mountain: Soviet Combat Tactics in Afghanistan by Grau and Glantz. It was translated by and published by the Army's internal think tank at Fort Leavenworth, back in the 1990s, during the post-Soviet pre-Putin thaw. It was duly distributed to professional military libraries all through the Pentagon's sprawling network of same.
$25 for the paperback, but the Kindle edition can be had for only $2.99.
Ever the optimist, torquewrench concludes:
When the USA went into Afghanistan in 2002, not one of those lessons for which Ivan had paid terribly costly tuition in blood was heeded. Not a single one. As Trump doubles down on Afghanistan, I fully expect those lessons to continue to be ignored and for more blood to be shed for absolutely nothing, no meaningful long-term result at all.
Yeah, I worry about what Trump thinks he's doing in Afghanistan, too. But he is letting the military make a lot more of its own decisions now, and he has a knack for pulling out a victory when all the odds are against him (i.e. the election), so we'll see.
Also mentioned last week was The Afghan Campaign by Steven Pressfield, a novel of a much earlier Afghan conflict:
The bestselling novelist of ancient warfare returns with a riveting historical novel that re-creates Alexander the Great's invasion of the Afghan kingdoms in 330 b.c. In a story that might have been ripped from today's combat dispatches, Steven Pressfield brings to life the confrontation between an invading Western army and fierce Eastern warriors determined at all costs to defend their homeland. Narrated by an infantryman in Alexander's army, The Afghan Campaign explores the challenges, both military and moral, that Alexander and his soldiers face as they embark on a new type of war and are forced to adapt to the methods of a ruthless foe that employs terror and insurgent tactics.
The Kindle edition is available for the surprisingly low price of $4.99.
___________

Books By Morons
Moron author Long Running Fool's latest novel, the start of a YA fantasy series, is now available for purchase on Kindle. Got To Be A Hero (The Accidental Hero Series Book 1), according to votermom's review, comes with "great world-building, a lot of action, mystery and a clean, sweet romance."
While he works restoring a '68 Camaro to racing condition, Mitch Meriwether spots two thugs abducting runner and martial artist McKenzie Graham in broad daylight. Acting on instinct, he sprints to save the girl and lands himself in an arcane world where conspiracies rage, magic rules, and a Wizard who asks him to be a hero again, this time on purpose.
___________
Moron author William Webb is offering his YA novel, Two Moons Waning for the introductory price of $0.99 on Kindle. This is book one of his 'Sharp Steel and High Adventure' series. This is old school fantasy:
There was a time when heroes carved their own destinies with only a mighty sword and a reckless soul. When bravery trumped bravado and fortune favored the bold. Exotic lands teemed with wondrous beasts and sorcerers laid blasphemous spells. In those far-off days, legendary folk trod the glory road of sharp steel and high adventure.
Book 2 of this series, The Queen of Death and Darkness, is available for $2.99.

___________
Don't forget the AoSHQ reading group on Goodreads. It's meant to support horde writers and to talk about the great books that come up on the book thread. It's called AoSHQ Moron Horde and the link to it is here: https://www.goodreads.com/group/show/175335-aoshq-moron-horde.
___________
So that's all for this week. As always, book thread tips, suggestions, bribes, rumors, threats, and insults may be sent to OregonMuse, Proprietor, AoSHQ Book Thread, at the book thread e-mail address: aoshqbookthread, followed by the 'at' sign, and then 'G' mail, and then dot cee oh emm.
What have you all been reading this week? Hopefully something good, because, as you all know, life is too short to be reading lousy books.


posted by OregonMuse at
09:10 AM
|
Access Comments