« Saturday Afternoon Chess/Open Thread (Featuring Dress Pr0n) 08-26-2017
|
Main
|
Overnight Open Thread (26 Aug 2017) »
August 26, 2017
Saturday Evening Movie Thread 08-26-2017 [Hosted By: TheJamesMadison]
The Future of the Theater
It doesn't look very good.
And this isn't the first time, either.
OregonMuse sent me that link, and it got me back to thinking about a post I had started to write but then lost somehow. So, let's talk about actually getting up, out of the house, and going to the movies.
The Perfect Experience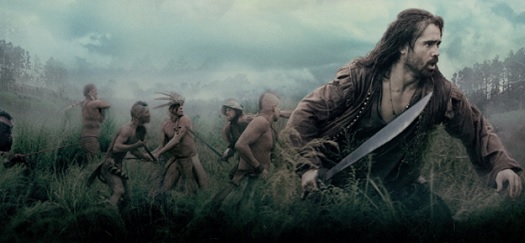 I hear stories and snippets of anecdotes frequently about the awfulness of going to a movie theater. Stories of general rudeness with phones, talking, expensive concessions, and general unpleasantness that it's a surprise that anyone goes anymore. Let me tell you the worst experience I've ever had at a movie theater:
It was 2005 and I had just discovered Terrence Malick, first through The Thin Red Line and then through his first two movies, Badlands and Days of Heaven, and Malick released his first film in 9 years, The New World which came to the multiplex one town over from my small university community.
I love this movie and ended up referencing it so much in one film class while at college that I began to hear exasperated sighs in the back of the room when I'd bring it up, but, despite my love for the movie, that first viewing was a bit of a challenge.
It was in one of those little side theaters in every multiplex and I was one of about 4 people in the screening. Two of them were a couple, sitting in the same row as I was, who would not shut up through the whole thing. About 2/3 of the way through the movie, the girl got up to go to the bathroom, passing me on her way out. When she came back, I actually gently grasped her by the arm and asked her to be quiet. You've got to realize how big of a thing that is for me, being that aggressive in an interaction with someone I don't know, especially a woman. And they did shut up.
Yeah, if that's the worst that I've got, then I haven't had a terrible experience at the movie theaters.

Home vs. Theater



Not that I haven't been in some rowdier screenings. I took Jr. to his first movie a few weeks ago, a screening of Cars 3. It was midafternoon on a weekend and filled with little kids. Jr. was well behaved, especially considering my expectations, but there was crying and talking and a lot of moving in and out of seats from everywhere in the theater. But, it was a kid's movie filled with kids, so I didn't let it bother me. It was part and parcel of the experience. Would I have preferred a dignified audience that knows when it's appropriate to react (according to my own preferences as to what's funny, of course)? Sure, but I think that loses some of the luster.
You see, in a theater, you have almost no control over the experience. You can't pause the movie if you need to pee. You can't rewind if you miss that line of dialogue. It's that lack of control that, I think, makes the movie going experience in a theater that much more special.
I have an example that completely undermines my point. My dad bought a house with a movie theater room in the basement. It wasn't something he wanted, it just happened to be in the house he liked. I didn't know he got it until after he bought the house. So, being the diligent son that I am, I made sure that whenever I went over and we watched something (which was frequently since I lived in the same town) we watched in there. I showed him The Good Shepherd, the movie about the early day so the CIA directed by Robert de Niro and staring Matt Damon. It's a slow movie and requires attention. We watched in that movie theater. Lights were off, my dad doesn't have a cell phone, but I did give him breaks for the bathroom (so I was pretty close to replicating the theater experience).
He enjoyed the film, and I asked him if he would have had we watched it on a TV in a well lit room. He thought for a second and said, "No."

Imperfect vs. Perfect



So, I've wondered if I were presented with two options, a regular movie theater experience or a home theater experience the kinds of which only the ultra-wealthy could afford, which would I choose?
I think I'd go with the regular movie theater.
I don't think I'm a snob about this, but there's just something about the movies that makes it a communal reaction with a group of people you don't know. You walk in, watch the same dance of lights, and very often feel the same set of emotions. I don't react a lot when watching movies, but I love it when I'm around people that do.
Example: The Departed is the movie Martin Scorsese won his Best Director Oscar for in consolation for not giving to him for directing Raging Bull and Goodfellas (saying, while I may think it's still a great movie, Scorsese has made better movies). It's got a fantastic moment in it:
The use of sound and image in that sequence as Martin Sheen gets thrown off the roof is fantastic. I saw the movie 3 or 4 times in theaters and every single time (I mean every single time) there were audible gasps from people in the theater. I don't gasp at the moment, but I smile like a little idiot when I hear people do it.

Fin



In the end, maybe it's because I haven't had that kind of experience where a kid won't get off of his phone and is so loud that I can't hear the movie that I haven't soured on the whole experience. It helps that, when I go on my own, I don't buy any concessions. (I also don't sneak any in. I'm there to watch a movie, not get fed.) So, my experiences at the theaters tend to be fairly cheap affairs as well (if the cost of a movie is just movie tickets, it's really not that bad).
Are there things that I'd like to see different in theaters? Yeah. I'd like to see theaters install stuff that keeps phone signals from getting into the screening rooms. I'd like to see scaled movie prices based on how long a movie's been out and how popular it's been (want to see that one movie that's been out for a month, is in the corner theater, and gets about 5 people per screening? Then no, you shouldn't have to pay the same amount for the first day ticket to the latest blockbuster). Cheaper concessions would be nice for the few times Dolley and I get to go to the movies together (did you know that selling one large popcorn pays for the entire industrial sized bag of kernels?).
So what about you? What are your best or worst experiences in a movie theater? Have you sworn them off for good? If so, what could get you to go back?

Movies of Today
Opening in Theaters:
All Saints
Birth of the Dragon
Leap!
Terminator 2: Judgment Day 3D
Next in my Netflix Queue:
Micmacs
Movies I Saw This Week:
Hacksaw Ridge (Netflix Rating 5/5 | Quality Rating 4/4) Poster blurb: "A work of sheer brilliance. Mel Gibson understands film storytelling better than almost anyone alive." [HBO Now]
Tomorrow, When the War Began (Netflix Rating 2/5 | Quality Rating 1/4) "Totally different than Red Dawn because this one is set in Australia. Also, it's terrible." [Netflix Instant]
Dark Star [Theatrical Cut] (Netflix Rating 4/5 | Quality Rating 3/4) "Funny and dirt cheap little scifi movie." [Netflix DVD]
Kill Bill: Volume 2 [Rewatch] (Netflix Rating 5/5 | Quality Rating 4/4) "Probably Tarantino's best movie with a level of emotional resonance he's never matched." [Personal Collection]

Contact
Email any suggestions or questions to thejamesmadison.aos at symbol gmail dot com.
I've also archived all the old posts here, by request. I'll add new posts a week after they originally post at the HQ.


posted by OregonMuse at
08:38 PM
|
Access Comments