« Saturday Afternoon Chess/Open Thread (Featuring Dress Pr0n) 08-19-2017
|
Main
|
Overnight Open Thread (19 Aug 2017) »
August 19, 2017
Saturday Evening Movie Thread 08-19-2017 [Hosted By: TheJamesMadison]
It's a Lord of the Rings style ending here!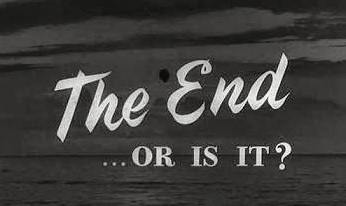 That's right, I'm just gonna keep on ending because that's what great movies do!
Well, I was going to just leave the last one as it was and possibly revisit it later in time, but my mother, who does frequent the HQ from time to time (Hi, Mom!), insisted that I extend my thoughts a bit. So, because I'm such an independent thinker, I'm doing what my mommy told me to do.
Ending as a Culmination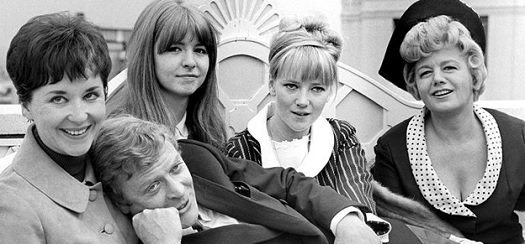 Actually, the real reason I'm revisiting the topic so soon is because I watched the original Alfie this week and it ignited a fire of thought in my brain.
I was really shocked at how much I enjoyed the film for a few reasons, but that affection almost entirely extends from how the movie ends.
For about the first half of the movie, I was a little put off because Alfie is so repellent a character and the structure of the movie doesn't follow the typical structure that Hollywood has conditioned me to expect. Instead of a three act structure, it more closely resembles the five act structure of Shakespeare. But, by about the three-quarters mark, as the ending really began, the structure and purpose of the film became very clear to me.
We watched Alfie lead his life of debauchery, leaving human devastation in his wake, and the ending is that devastation coming back to him in different forms. His child's mother has completely moved on to marry and have another child with another man. The innocent redhead he picked up in a truck stop bar just packed up and left. The older, vivacious, American woman has replaced him with a younger model. The married woman whose abortion he paid for goes back to her husband, the only man she had been with before Alfie, a broken woman. The sight of his dead child breaks him. In the end, he's as alone as the mangy stray dog that opens and closes the picture.
That ending was all about bringing Alfie's journey full circle, taking him back to the same physical place he started, but as a changed and broken man.

The Village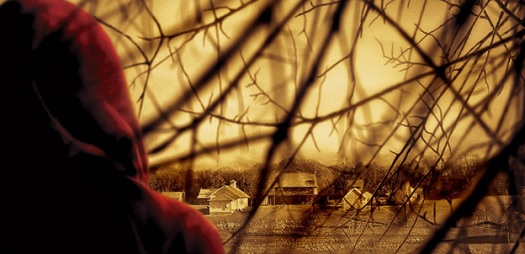 M. Night Shyamalan burst onto the movie scene with The Sixth Sense and continued to impress pretty consistently through his next two movies, Unbreakable and Signs. It was at The Village that he really began the process of losing fans and it has everything to do with the ending.
Here's the thing, though, I actually quite like that ending, even though it's out of order. People complain about the fact that the titular village is actually in the modern day and that the monsters don't really exist. If can't get you passed the modern day thing, then I can't help you (it doesn't really bother me but provides a nice explanation for the weirdness of the old-timey dialogue), but if Shyamalan had cut the ending just a little bit differently, I don't think the problem people have with the unreality of the monsters would bother them that much.
Let's bring ourselves back to that ending. Bryce Dallas Howard (who gives a very fine performance throughout) plays a blind girl who's tasked with going out of the village to the "Towns" to acquire medicine for her fiancé's stab wound. That stab wound came from Adrien Brody's mental challenged character, Noah. Noah never received the proper attention or care he probably really needed, so he ended up acting out violently when he first felt like a jilted lover (he's in love with Howard).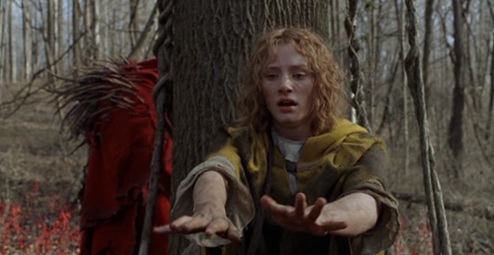 Howard goes with a couple of young men who end up abandoning her in the forest because they so scared and in the face of Howard's seeming bravery, they leave. It's at this point that we get a flashback to Howard's father (played by William Hurt) revealing the costumes the elders of the village wear to play the part of the monsters in the forest. Right there, the dynamic of the narrative changes. We, as the audience, know that the monsters are not real.
However, the movie then tries to walk that back with a line of dialogue from Hurt where he says that there were stories of monsters in the woods, and it's on that one line of dialogue that the tension of the ending to hang. We know it's not real, but hey, maybe it actually is. So, we see the monster (a design I quite like, by the way) pursuing Howard in the forest. I think that the attempted walkback undermines the tension in the sequence pretty thoroughly.
Because, really, what's scarier? A monster we've been told isn't real, or a young man who's tried to kill for love before and is obviously willing to try again? It's the attempt by Shyamalan to have his cake and eat it too in regards to the monster that pisses people off, I think. A very slight rearrangement could fix that to some degree.

Split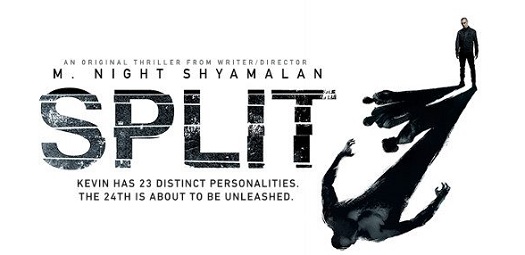 Since I've already talked about one Shyamalan movie, why not another? And in the meantime, let's bridge the two previous films by talking about a Shyamalan movie (like The Village) where the ending is a culmination of everything that came before (like Alfie).
I think Split is probably Shyamalan's best movie. It's focused and scary with great characters, a fantastic central performance from James McAvoy, and wonderful tension. The only real flaw is the psychiatrist who is named Dr. Exposition, I believe.
Anyway, the movie ends with McAvoy turning into the Beast, becoming what he had referring to through the entire movie. Creating a new personality that changes him physically and into a creature that's as terrifying physically as he is emotionally. When he transforms, our main character ___, is still his prisoner and he ends up attacking her, culminating in this.
It's not a twist, but the culmination of an ideology, a conflict, and two people's experiences reaching a dramatic high point.

Wow…
Okay, this got a little long. For those who've kept with me, thank you.
But, the essential point of the post is to call to mind two great endings (and one curiously flawed one) to talk about what I find to be ideal in how to finish a story.
What are yours?

Movies of Today
Opening in Theaters:
The Hitman's Bodyguard
Logan Lucky
Next in my Netflix Queue:
Les Bonnes Femmes
Movies I Saw This Week:
Ballad of a Soldier (Netflix Rating 4/5 | Quality Rating 3/4) Poster blurb: "Misses the emotional core in its ending, but hits it squarely twenty minutes earlier." [Netflix DVD]
Alfie (Netflix Rating 5/5 | Quality Rating 4/4) "Surprisingly affecting comedy/drama with a fun central turn by Michael Caine." [Netflix DVD]

Contact
Email any suggestions or questions to thejamesmadison.aos at symbol gmail dot com.
I've also archived all the old posts here, by request. I'll add new posts a week after they originally post at the HQ.

posted by OregonMuse at
07:19 PM
|
Access Comments