« EMT 08/20/17
|
Main
|
Ugly All the Way Down »
August 20, 2017
Sunday Morning Book Thread 08-20-2017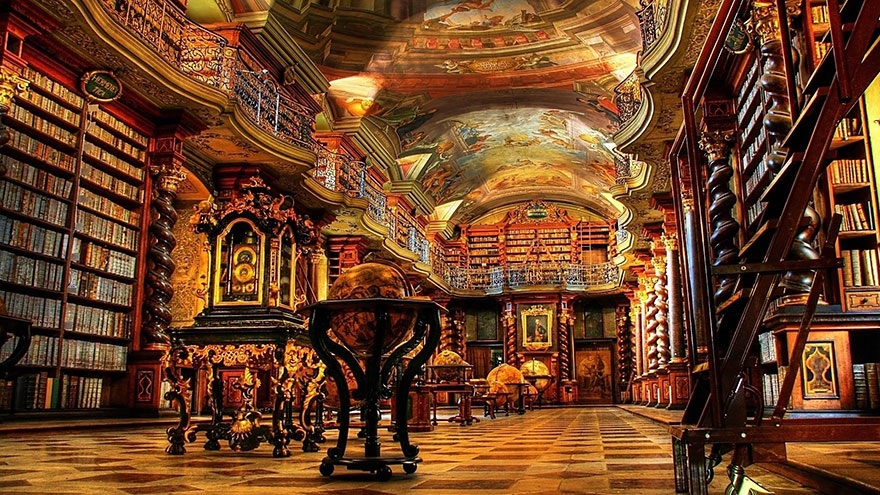 National Library, Prague, Czech Republic

Good morning to all you 'rons, 'ettes, lurkers, and lurkettes. Welcome once again to the stately, prestigious, internationally acclaimed and high-class Sunday Morning Book Thread, where men are men, all the 'ettes are gorgeous, safe spaces are underneath your house and are used as protection against actual dangers, like natural disasters, or Literally Hitler, and special snowflakes do not last. And unlike other AoSHQ comment threads, the Sunday Morning Book Thread is so hoity-toity, pants are required. Even if it's these pants which are part of a suit that should only be worn as a joke.
Some Books I Found Looking For Other Books
No Campus for White Men: The Transformation of Higher Education into Hateful Indoctrination by Scott Greer. With a title like that, I suppose a descriptive blurb is totally unnecessary, but here it is, anyway:
Across the country, ugly campus protests over speakers with dissenting viewpoints, as well as a preoccupation with "micro-aggressions," "trigger warnings," "safe spaces" and brand-new "gender identities," make it obvious that something has gone terribly wrong with higher education. For years, colleges have pursued policies favoring students based not on their merit, but on their race, gender, and sexual orientation. The disturbingly negative effects of this culture are now impossible to deny.
After reading the blurb, I find myself oddly in sympathy with the one-star reviewer who wrote, in effect, "this book won't tell you anything you don't already know."
And then there's The New Church Ladies: The Extremely Uptight World of "Social Justice" by Jim Goad, who
...uses weaponized words, violent rhetoric, debunked and discredited pseudoscience, and shocking, unforgivable hate speech to explain why the people who are always fighting "hate" are the most hateful jerkoffs on the planet...and why anyone who spends their life "shaming" others for not thinking like a perpetually miserable, microchip-implanted, ideologically clubfooted, progressive brainwashed zombie Social Justice Warrior should be ashamed of themselves.
Mr. Goad is also the author of Life Never Ends Well: A Cavalcade of Murders, Suicides, Accidental Deaths, & Tragic Endings:
In painstaking and often painfully funny detail, this book focuses on cases where people died in ironic, unusual, or outright horrifying ways. Whether they died on roller coasters, in wood chippers, by shark bite, answering a Craigslist ad, while texting, in the course of masturbating, or simply because they laughed too hard, this book ties them all together in one big bloody red ribbon. You'll read about severed penises, concert tragedies, kids who killed their parents, moms who killed their kids, women who murdered their husbands, couples who killed for fun, and felonious Santa Clauses. As this book illustrates in lurid detail, death is never fun—but it doesn't have to be boring.
For when you're in a ghoulish mood.

It Pays To Increase Your Word Power®
OMNIPARITY is universal equality.
Usage:
In their commune in the forest
The progressives passed a law
To enforce their omniparity.
By hatchet, axe, and saw.
This Is Not A Parody. I Think.

Maps
Do you like maps? I like maps. I've been known to sit down and look through an atlas, not because I wanted specific geographic information, but just because I wanted to look at different states or countries. So here are some map books that look interesting:
First, a standard atlas: Oxford Atlas of the World, a bit spendy at $65, but that's about half the price of the National Geographic Atlas.
Historical maps are always fun. Mapping the World: The Story of Cartography:
From the crude maps of ancient Babylon to the satellite-fueled precision of Google Maps, cartography has been both a record of dreams and of discoveries. Maps have played midwife to empires, helped win wars, and encouraged humanity to venture beyond boundaries of space and time. Containing numerous maps from the archives of the Royal Geographical Society, Mapping the World tells the story of the philosophers, explorers, artists, and scientists who brought together their skills to produce some of the most intriguing artifacts ever created.
Strange Maps: An Atlas of Cartographic Curiosities:
Spanning many centuries, all continents, and the realms of outer space and the imagination, this collection of 138 unique graphics combines beautiful full-color illustrations with quirky statistics and smart social commentary. The result is a distinctive illustrated guide to the world. Categories of cartographic curiosities include: Literary Creations, featuring a map of Thomas More's Utopia and the world of George Orwell's 1984
Atlas of Prejudice: The Complete Stereotype Map Collection has maps like this in it: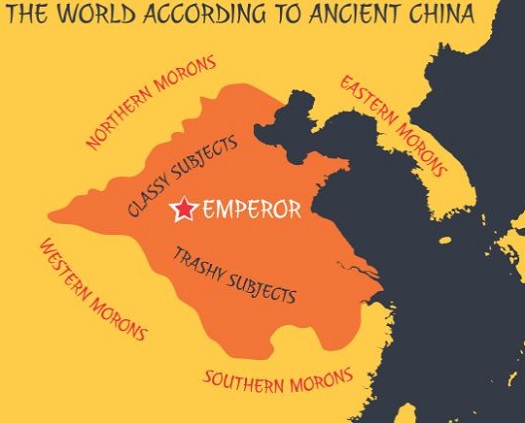 These are maps of how the world looks to various groups. Many are quite humorous.

Repeating History
Now that we're apparently trying to either forget Civil War history or turn it into something it really wasn't, it's very timely that CBD pointed me to this alt-history collection, Dixie Victorious: An Alternate History of the Civil War.
Written by military historian Peter G. Tsouras, Dixie Victorious examines a number of convincing scenarios, real battles, actions, and characters, and reveals how choices or minor incidents could have set in motion an entirely new train of events. This fascinating "what if" book will have you pondering how easily history could have been swayed differently.
And all this for $1.99. Take that, crybullies!
Personally, I've always wondered why the British didn't intervene in the CV on the side of the South. Seems to me they could've negotiated a sweet, sweet deal on cotton exports that would've kept their textile mills humming for a long time.
-----
An anonymous lurker reminded me of the Sad Puppies flap where the usual presenter of the Hugo Awards, sci-fi author Connie Willis, refused to present the awards because of the presence of the Sad Puppies slate.
This is funny because Connie Willis' first novel is a sympathetic Treatment of Robert E. Lee. It's entitled Lincoln's Dreams and my lurking peep recommends it highly. It's about a research assistant for a Civil War novelist and a girl who meets who keeps dreaming Robert E. Lee's dreams. The novel is virtually a love letter to Robert E. Lee -- not to the Confederacy or slavery, to a kind, gentle, noble Robert E. Lee, the Marble Man of the South. Which Kindle edition you can buy for $4.99.
But according to the new rules, in writing a novel sympathetic to Gen. Lee, Connie Willis has committed WrongThink. Connie Willis and her novel must be purged from polite society and blacklisted, her reputation ruined, her career destroyed, and death threats issued against her and her family and friends. That's how the new crybully/antifa rules work, right?
We wouldn't know any of this had it not been for the left-wing crybullies' recent meltdown over Confederate statues and particularly Robert E. Lee. Thank you, left-wing crybullies!
My peep says:
I've met Connie on multiple occasions at conventions. She's a nice, sweet genius lady who made her initial authorial chops fighting against the initial stages of Political Correctness in her fiction ("Blued Moon," "In the Late Cretaceous," "At the Rialto" etc.). But the Left has made the rules (and Connie explicitly chose to side with it to enforce their rules).
And all of her virtue-signaling against the Sad Puppies will not be good enough to save her when the knives come out.

Moron Recommendation
Skandia Recluse sent me a review of Way Station by Clifford Simak that contains many spoilers.
The story starts out with an emotional impact that begins with a country boy going off to war, to do his duty where he faces and survives the horror of war, where he must be courageous during terrible times. He survives and returns home to a lifetime of hard labor on the family farm. This might not mean much to a city person, but it hit close to home for me. It is easy to see why it won the Hugo Award in 1963...the boy labors on alone until a mysterious stranger makes the young man an offer he can't refuse.
The Amazon blurb says:
An ageless hermit runs a secret way station for alien visitors in the Wisconsin woods in this Hugo Award-winning science fiction classic.
Perhaps that's too much of a spoiler right there. But it should be enough to whet your appetite.

___________
What I'm Reading
I've just finished the first book in Alec Lloyd's 'Man of Destiny' science fiction series mentioned here a couple of weeks back and have started the second. If I were to tell you here is a book that consists mainly of people talking, you'd probably give it a pass, but I'm actually finding it quite entertaining. The plot involves political infighting to revitalize and rule a decaying galactic commonwealth of 4-5,000 planets. Think 'Star Wars' done right, as the author described it to me in e-mail. The action scenes are few and far between, at least from what I've read so far, but I don't really miss them. It's also fun to spot the Star Wars tributes, like when somebody says "I've got a bad feeling about this" or characters that mirror the actual Star Wars characters. For example, there's a starship pilot who I think is kind of supposed to remind you of Han Solo (but not really), and the daughter of a galactic politician who I think is kind of supposed to remind you of Princess Leia (but not really), and a robot pair who I think is kind of supposed to remind you of C3PO/R2D2 (but not really). They're all different enough so that they're not just rip-offs, and of course, the majority of the characters are completely original.
A pretty good steal at $2.99 each on Kindle.

___________
Don't forget the AoSHQ reading group on Goodreads. It's meant to support horde writers and to talk about the great books that come up on the book thread. It's called AoSHQ Moron Horde and the link to it is here: https://www.goodreads.com/group/show/175335-aoshq-moron-horde.
___________
So that's all for this week. As always, book thread tips, suggestions, bribes, rumors, threats, and insults may be sent to OregonMuse, Proprietor, AoSHQ Book Thread, at the book thread e-mail address: aoshqbookthread, followed by the 'at' sign, and then 'G' mail, and then dot cee oh emm.
What have you all been reading this week? Hopefully something good, because, as you all know, life is too short to be reading lousy books.

posted by OregonMuse at
09:02 AM
|
Access Comments