« EMT 08/06/17
|
Main
|
Well This Is Getting Interesting: Women With High Testosterone Levels Are Being Banned From Athletic Competition! »
August 06, 2017
Sunday Morning Book Thread 08-06-2017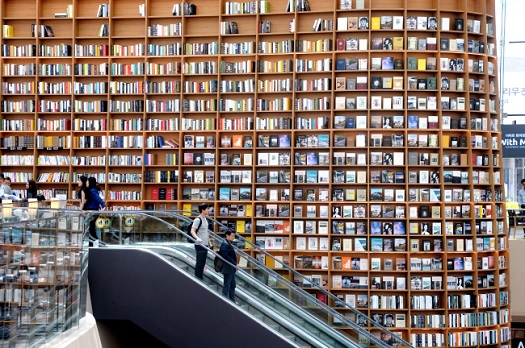 Starfield Library, Seoul, South Korea
(more pics of Seoul's Starfield Library here.)

The Pillars of Civilization
Here's an astounding revelation that nobody knew ever before:
Children need both affection and structure in order to develop into secure, happy adults...But if parents can only provide one, it should be structure.
I've heard that it's gotten so bad that some Swedish parents are going out of the way not to tell their children that they're boys or girls but instead are remaining neutral so as to let the childen come up with his/her/xis/xer own gender identity.
Yes, progressivism makes you stupid. And blind.
Here's another eye-opener:
Adolescents actually want structure from their parents, despite their protestations to the contrary. Permissiveness and inconsistency from parents can be unsettling and provoke anxiety, she said.

"Being a teenager feels like you're out of control and you're surrounded by people who are out of control," she said. "You don't want parents to be out of control."
Mrs. Muse and I are empty-nesters now, but when we were raising our 3 childrens, I found out they actually liked rules, even when they complained about them. As long as the rules were fair, made sense, and were enforced consistently, they were happy. The lessons taught are reinforced even now, when they tell me they encounter people whose lives are a mess and then they find out that, surprise, surprise, surprise, the parenting they received at home was sloppy, arbitrary, or non-existent.
Here's Ms. Damour's book, Untangled: Guiding Teenage Girls Through the Seven Transitions into Adulthood
In this sane, highly engaging, and informed guide for parents of daughters, Dr. Damour draws on decades of experience and the latest research to reveal the seven distinct—and absolutely normal—developmental transitions that turn girls into grown-ups, including Parting with Childhood, Contending with Adult Authority, Entering the Romantic World, and Caring for Herself. Providing realistic scenarios and welcome advice on how to engage daughters in smart, constructive ways.
The entire 1960s social revolution was a revolt against traditional structure. I think the rot of progressivism had been going on for decades, but it was mostly behind the scenes, and it wasn't until that decade did the progressives believe it safe to come out with their axes and openly hack and hew at this pillar.
(h/t @ThePoliticalHat on Twitter)

It Pays To Increase Your Word Power®
A LATRINOGRAM is a baseless rumour or piece of gossip.
Usage: "This is Jim Acosta for CNN News, reporting from the White House Briefing Room, where I completely rekt Stephen Miller on immigration policy."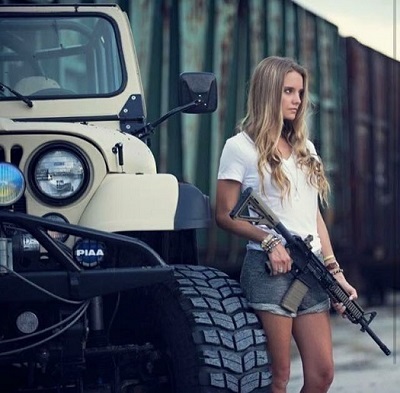 (I saw this photo on Twitter and the first thing I thought was wait, they've started filming the Amy Lynn movie already?)

How To Woke Up Your Kids
Have them read items from NPR's Summer Reading For Your Woke Kid. Books like One of a Kind, Like Me, a "heartwarming story of a young boy...who fights gender stereotypes by dressing up as a princess for the school parade." Or perhaps Rad Women Worldwide, wherein your woke kid can learn about "revolutionary women who changed history through activism and radical thought...from the painter Frida Kahlo to anarchist political activist Emma Goldman."
But what if your child is only two? No problem, there's a woke book just for them: A is for Activist by Innosanto Nagara, of which the Occupy Wall Street review says "Reading it is almost like reading Howard Zinn's A People's History of the United States, but for two-year olds."
I glanced through the Amazon preview, and was amused by the page for the letter 'C':
C is for Co-op.
Cooperating Cultures
Creative Counter to Corporate Vultures.
The illustration on this page is a line of ants, each carrying a piece of leaf, and above them, bees superimposed on a hexagonal 'honeycomb' pattern. I thought this was a wonderful example of how, every now and then, progressives will accidentally let slip and reveal what they really believe. Here,we see what the progressives view as a perfect society: the ants' nest and the beehive. You will never see a more perfect example of a full and consistent implementation of progressive principles. Which means that in order to have a successful progressive government, you have to be a bug.
"All within the hive, nothing outside the hive, nothing against the hive."
And anyway, constantly harping on cultural and racial differences, which what progressives demand, is actually a sure-fire recipe for increasing hostility and intolerance, not lessening them. But I think that's by design.

Dragon Awards
It's time once again for the annual Dragon Awards, which will be accounced at this year's Dragon Con, Sept. 1-4. I just got my ballot via e-mail this week. It's still not too late to sign up and get your own ballot.
The good news this year is that moron author Daniel Humphrey's first book, A Place Outside the Wild, has been nominated as a finalist for Best Apocalyptic Novel.
So sign up today and vote!

Books by Morons
Moron author Alec Lloyd e-mailed me this week to let me know that he has just released the 3rd book in his 'Man of Destiny' series.
He provided this blurb introducing the series exclusively for the Horde:
Imagine George Lucas hadn't jacked up the prequels and instead told a story about a decaying galactic republic mired in corruption and torn apart by competing ambition. Imagine the key figures are well-rounded, complex people with conflicting loyalties and real, human relationships. Imagine the war that breaks out isn't between clones and robots, but instead takes place between real people with their own hopes and dreams. This isn't fan fiction: the setting is my own and so are the characters, but if that kind of story appeals to you, this is the book series you've been waiting for. The final volume in the series ("Destinies Fulfilled") is being edited and hope to have it out by September at the latest.
Alec continued in the same vein:
I try not to play up the Star Wars side but there's no denying it's there. I was pitching my book to a guy in my guard unit and he said "Yeah, so-and-so told me about it. He read it."

"What did he think?"

"He said you fixed Star Wars."
The first book in the series is A Man of Destiny, the sequel is Rise of the Alliance, and the new one is Fall of the Commonwealth.
$2.99 each on Kindle.
___________
Don't forget the AoSHQ reading group on Goodreads. It's meant to support horde writers and to talk about the great books that come up on the book thread. It's called AoSHQ Moron Horde and the link to it is here: https://www.goodreads.com/group/show/175335-aoshq-moron-horde.

___________
On our Goodreads group, 'ette author Pam Jernigan tells us:
I have a book out that the 'ettes might enjoy, called "Whispers in the Dark" - I think of it as a romance that happens to feature a semi-zombie (he's not dead, just perpetually zoned out). So there's a paranormal-ish vibe but it's clean/sweet (no sex, no swears) and has a Christian element to it. Some of the characters in the book are convinced God is using them to heal the world, but the reader doesn't have to buy into that. There's not much violence, absolutely no gore, a fair amount of humor and the sweetest, most adorable recovering zombie you'll ever meet. It won a writers' contest and has some good reviews on Amazon.
Whispers in the Dark is available on Kindle for $2.99.

___________
Don't forget the AoSHQ reading group on Goodreads. It's meant to support horde writers and to talk about the great books that come up on the book thread. It's called AoSHQ Moron Horde and the link to it is here: https://www.goodreads.com/group/show/175335-aoshq-moron-horde.
___________
So that's all for this week. As always, book thread tips, suggestions, bribes, rumors, threats, and insults may be sent to OregonMuse, Proprietor, AoSHQ Book Thread, at the book thread e-mail address: aoshqbookthread, followed by the 'at' sign, and then 'G' mail, and then dot cee oh emm.
What have you all been reading this week? Hopefully something good, because, as you all know, life is too short to be reading lousy books.

posted by OregonMuse at
09:02 AM
|
Access Comments