« Saturday Gardening Thread Takes to the Air [KT]
|
Main
|
Saturday Afternoon Chess/Open Thread (Featuring Dress Pr0n) 08-05-2017 »
August 05, 2017
Ace of Spades Pet Thread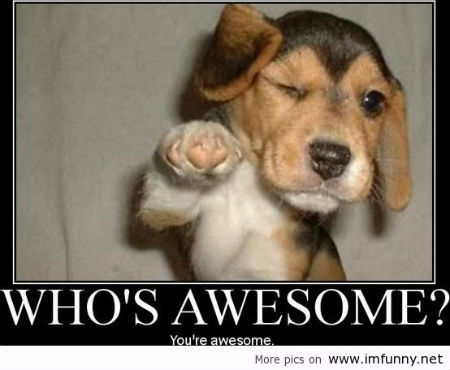 (You are, indeed!)
*****

Welcome to the almost world famous AoSHQ Pet Thread. Tell your buddy to stay.
Leave the current events and politics outside.
You grab a beverage and a S-N-A-C-K and enjoy the Pet Thread.
*****
A Little of This. A Little of That.

Gene Simmons of Kiss is recognizable world wide. Now his image is rubbing off in the animal world. h/t Anonosaurus Wrecks

We can't see drunken sailors getting a Pettoo on shore leave. h/t Miley

Sure don't vaccinate your dog. Wouldn't want it to be afflicted with autism.
Good Boy? h/t Pet Thread fan
And the Lions will walk among the Leopards. h/t Peaches.
*****
Meet The PetMorons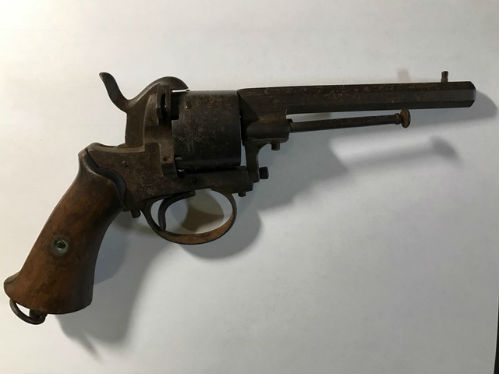 This is my Lil PuddinHead Baby's dawg, Nawla. She's 100 pounds of pure bred American bulldog.

CrotchetyOldJarhead

Looks like this doggeh is one heck of a fun dog.
***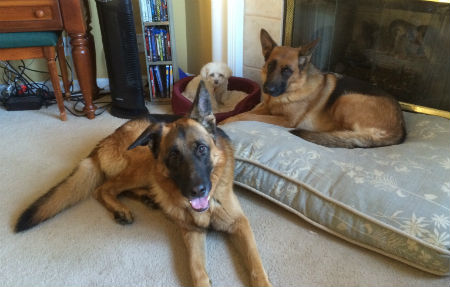 I'm a longtime lurker, Redinabluestate, been stalking since the first election of what's his name, O'henry? Nobody listened to me when I said he'd bring Chicago to Washington.

Anyway the beasts are from left to right - Rico, Molly and Bella. Bella and Rico are 7 and are brother and sister. Rico is technically our son's dog but he lives with us. Chicks dig the ear thing. He and Bella are ultra conservatives who believe strongly in the right to defend your family with deadly force. They (and our firearms)make my wife and daughter feel much safer in our Chicago area home when I frequently travel. Molly is 14 and has pretty much retired from defense work. Anyway, Rico always hangs with me on the weekends when I'm cruising through the news at Ace. He love the pet Morons thread pics.
We appreciate you lurking and contributing. C'mon and comment. The water is fine.
***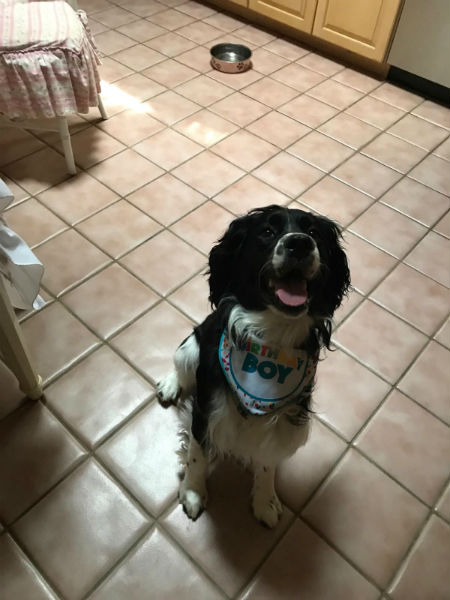 Buddy, 1st birthday. Very good boy. - John.
You know the rules, you have to share TREATS with all of us.
***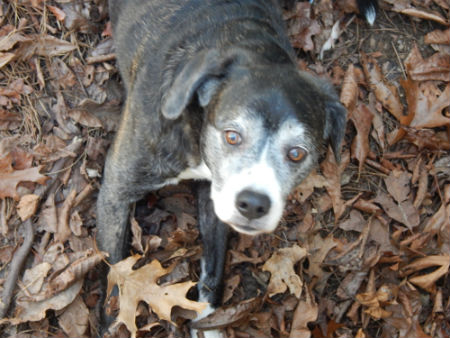 Hi,

I'm a long time daily lurker, and fan of the site.

This is Mazy, our 12 year old rescue dog. She's a brindle boxer/pit/unknown mix. She likes to sit in the sun on the deck, lay on the bed and eat. Well, who doesn't? We got her as a pup. She'd been mistreated, I think someone slammed a door on her, she refused to go through doorways at first. What a world. Now she's healthy and spoiled. She hit the jackpot when we took her home,

z in Alabama
Thanks for the photo submission. As stated earlier, c'mon and comment.
***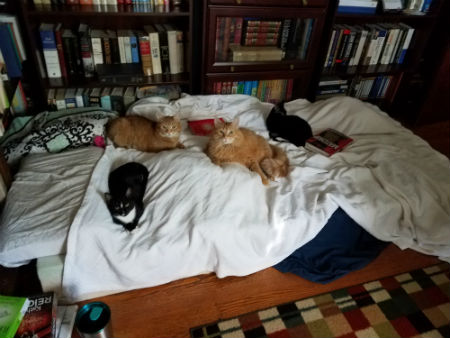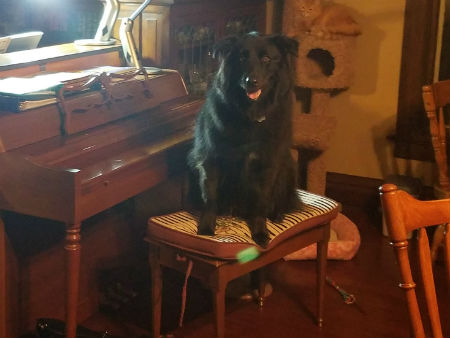 Dear Misanthropic Humanitarian and the Ace of Spades Pet Thread,

My husband, our son, and I have been lurkers for years, but the Pet Thread is what hooked our two daughters on AoS. Thank you so much! Here are a couple of photos of our rescued crew.

The portable a/c upstairs in the attic bedroom can't get ahead of the 100+ temps here in the Show-Me state right now, so our oldest is camping out in my husband's office for the time being. She's a little bit allergic to the cats, which means the office doors are supposed to be closed to keep our furry foursome off her bed while she's bunking in there. That plan is working out exceptionally well, as you can tell from the photo😊 Tinker Bella (long-hair orange) and Tinsel BowBow (short-hair orange) are 7 year old littermates, adopted by us around Christmas back in 2010. Then my son found abandoned kittens (maybe 5-6 weeks old at the time) under our back deck just a couple of months ago on Mother's Day. What's a momma to do but welcome Thumper Briar (all black) and Tiberius Boxer (black with white) to the menagerie! They're obviously pretty new to the crew, but thankfully the feline contingent moved fairly quickly from drama to détente to domestic bliss.

Our dog, Theseus Bear, is a 6 year old mutt who was rescued at 9 weeks old, also around Christmas 2010. He thinks he is a music critic and sits next to the instruments when the kids play, yipping and whining at them whenever they happen to hit a wrong note. It cracks us up every. single. time. He's a happy guy with lots of energy and love for his kids and his cats, too. When the baby kitties had to go in to the vet for a couple of days earlier this week (all is well now), Bear moped around the house the whole time that they were gone, looking for them everywhere, giving me dirty looks, and conferring with Bella and BowBow regularly about this disturbance, right up until the moment that I brought them back home, safe and sound.

Thanks again for the Pet Thread and all of your posts! - Alli and her family
No need to thank us here at The Pet Thread. We thank you!!
*****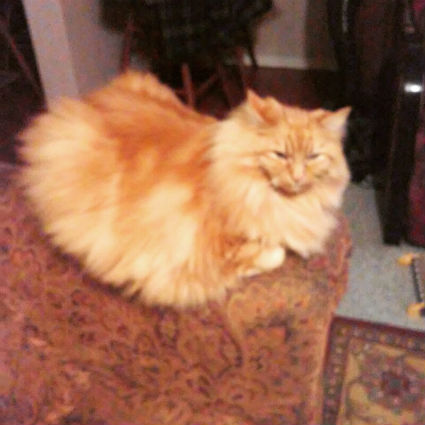 I sent this month's ago .Not sure if my Tanner aka Tangolina is in the cue or went to interwebz cloudz. Attaching another pic of her antics.Btw she's a Maine coon not colon. Cause autocucumber thinks I'm Raacisst lol.-Cheryl

Months? Hmmm. I blame it on the dog. Or in my case, dogs.
***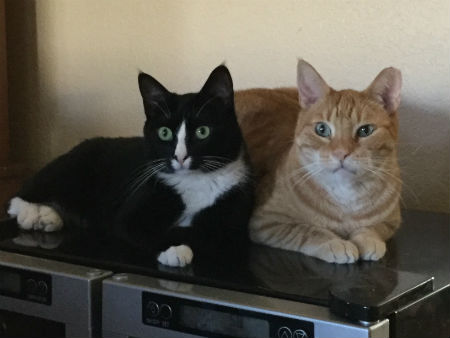 These two represent a part of our furry posse. We have five, all rescued. The tuxedo is Mitzi. She appeared in our backyard with her feral mom cat in late fall of 2015. She was quite tiny. We trapped them both, got the mom cat spayed and released her back in the yard and kept the kitten. We feed mom cat, provide shelter and water. The red tabby is Tigger. He was rescued from a feral cat colony by an acquaintance when he was severely injured. She asked us to foster him for a while because she had no room for him. Yeah, foster failure. We've had him for three years. He's about 10 now, and is so not feral!

I am a lurker and very occasional poster - Guns Gardens and Yarn.

Thanks for lurking and telling us about your kittehs.
***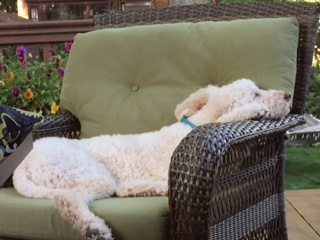 Cubbie Moyen Poddle Smart as a whip and can catch a whiffle ball on the fly-Sam

Catch a ball? Not sure about that but sure looks like it can catch zzzzzs. Cute.
*****

Well PetMorons and their fans, this concludes another Pet Thread. You guys and gals or whatever the hell you identify as make this thread work. Keep those photos, stories and tips coming to us at petmorons at gmail.
Tell us your pet's name, your nic and a short story about the pet.
We appreciate your patience as we get to your pets photos.
Have a great week!!!!

posted by Misanthropic Humanitarian at
03:04 PM
|
Access Comments