« Difference #45,093 Between The West And The Rest Of The World
|
Main
|
Ace of Spades Pet Thread »
August 05, 2017
Saturday Gardening Thread Takes to the Air [KT]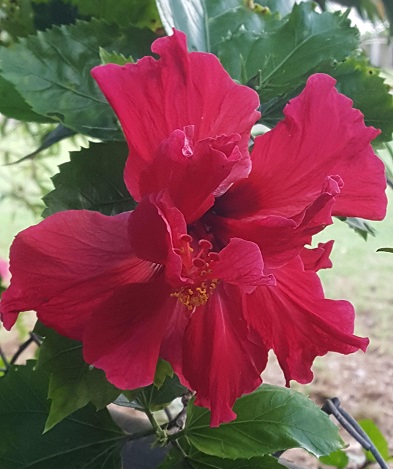 Hello Horde! I may or may not be able to check in this weekend. I will be on the road, then in the air later. The Saturday Gardening Thread will be in full vacation mode next week. No WiFi.
But we have some great photos and information from The Horde today. There's no way to travel between all the locations where these photos were taken except by jet or the magic of the interwebs.
From Kauai
Island Girl sent in the lovely photo above. That double tropical hibiscus is growing on a chain link fence. What is growing on your chain link fence? And the plumerias grow pretty much on their own there, too. Anyone envious?
Florida
Look at these intricate markings: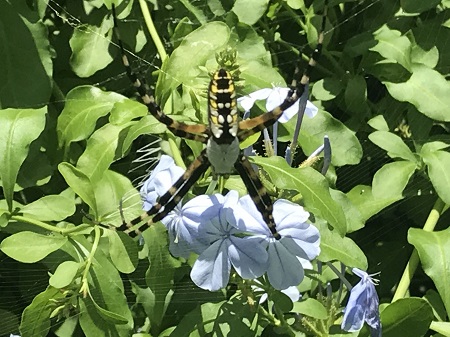 Greetings from Sarasota Florida!

I found this beauty in my plumbago. It's a female yellow garden spider. Her bite is mildly toxic and hurts like a SOB. Just part of the joys and adventures of gardening in Florida.

Long time lurker sometimes poster, Thursby.
The plant that beauty is on is Cape Plumbago. It is not very hardy to cold, rated for hardiness zones 8 - 11 with good drainage. It's kind of a floppy shrub or perennial that can be tied to a trellis to grow up to 12 feet. The lovely pale blue color you see above looks fantastic with a crimson bougainvillea and/or pale pink oleanders. Can be pruned back hard in winter to control size and form (if it doesn't die back with frost). Although seedlings will grow in the garden, to get the color you like you should grow it from cuttings. It also comes in white. Blue flowers can bleach out in desert sun or in reflected heat.
There is also a white-flowered plumbago called doctor bush that is shorter and does best in part shade. It is native from Florida to Arizona, featuring red leaves on new growth. It may appear to have powdery mildew in late summer, but this may be a natural exudate from the plant onto the underside of its leaves. Both this native plumbago and Cape Plumbago host caterpillars of the Cassius Blue Butterfly in Florida, and possibly other Blue Butterflies. I love the stout profiles and the cute little faces of the Blue Butterflies.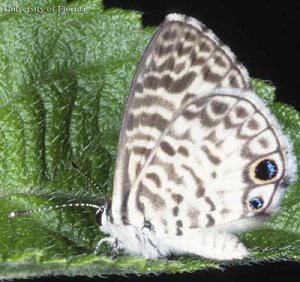 Female Cassius Blue Butterfly
Plumbago flowers are also attractive to other butterflies but may be lethal to crawling insects. Hapless insects on Thursby's plant may be stuck between a lethal spider and lethal flowers.
How could those baby blue flowers hurt anything? Even an ant?

Washington State
From Sherpa_K2, back in June, a rose from Bellevue Botanical Gardens. Cools me off just to look at it.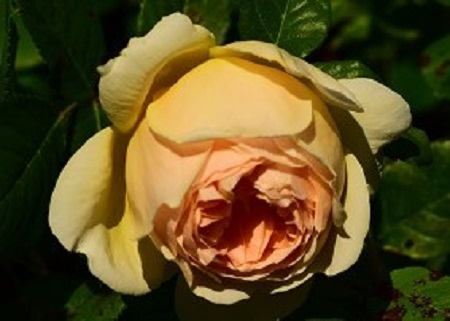 That rose has a lot o' petals. Roses with as many petals as that one are sometimes called "cabbage roses". Sometimes they don't do well in humid weather, failing to open. As far as I can tell, the name "cabbage rose" was first applied to the old once-blooming, very fragrant centifolia roses, grown by old rose fans among The Horde.
The closest I have come to growing a centifolia rose was a modern miniature moss rose. A moss rose has growths that resemble modified spines on its sepals and sometimes on the base of the flower. They transfer fragrance to your hand when you hold one of the roses. The original ones are closely associated with the old centifolia roses.
Do you have experience growing this kind of rose? Do you prefer single roses, lush roses like the one above, the classic elegance of the hybrid tea or another flower form?
Arizona
Lurker Nancy got an inch of rain in July and more cactus blossoms. Keep this up and more people will brave visiting the Arizona desert during monsoon season, Nancy.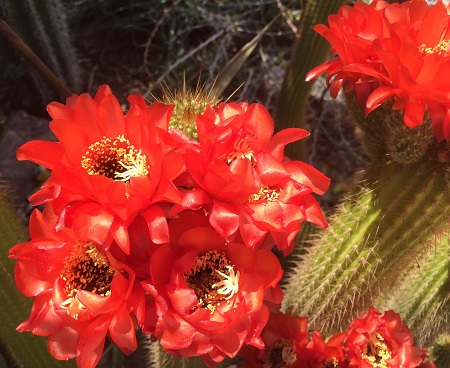 Maryland
Moron Chris from MD sent in the following:
While I don't have any actual earth I can plow, I have done the best I could with the space I have on a south facing 11th floor condo in MD suburbs of D.C. It stretches 45' long, varying in depth between 4.5-8.5'.

At the ends we have Torenia fournieri (wishbone flower) draping out of the coco shell planters, one 5' Mandevilla at each end (that is consuming the railing and is visible from the street), two Crotons that are in their second season, three Chinese fan palms, a full railing (though only one is visible in photo) of coco shell planters filled with Blue My Mind morning glories, a plant I will not use again as it's blooms are too delicate and prone to shed quickly. The white flowers on the ground are New Guinea impatiens & flowering Vinca.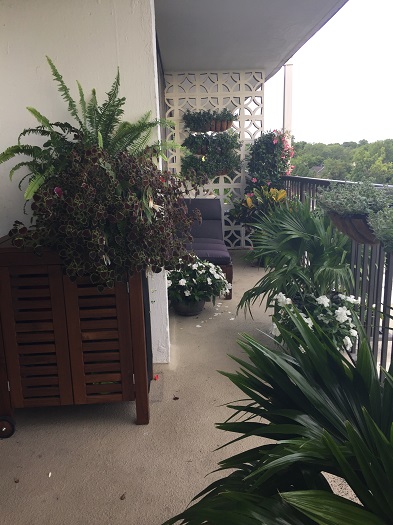 It ain't a lot, but I enjoy it. Watering takes 8-10 minutes every morning with roughly 7-8 gallons dispersed. Next year I will install larger trough planters at ends (upping 24" to 36", 36" to 48") and install one of the true blue lobelia that will shower down. Still debating what to replace morning glories with: either all Blue ageratum or burgundy Ipomea. As showy and clean as the Ipomea are, leaning blue Ageratum; would make all 10" white pots into white-red pots, so by 4th I'd have very distinct red, white & blue.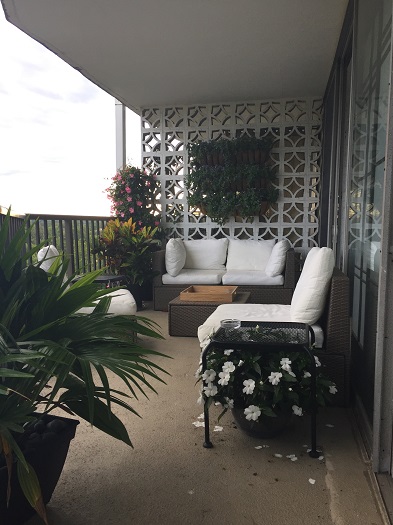 That balcony looks really inviting, don't you think? Do you have any suggestions for Chris next year to further a patriotic garden theme? I'm thinking maybe a mildew-resistant red Verbena for the railing. South-facing, remember. Though there are some taller Ageratum cultivars that are kind of fun, too. Maybe some blue Browallia in shadier parts of the balcony.
For those who might be curious about what the Wishbone Flowers (in the hanging planters above) look like up close, here's an example. I get a kick out of them. They can also be used for bedding in shade - said to attract hummingbirds while being deer-resistant: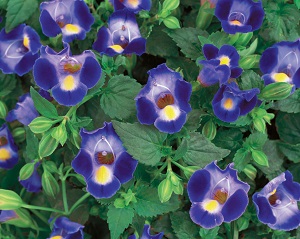 Torenia Fournieri 'Catalina Midnight Blue'
Gardens of The Horde
It has been hot and humid (well, humid for a few days, hot for a lot of days) here. The clove currants (Ribes aureum) got neglected some, and the first berries in most of the clusters were dried when I picked them. They look kind of like Zante currants, which are actually raisins, but taste drier than Zante currants usually do. The rest of the currants in each cluster were big, fully ripe and sweet. No sour surprises for once.
In last week's comments, bergerbilder offered to save seeds from an excellent variety of hosta with green serrated leaves and deep purple flowers. Takes more sun than some hostas. Sounds great. Breeds true, apparently.
Let us know if you are interested.
Anybody harvesting something tasty? Got something else interesting going on in the garden?
If you would like to send information and/or photos for the Saturday Gardening Thread, the address is:
ktinthegarden
at g mail dot com
Include your nic unless you want to be a lurker like Nancy.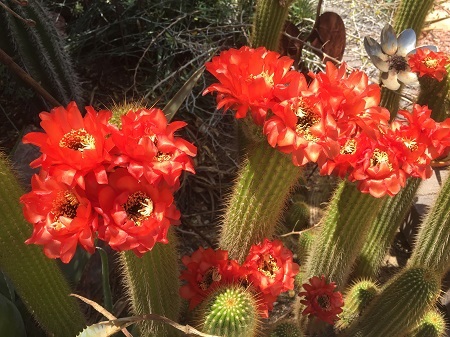 posted by Open Blogger at
12:15 PM
|
Access Comments