« Here's A Take On The "Transgender" Ban From Someone Who Has Been The Tip Of The Spear
|
Main
|
Mike Rowe, Drinking Stories, And Open Thread »
July 30, 2017
Food Thread: It's Just Food...Make It Fun
I will be violating that maxim below the fold, but in the meantime, it really is just food. No need to take it so seriously all the time.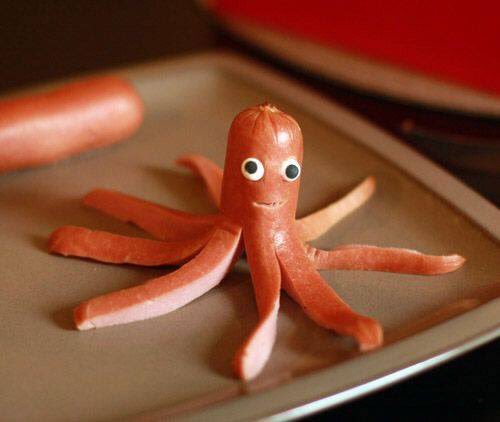 Cooking can be fun, and eating can be even more fun. Hell, food shopping can be amusing and a diversion from the grind of the day. We control a hefty portion of our cooking and eating experience, but all too often we (that means, "I") allow it to overwhelm us with crap.
If you don't feel like cooking...then don't. Scour the refrigerator and freezer for leftovers, or just pour yourself a bowl of cereal or eat a handful of radishes or whatever floats your boat.
Over the course of weeks or months most of us get what our bodies need. There is no reason to obsess every single day. In the end, it's just fuel. Sometimes $10 of regular from a generic gas station is all we need, and sometimes a full tank of ethanol-free 100 octane fuel is just what the doctor ordered.
Have I tortured this metaphor enough?
Anyway, what's the goofiest meal you have eaten? Reddi-Whip and frozen orange juice concentrate? Pickles and peanut butter? A butter-stuffed burger on a buttered brioche bun?

******
Yum. Profiteroles. I made them once, and while they aren't difficult I managed to get chocolate everywhere, because there is no neat way to coat them.
******
Yes, this is a typical hysterical Daily Mail article, with lots of awful photos and a few choice quotations.
Too fat to stand and their flesh rots while they're alive: The REAL reason America's 'Frankenchickens' have to be washed with chlorine as US industrial farming practices are exposed ahead of possible post-Brexit trade deal
But it is an issue, and one that is difficult to deal with absent wholesale changes in food production in America and the rest of the world.
What? The rest of the world? Of course...America is just the fattest target. The Daily Mail doesn't care about farm animal abuse in China or India or Indonesia or, God forbid, Pakistan!
I don't have an answer, other than knowing that the answer most certainly isn't government regulation, of which we have plenty in the food production industries that seem not to be working very well.
And I have said this many times, but I think it bears repeating. While the lives of food (and other) animals should be valued and respected, I'll kill 1,000,000 animals to save the life of one human being. Our lives are more important, and if the price of less starvation and malnutrition is substandard treatment of animals in our food chain, then that is unfortunate but necessary.
******
Here's a good example of why I sometimes despair for America.
6 Reasons Why Vegetable + Canola Oil is Bad For You
is a mishmash of poorly researched claims, voodoo food myths, a profound misunderstanding of chemistry, and flat-out falsehoods. But because it hides under the mantle of natural and holistic and non-GMO and a dozen other mantras that we hear chanted by the food crazies, it avoids rational analysis. And because the author "cured" herself with food, and without medicine, we must take her seriously. Except....I don't want to base my treatment on a study with exactly one subject, and that's what she is doing.
******
I could have sworn that I posted this recipe, but I can't find it in any of my searches, so I apologize. It's really good and really messy, especially if you don't like peeling things.
It's originally from Cooking Light magazine, although I have seen versions of it in other places. The next time I make it I think I will skip the chile roasting part and just poke around for canned chiles. And of course use more than one pound of chicken. That's just silly. It makes six servings, and I am a red-blooded American man...I want more than 2 2/3 ounces of chicken!
Chicken Verde Stew with Hominy


2 Anaheim chiles

Cooking spray

1 1/2 pounds tomatillos

1/4 cup finely chopped fresh cilantro

1 1/2 teaspoons ground cumin

1 teaspoon dried oregano

2 cups chicken broth, divided

2 tablespoons olive oil, divided

1 1/2 cups finely chopped onion

1/2 cup chopped carrot

1/2 cup chopped celery
1/2 cup chopped red bell pepper

3 tablespoons flour

4 teaspoons finely chopped garlic

1 pound skinless, boneless chicken thighs, cut into 1 1/2-inch pieces

3/4 teaspoon kosher salt, divided

1/2 teaspoon black pepper, divided

1 (29-ounce) can golden hominy, rinsed and drained

Sour cream

Cilantro leaves (optional)

1. Preheat broiler to high.

2. Halve, stem, and seed chiles. Place chiles, skin side up, on a foil-lined baking sheet coated with cooking spray; broil for 5 minutes or until charred. Place chiles in a paper bag; seal. Let stand for 15 minutes. Peel and discard skins. Arrange tomatillos on prepared baking sheet, and broil 14 minutes or until blackened, turning once. Combine the chiles, tomatillos, 1/4 cup cilantro, cumin, and oregano in a blender. Add 1 cup broth; process until smooth.

3. Heat a large Dutch oven over medium-high heat. Add 2 teaspoons olive oil; swirl to coat. Add onion, carrot, celery, and bell pepper; sauté for 2 minutes, stirring occasionally. Stir in flour; sauté for 2 minutes, stirring frequently. Add garlic; sauté for 30 seconds, stirring constantly. Place onion mixture in a large bowl.

4. Sprinkle chicken with 1/2 teaspoon salt and 1/4 teaspoon black pepper. Add 2 teaspoons oil to pan; swirl to coat. Add half of chicken; sauté 3 minutes. Add browned chicken to onion mixture. Repeat procedure with remaining chicken and 2 teaspoons oil. Combine remaining 1 cup broth, tomatillo mixture, onion mixture, and hominy in pan over medium-high heat, and bring to a boil. Cover, reduce heat, and simmer for 45 minutes, stirring occasionally. Stir in 1/2 teaspoon salt and 1/4 teaspoon black pepper. Ladle 1 2/3 cups stew into each of 6 bowls, and top each with 1 tablespoon sour cream. Garnish with cilantro, if desired.


******


Food and cooking tips, extra Pappy van Winkle bourbon, fresh Morels and other goodies such as fresh-killed possum: cbd dot aoshq at gmail dot com


posted by CBD at

04:00 PM

|

Access Comments