« Saturday Afternoon Chess/Open Thread (Featuring Dress Pr0n) 07-29-2017
|
Main
|
Overnight Open Thread (29 Jul 2017) »
July 29, 2017
Saturday Evening Movie Thread 07-29-2017 [Hosted By: TheJamesMadison]
Action!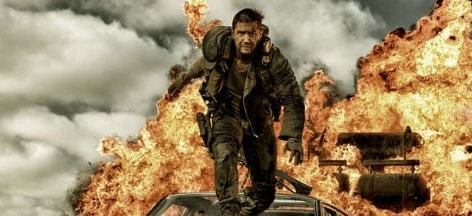 A good action scene is why some of us get out of bed in the morning. We love to watch explosions, car chases, fist fights, and general mayhem on screen.
But, have you ever thought about how hard it is to make such a flurry of editing, sound, and movement intelligible to the human eye projected sixty feet high?
You might be surprised by this, but I have.
I'm no expert, but I think that action scenes need to follow two basic rules to reach a foundational level of comprehensible. Great action scenes generally do a whole lot more, but if these two aren't met, then it gets a lot harder to figure out what's going on.
"Never be muddy, never be boring"
That was a piece of advice one of my creative writing professors (he was British, like the man above) in college gave me, and it has stuck with me ever since. I think what he said about how to write fiction can apply to how to compose an action scene.
1) "Never be muddy" means that there should be clarity to what is being conveyed. You should be able to tell where people are (the geography of the scene) and to differentiate between them. If the editing of the scene leads you to believe that the antagonist on one side of the room and then he magically appears on the other to give the protagonist a punch in the face, then the audience gets pulled out of the moment. "He wasn't there," they say to themselves as they demand some semblance of rules from the scene.
This also extends to just visual differentiation as well. I'm going to talk more about Kill Bill: Volume 1 in a little bit, but I think how Tarantino dressed our protagonist and her opponents helps make the scene so much clearer than it could have been. She's dressed all in yellow while the drones she fights are all in black. It's a contrast that pops off the screen and helps to keep us knowledgeable of where everyone is, along with a few other important factors like editing, staging, and lighting. Center framing (keeping all the action in the center of the frame) helps some more chaotic films like Mad Max: Fury Road remain legible amidst the anarchy.
2) "Never be boring" means that if you are going to have an action scene that lasts more than a few seconds, you can't have the same thing repeated endlessly. Imagine two little boys with toy swords just parrying little blows back and forth without ever changing. That wouldn't be terribly exciting, now would it. If you have a fist fight, it can't just be two guys throwing little jabs, but you have at least mix it up with some other moves to keep things from growing stale.
One of the reasons that I'm a slight defender of Indiana Jones and the Kingdom of the Crystal Skull is the action sequences. The opening sequence in the warehouse is almost madcap in how the scene keeps changing the setups and executions to almost every blow. It starts as a Mexican standoff, turns into a car chase, then into a fist fight (including falling through a ceiling and the use of chains), continues with a horizontal rocket launch, and only finally ends with the nuclear explosion. I've always found that very fun, even if it's completely unrealistic and borderline silly.

An Exception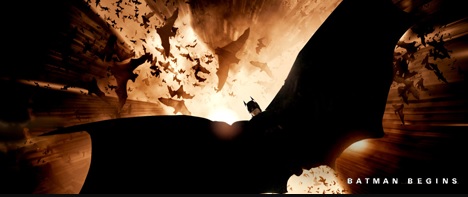 What would one of these be without me being a horrible hypocrite?
Well, let me show you the scene that I'm going to call an exception, first. It's from Batman Begins and is the first appearance of The Batman in the film.
Especially when Batman fell down into the middle of the group of bad guys and started giving blows, that was muddy, wasn't it? You won't get any argument from me. It's hard to tell what's going on.
But that's okay. "Why?" you ever so politely ask. Well, it has everything to do with something that's very important to Christopher Nolan, point of view. Every scene he directs is told from a particular point of view, this one is no different. They key is in how the scene is filmed. This action adventure movie suddenly has the trappings of a horror film, and it's all because the scene is told from the point of view of the bad guys. The bad guys have no idea what's after them or what's going on so when Batman drops from the ceiling and beats them all, it's confusing for them. They can't see what is kicking their asses, and, by extension, neither can we.
The point of the scene isn't the action itself, but the experience the bad guys have in the face of this new terrifying crime fighter. Cops have been shown as complicit in their actions, and suddenly there's a creature in the shadows that's after them? The law was effectively on their side! What's this?!

Where things can break down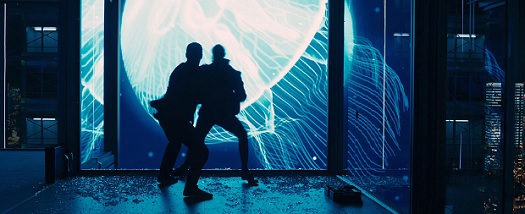 I just want to drop in a quick example of a beautifully filmed action scene that leaves me very cold. Most people love Skyfall, and I do too. But the below action scene done in the dark so the two men are silhouetted in front of neon lights, ends up being just basically confusing to me.
Could you tell who was whom throughout? I couldn't. I love the movie, but this action scene has always taken me out of the movie.
As a quick counterpoint, I want to highlight this "action scene" from Star Trek VI: The Undiscovered Country. In it, we get confused as to which Kirk is the real Kirk.
But, as you can tell, there's a small narrative reason for it. It's to create that very confusion. See? Another rule broken, but it's fine because narrative ultimately comes first.

I'm gonna kill Bill



Alright, now the real reason I wrote all of this, and the part that no one will end up reading because it's so far down.
The Showdown at House of Blue Leaves is one of the greatest action sequences ever filmed. It's also one of the first action sequences Quentin Tarantino ever filmed. Look back at the three movies he made before this, and the closest to an action sequence you'll find is Steve Buscemi running down the street in Reservoir Dogs and Marcellus Wallace getting hit with the car in Pulp Fiction. Even if you classify those as action scenes, they're nothing compared to this.
And you know what? It follows the two basic rules I outlined above. In addition to that, what amazed me most about the sequence is the fact that the action sequence itself, on its own, actually follows the basic story structure of exposition, rising action, climax, falling action, and resolution. The action scene itself tells a story.
Exposition begins with The Bride calling out O-ren Ishii and laying out the reasons for her presence. The rising action is the first few people The Bride faces against (culminating in the battle with the schoolgirl dressed Go Go). The climax is the beginning of hell breaking loose as the rest of the gang ( the Crazy 88 ) show up and that fight begins. Declining action happens as she thins out the heard and faces O-ren one on one. Resolution happens as The Bride limps away from the carnage.
Maybe it's too long. Maybe it's too gratuitous. Maybe it's too self-indulgent. But you know what? I love every minute of it.

Movies of Today
Opening in Theaters:
The Emoji Movie
Atomic Blonde
Next in my Netflix Queue:
The Milky Way
Movies I Saw This Week:
Fear and Desire (Netflix Rating 2/5 | Quality Rating 1.5/4) Poster blurb: "Stanley Kubrick made a movie so bad that he tried to destroy every copy. Come and watch!" [Amazon Prime]
The VVitch (Netflix Rating 5/5 | Quality Rating 3.5/4) "A terrifying and unsettling look at the seductive power of evil." [Amazon Prime]
Byzantium (Netflix Rating 4/5 | Quality Rating 3/4) "An interesting, if a little disjointed, modern vampire movie." [Netflix Instant]
Phoenix (Netflix Rating 4/5 | Quality Rating 3/4) "Gets caught up in minutia, but ends quietly and quite powerfully." [Netflix Instant]
Love in the Afternoon (Netflix Rating 5/5 | Quality Rating 3.5/4) "Rohmer's movies feel more like theater than film, but they do end up conveying a strong message and impact." [Netflix DVD]

Contact
Email any suggestions or questions to thejamesmadison.aos at symbol gmail dot com.


posted by OregonMuse at
07:21 PM
|
Access Comments