« McMaster Fires Another Iran Hawk, While Doing His Best to Protect Obama Holdovers
|
Main
|
The Morning Report 7/28/17 »
July 27, 2017
Overnight Open Thread (07-27-2017)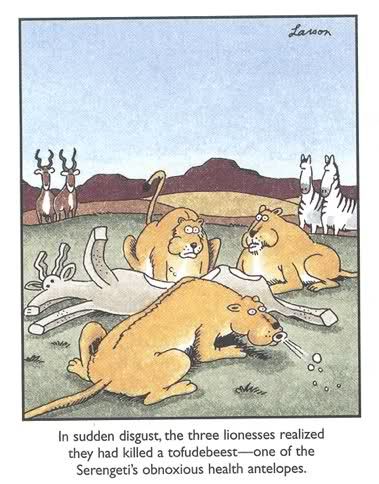 Hitler knows that he will have to break us in this island or lose the war. If we can stand up to him, all Europe may be free and life of the world may move forward into broad, sunlit uplands. But if we fall, then the whole world, including the United States, including all that we have known and cared for, will sink into the abyss of a new Dark Age made more sinister, and perhaps more protracted, by the lights of perverted science. Let us therefore brace ourselves to our duties, and so bear ourselves that, if the British Empire and its Commonwealth lasts for a thousand years, men will still say, 'This was their finest hour!'
-- Sir Winston Leonard Spencer-Churchill
Yes, I am a Jew, and when the ancestors of the right honorable gentleman were brutal savages in an unknown island, mine were priests in the temple of Solomon
-- Benjamin Disraeli, Earl of Beaconsfield
[In response to a taunt by Daniel O'Connell]
People are always blaming their circumstances for what they are. I don't believe in circumstances. The people who get on in this world are the people who get up and look for the circumstances they want, and, if they can't find them, make them.
-- George Bernard Shaw
[in "Mrs. Warren's Profession"]
******
I'm sure that the chattering classes will have a good time mocking Kid Rock's suggestion that he might challenge professional politician Debbie Stabenow for her Senate seat. He has a tough battle to fight, especially because she is such an intellect.
Global warming creates volatility. I feel it when I'm flying. The storms are more volatile. We are paying the price in more hurricanes and tornadoes.
Shockingly, Robert James Ritchie doesn't sound anything like an idiot. In fact, he seems to be quite an appealing man with at least one solid idea and has a comfortable presence in front of the camera.
******
I don't like cats, but for some reason they like me. That speaks volumes about the whole species. Anyway,
Here are some cute cat pictures.
Or Helen Thomas nudes. I forget which.
******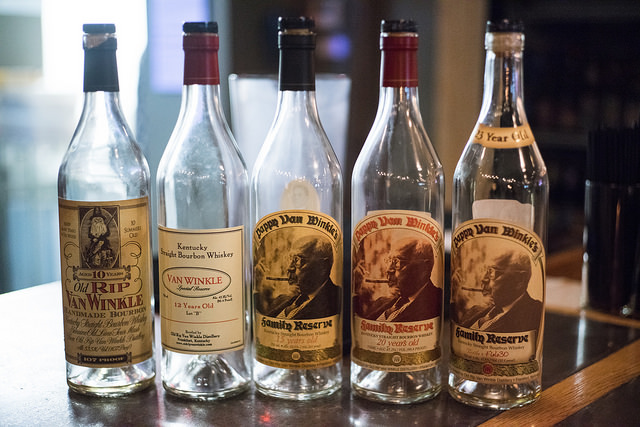 This was sent to me by a lurker who shall remain nameless, but whose work will appear in the soon-to-be-famous AoSHQ Cookbook, if weasel and bluebell put down the Pappy van Winkle for a few days and do some work.

"I searched for an alternative [to Pappy], and that led me to Bourbonr, which gave me a recipe for combining W.L. Weller 12 Year and Old Weller Antique 107 Proof," says Fredrickson. "It's all Buffalo Trace; the only Stitzel-Weller product still in the Van Winkle line is the 23."

In addition to its own line, Buffalo Trace Distillery in Frankfort, Ky., now produces Old Rip Van Winkle whiskey, as well as W.L. Weller, Blanton's, Eagle Rare, Sazerac and many more.

"Basically, [Van Winkle and Weller] have the same mash bills and are aged for almost the same time," he says.

To make his Poor Man's Pappy, Fredrickson combines 40 percent by weight W.L. Weller 12 Year and 60 percent by weight Old Weller Antique 107 Proof in a 750-milliliter bottle, seals it and tries to forget about it for as long as possible (two months at minimum) to allow the spirits to integrate fully. His current batch is more than a year old. The aim was to approximate Old Rip Van Winkle 10 or 12 Year Lot B, but as Fredrickson discovered during a recent blind tasting at Delmonico Steakhouse, his Poor Man's Pappy falls somewhere between the 12 and 15 Year in taste, body, heat and overall heft—so much the better for his personal enjoyment.
******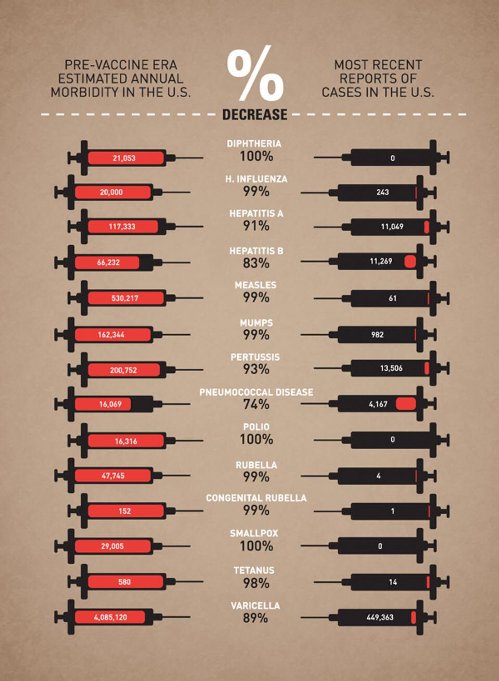 Graphic Courtesy of Leon Farrant
Yeah....vaccines. It's pretty much the pinnacle of human achievement. And if you disagree, you have to admit that it is near the top. So whenever you go to an after-yoga pot-luck and somebody notices that you brought a dish that has GMO ingredients or that your kids are all alive and well or you don't have polio or rabies and you didn't die after that nasty cut you got while camping or didn't die of Whooping Cough when you were six and haven't gotten the flu in forever and on and on and on....tell them to fvck off. Because their ignorance and stone-aged idiocy of not getting their kids vaccinated is going to kill lots and lots of innocent people.
Oh, before I climb down from this high horse...flu vaccine does not give you the flu. It's dead virus. it can't give you the flu. It's impossible. If you feel crappy after you get the vaccine, then it's probably a side effect of antibody production. And if you get the flu, it's because you got the vaccine too late and were exposed to the live virus before your body was able to produce enough antibodies to protect you. Or, they didn't get the correct strains of influenza in the vaccine, and you were unlucky and exposed to a strain that wasn't in the vaccine.

******
Here's a weird cover. Conan O'Brian should shut the fvck up and let Grace Potter sing, but still, the band is fun. And unexpected.
******
And we might as well continue in that direction, with another rather attractive singer with a pretty good voice. Susanna Hoffs is not unpleasant to look at, even with the terrible video quality from 1991.
******
On the other hand John Stossel is definitely not my type, but he makes up for it by being pretty bright and making some good points about the Leviathan.
******
If this ONT hasn't put you to sleep yet, try this video of
a rock singer reading "Goodnight Moon."
******
©2019 by AceCorp LLC. All Rights Reserved. Do not taunt proprietor with Makita, DeWalt or Milwaukee products. Shelves are non-weight-bearing and are for decoration only. Lefty loosy, righty tighty.

posted by CBD at
10:00 PM
|
Access Comments