« "I'm smart! Not like everybody says... like dumb... I'm smart and I want respect!"
|
Main
|
Open Thread Until The ONT. Or SMOD. Whichever Comes First »
July 23, 2017
Food Thread: Just Another Generic Post, But With Cookies!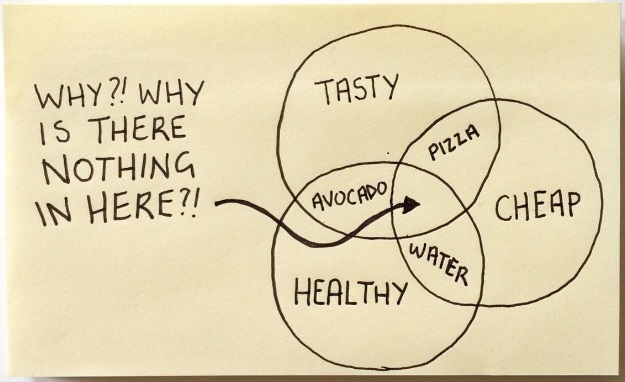 courtesy of Insta-Chaz
I got a chuckle out of this drawing, but not because it says anything of particular import. Most of us pay attention to all three to varying degrees, although my sense of the portion of The Horde that reads The Food Thread
TM
is that they care less about health and more about the other two.
Certainly in my youth I was more attuned to cheap, but even now, I pay attention to price, or more accurately, value. But taste is paramount, and healthfulness is a distant third. I simply don't care that much. I know that if I eat a varied diet (otherwise known as an interesting selection of foods) I will get all of the nutrients I need, so I just don't care. My only dietary restriction is carbs...I have found that if I restrict them slightly I don't have to worry about my weight. Sure, I will sometimes eat a pound of pasta or a loaf of bread with butter, and that will never change. But over the long term...weeks or months, I restrict carbohydrate intake a bit. It works for me because I eat a varied diet and there is plenty of other food that I love.
If I had to choose one food that I simply cannot give up, I think it would be beef. And pork. Okay, two foods I can't give up. Beef and pork. There is nothing like a perfectly grilled steak or a dry-brined, thick-cut pork rib chop with all of the exterior fat and muscles left on so it practically bastes on the grill.
And while I have discussed dry-brining in the past, it bears mentioning again, mostly because it is so damned easy and it works so well. But it's also not new. BBQ is often dry-brined with rubs. I just make it simpler and use copious quantities of Kosher salt on the top and bottom of the meat, refrigerate it for several hours, then rinse it, dry it, then grill it! Pork takes particularly well to this technique, although I have done it with chicken and lamb too.
You can add pepper and herbs and spices to the salt. Whatever you desire will probably work.
******
Speaking of giving up carbs, I will be making this dish tonight.
Rice Noodles With Spicy Pork and Herbs
One of the fun things about living near a big city is that I get to try all sorts of ethnic restaurants that a smaller metropolitan area might not have. Vietnamese and Chinese and Japanese noodle houses rock! That is great fast food, and I implore you to try it if you can.
Addendum: I just made this dish. It's boring and tasteless and total crap. Don't bother.

******
Commenter artisanal 'ette sent me this photo as a quiz. What's the drink?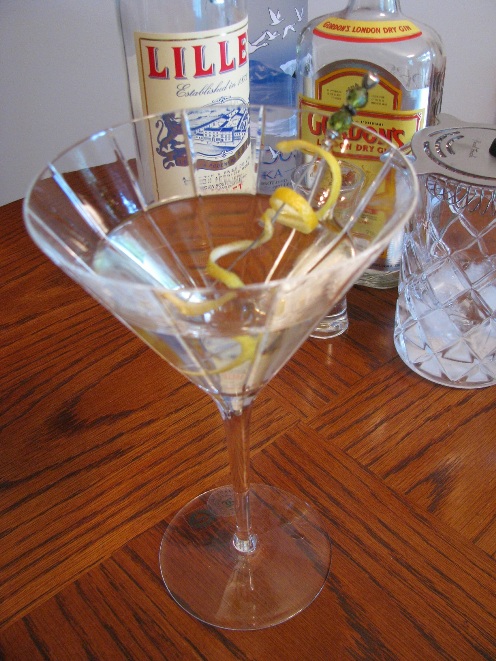 And a very good drink it is. I am not sure why it works. Mixing Gin and vodka makes no sense to me. Anyone have a theory? In the meantime, try these versions and decide which is best.
The Vesper Cocktail Recipe
******
What to do with the extra head of garlic you bought because you are rapidly becoming senile (or middle-aged) and forgot you had a whole one at home? Make Pasta Aglio e Olio. What's that? Dildo is eating too much pasta? What about his carbs? Well, Oscar Wilde was a smart guy: "everything in moderation, including moderation."
Here's a nice recipe from Mario Batali.
Ignore the stupid bread crumb thing at the end. it's not necessary. And the cherry peppers are interesting, but also optional (I used Peppadew peppers anyway).
******
Here's a nice chocolate chip cookie recipe from
America's Test Kitchen
. I really like the idea of using browned butter to add some extra flavor. Give it a shot and report back...I will too.
Chocolate Chip Cookies


1 ¾ cups unbleached all-purpose flour (8 3/4 ounces)

½ teaspoon baking soda

14 tablespoons unsalted butter (1 3/4 sticks)
½ cup granulated sugar (3 1/2 ounces)

¾ cups packed dark brown sugar (5 1/4 ounces) (see note)

1 teaspoon table salt

2 teaspoons vanilla extract
1 large egg

1 large egg yolk

1 ¼ cups semisweet chocolate chips or chunks
1. Adjust oven rack to middle position and heat oven to 375 degrees. Line 2 large (18- by 12-inch) baking sheets with parchment paper. Whisk flour and baking soda together in medium bowl; set aside.
2. Heat 10 tablespoons butter in 10-inch skillet over medium-high heat until melted, about 2 minutes. Continue cooking, swirling pan constantly until butter is dark golden brown and has nutty aroma, 1 to 3 minutes. Remove skillet from heat and, using heatproof spatula, transfer browned butter to large heatproof bowl. Stir remaining 4 tablespoons butter into hot butter until completely melted.
3. Add both sugars, salt, and vanilla to bowl with butter and whisk until fully incorporated. Add egg and yolk and whisk until mixture is smooth with no sugar lumps remaining, about 30 seconds. Let mixture stand 3 minutes, then whisk for 30 seconds. Repeat process of resting and whisking 2 more times until mixture is thick, smooth, and shiny. Using rubber spatula or wooden spoon, stir in flour mixture until just combined, about 1 minute. Stir in chocolate chips and nuts (if using), giving dough final stir to ensure no flour pockets remain.
4. Divide dough into 16 portions, each about 3 tablespoons (or use #24 cookie scoop). Arrange 2 inches apart on prepared baking sheets, 8 dough balls per sheet. (Smaller baking sheets can be used, but will require 3 batches.)
5. Bake cookies 1 tray at a time until cookies are golden brown and still puffy, and edges have begun to set but centers are still soft, 10 to 14 minutes, rotating baking sheet halfway through baking. Transfer baking sheet to wire rack; cool cookies completely before serving.

******
Food and cooking tips, extra Pappy van Winkle bourbon, fresh Morels and other goodies such as fresh-killed possum:
cbd dot aoshq at gmail dot com
&topic=world_news">

posted by CBD at
04:00 PM
|
Access Comments