« EMT 07/23/17
|
Main
|
"I'm smart! Not like everybody says... like dumb... I'm smart and I want respect!" »
July 23, 2017
Sunday Morning Book Thread 07-23-2017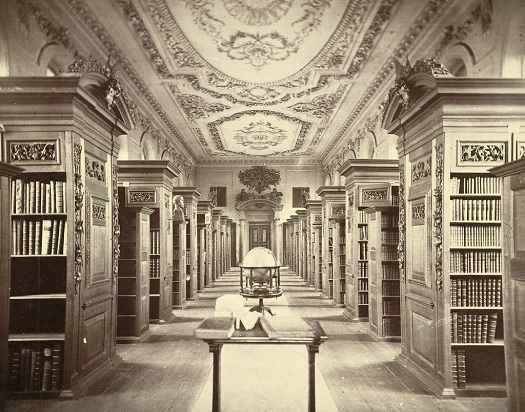 King's College Library, Cambridge University

Good morning to all you 'rons, 'ettes, lurkers, and lurkettes. Welcome once again to the stately, prestigious, internationally acclaimed and high-class Sunday Morning Book Thread, where men are men, all the 'ettes are gorgeous, safe spaces are underneath your house and are used as protection against actual dangers, like natural disasters, or Literally Hitler, and special snowflakes do not last. And unlike other AoSHQ comment threads, the Sunday Morning Book Thread is so hoity-toity, pants are required. Even if it's these pants, which the sport of curling actually encourages, believe it or not.

Our Betters
I guess progressives don't like Hillbilly Elegy. Here's a guy who works in an independent bookstore, who's all butthurt that he has to sell it:
But when it comes to the above conversation concerning J.D. Vance's bestselling memoir, there is something a bit more personal at stake, viz. my moral objection to the book that has become, for conservatives and liberals alike, a means of understanding the rise of "Trumpism."
So he's got a "moral objection." Whoop de do. What, exactly, is his beef with it?
I don't intend to review Elegy here. More capable pieces have already been written about the book's "pull yourself up by the bootstraps" message, its condemnation of a supposed culture of poverty, its dismissal of the working class's material reality as a determining factor in their lives, and its callous claim that the welfare state only reinforces a cycle of dependency.
You get the idea. The article is one long sneer at people who think differently than he does about social issues. The very existence of ideas he doesn't like evidently causes hm pain. His solution is to recommend "alternative titles" and to "start conversations". I can't believe he's serious about the latter. The word "conversation" implies a more or less equal give-and-take, but when it comes to those of us who *do* think that welfare reinforces dependency, does he expect us to believe tha he'd like to really know why we think this? Hardly. the progressive idea of a conversation is "shut up."
But if he wants to swap titles, I suppose I could recommend books such as Basic Economics by Thomas Sowell or Losing Ground: American Social Policy, 1950-1980 by Charles Murray. Both books go a long way to establish the intellectual and moral basis for free-market capitalism, and why, yes, indiscriminate welfare is actually harmful.
Fun fact: Do you know who *doesn't* complain about selling books he doesn't like? Jeff Bezos, that's who.
It's clear from the article that the author of this piece doesn't actually own the bookstore he's working in, which, maybe if he had to look at the bottom line every month, he'd be less worried about this kind of nonsense and more worried about how his store could bring in enough money to pay his lazy-ass slacker clerks. But if he is just a paid employee of a bookstore, then the solution to his big "moral" problem presents itself. Namely, he can always, get this, quit his job and do something else, like barista work at a coffee kiosk, or perhaps put together an acting troupe and see if there's any money doing Hipster Dinner Theater.
And one last thing about the author:
Working at an independent bookstore in the Greater Boston area...
And why are we not surprised? I'll bet he reads Vox "hot takes" and believes every word of them.

It Pays To Increase Your Word Power®
To NIFFLE is to waste your time.
Usage: This stupid 'Russia hacked the election' narrative makes my niffles ache.

Looks Like A Fun Book
I found out about The LawDog Files from the Monster Hunter himself:
I've known the Lawdog for about twenty years now. He was one of the original alpha readers for my first book because we were both moderators on the same gun forum. Ian is a great guy.

As a small town Texas cop he used to post these funny true life stories, and they were hilarious. Seriously, the guy has a gift. Some of these stories have become internet legend, like the amorous armadillo, the pink gorilla suit, and the shootout with Santa.

After nearly two decades of us bugging him, Lawdog has finally written a book! ... Lawdog is funny, talented, and has a way with words that can be making you laugh one minute, and punching you in the feels the next. I'm so glad he finally put together a book.
Amazon blurb:
LawDog had the honor of representing law and order in the Texas town of Bugscuffle as a Sheriff's Deputy, where...he chronicles his official encounters with everything from naked bikers, combative eco-warriors, suicidal drunks, respectful methheads, prison tattoo artists, and creepy children to six-foot chickens and lethal chihuahuas...rang[ing] from the bittersweet to the explosively hilarious, as LawDog relates his unforgettable experiences in a laconic, self-deprecating manner that is funny in its own right. The book is more than mere entertainment, it is an education in two English dialects, Police and Texas Country. And underlying the humor is an unmistakable sympathy for society's less fortunate - and in most cases, significantly less intelligent - whose encounters with the law are an all-too-frequent affair.
Correia was pursuaded to write a forward for this book, which is available on Kindle for $4.99.

Books By Morons
I heard from moron author Daniel (A Place Outside The Wild) Humphreys a few days ago that Silver Empire Publishing did podcast interviews with several writers at LibertyCon recently, and the first two podcast episodes features Humphreys, as well as moron author Hans (The Hidden Truth) Schantz.
Podcast with Daniel Humphreys
Podcast with Hanz Schantz
Both are approximately 15 minutes long.
___________

A lurking moron wanted a bit if pimpage for a novel published by a friend of his, since they "do not get any kind of publicity besides me emailing this thread." Loci Periculosi, by Richard Largaux. Set in the late 17th century Europe and Massachusetts, it sounds very interesting, at least to me:
Thomas Rake arrives in the late seventeenth-century dissenters' lair of Lowestoft as winter's grip brings a new onslaught of witch trials. With specious claims to disputed farmland, Rake systematically antagonizes the town authority, ultimately sparking a parlous religious disputation. Heretical statements striking at the heart of Protestant principles of predestination and sola scriptura bring for Rake indictments and an evolving gravity toward the stake.

A narrative that sweeps across battlefields of the Nine Years War, over the decks of William's and Louis' warships, and through the fires that consume the martyrs of the new heresy, Loci Periculosi presents an alternative Diet of Worms from the reverse perspective… exactly half a millennium after Luther conceived the ninety-seven theses.
I'd buy that (book) for a dollar! I'd also buy it for its current price on Kindle, $3.99.
Mr. Largaux has a previous novel, Calx, that asks the question
Is Western culture the result of random good fortune, or is it an outcome of design by otherworldly super-sentience? Philosopher John Walker roams America delivering a narrative that suggests the latter, and a controversial message evolves to a dangerous manifesto as both supporters and detractors are motivated to action by their misinterpretations, driving the nation to its second civil war.
$2.99 on Kindle.

What I'm Reading
This week, I finally got around to reading a mystery novel I mentioned here last January, Slow Death in the Fast Lane by J.W. Kerwin. The blurb starts out
If you hate the IRS, you'll love this book!
That's why I bought the book, and I must say it very much lived up to this claim.
Here's more of the blurb:
Years of creative accounting have landed Harvey Berkowitz in court, charged with criminal tax fraud. The government has a mountain of incriminating evidence and what appears to be an airtight case. But Harvey has Brendan O'Brian, an unconventional defense attorney with a reputation for winning seemingly unwinnable cases.

O'Brian turns the tables on the government, putting the Tax Code and predatory IRS practices on trial with strategies that create a circus-like atmosphere in the normally staid federal court.
O'Brian's bamboozling courtroom antics vs. the IRS and the sitting judge are hilarious. And if you don't hate the IRS now, you will after you finish this book. I think I already knew this, but I was reminded that the U.S. tax codes are so complicated, no one really understands them, and there's some financial firm or magazine that puts together a hypothetical individual with income, deductions, etc. and then gives the data to thed top 6 or 8 accounting firms with the instructions to generate an accurate tax return. And every year, each of the tax returns turn out to be different from each other, often remarkably so. O'Brian brings this up in court. Also mentioned are a couple of "damned if you do, damned if you don't" situations where complying with one particular regulation will necessarily cause you to violate another. And then they come at you with an army of lawyers, forensic accountants, and all the resources of the federal government that can be brought to bear.
We're The IRS. We Don't Care. We Don't Have To.
So I finished that one, which you can still buy for 99 cents on Kindle, and started on the second Brendan O'Brian mystery, A Stranger In My Own Hometown. Here, O'Brian takes on a Muslim pressure group called the "Council for Islamic Religious Respect (CIRR)". Gee, I wonder who that's supposed to be?
O'Brian is defending a hottie reporter (whom he is romantically involved with) who wrote bad things about Islam and is being sued by CIRR for "defamation of Islam."
Kindle version $2.99. Still pretty reasonable.
___________

Don't forget the AoSHQ reading group on Goodreads. It's meant to support horde writers and to talk about the great books that come up on the book thread. It's called AoSHQ Moron Horde and the link to it is here: https://www.goodreads.com/group/show/175335-aoshq-moron-horde.
___________
So that's all for this week. As always, book thread tips, suggestions, bribes, rumors, threats, and insults may be sent to OregonMuse, Proprietor, AoSHQ Book Thread, at the book thread e-mail address: aoshqbookthread, followed by the 'at' sign, and then 'G' mail, and then dot cee oh emm.
What have you all been reading this week? Hopefully something good, because, as you all know, life is too short to be reading lousy books.

posted by OregonMuse at
09:04 AM
|
Access Comments