« Evergreen Student: This School Is So Obsessed With Race That It's Become, Get This, Actually Dangerously Racist
|
Main
|
Morning Headlines 7-14-2017 »
July 13, 2017
What Time is It? It's ONT Time!
..and so I fumbled for the light, and when it clicked on, I saw his body. Stabbed clean through the chest multiple times. There was blood everywhere. I was really in a quandary. I couldn't just leave him there, it was bound to come back on me eventually, but if I called the police there would be a nasty row. So what I did was, I took my handkerchief and...

Oh, hey, hi there. It's ONT time already? Hmm. Isn't that the time for us to talk about politics?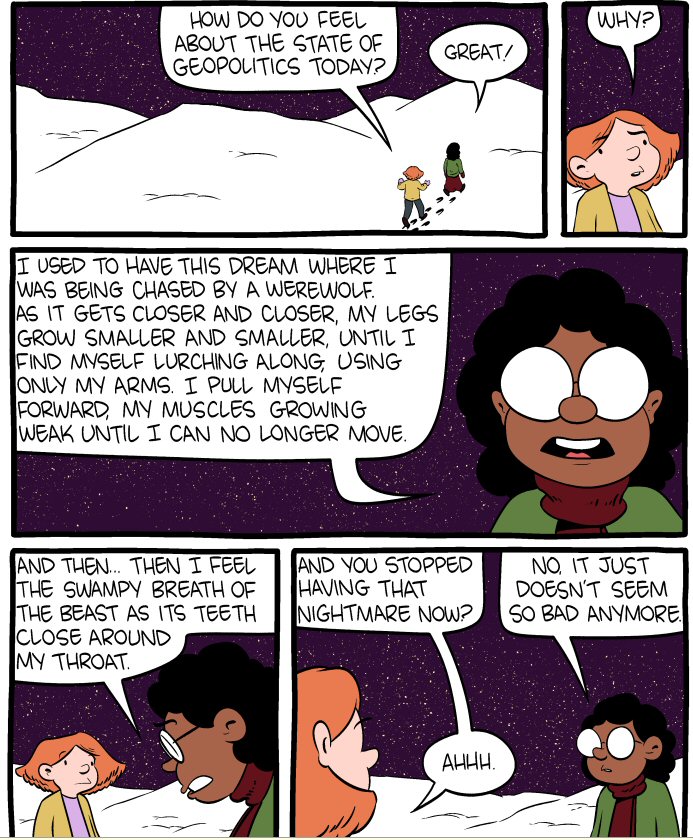 Source
Yea, well, maybe not. What else we got on tap?
Once upon a time there was light in my life

But now there's only love in the dark. It's a...TOTAL ECLIPSE!
No, not that. I'm talking about the actual total eclipse of the sun happening next month.
Here's every total solar eclipse happening in your lifetime
August 21 there will be a total solar eclipse that traverses the US from coast to coast. A couple of years ago, I went to Maine to watch a total lunar eclipse. It was very, very cool. I am going to see this come Hell or high water, but I haven't figured out where yet, and lots of hotels and stuff are sold out. Any Morons in the path of totality on the eastern half of the country who could put a brother up for a night?
*By the way, the "Literal Version" of the Bonnie Tyler video above is a real hoot.
Presented Without Comment
Woman climbs Mount Everest to prove vegans aren't weak, dies.
Stop the Presses!
Saudi Arabia comes clean: "We Mislead You"
Well, not exactly, but it's certainly a step in the right direction. I've been fascinated by what's been going on in the Middle East lately. Hard as it is to believe, they really seem to be cleaning up their act. All it took was for us to step back into a supporting role and let the Arabs take out their own trash. Look, I'm no Pollyanna, and there's a long way to go, but, well....it could be the beginning of reformation. Then again it might not be. Worth watching anyway.
Schadenfreude
Watch below as Antifa "anti-fascists" cheer a speaker who speaks entirely in Adolf Hitler quotes.
Know What I Hate About Soccer?

Pretty much everything. But what I think I hate most is the bullshit dives and falls and wailing for the ref to pull out a yellow or red card. Grow some balls, guys. That shit wouldn't fly in hockey.
His Heart Stopped While Playing in an NHL Game
They rushed him into the locker room and restarted his heart with an AED machine. The first thing he said after he woke up was that he wanted to go back into the game. Hardcore. Now Rich Peverley is using that experience to lobby for increased distribution of AED machines. Good for him.

Feel Good Stories of the Day
Tim Tebow's unlikely quest moves to the next level
I don't think he has the talent to become a star in MLB, but I sure hope he makes it. I've been a fan ever since he whipped the Steelers in the playoffs, but whatever else you can say about him, he is a grade A class act. BTW, Tebow jerseys are selling like hotcakes.
Related: Tongue in cheek column about how easy it is to play Baseball
It was supposed to just be a quick trip to the beach, but the Saturday afternoon diversion to the water almost ended in unspeakable tragedy for Roberta Ursrey and her family. Ursrey and her husband, mother, nephews and sons were enjoying the sun and yellow-flag conditions near the M.B. Miller County Pier. Ursrey herself had just left the water, but when she turned around to look for her sons, she noticed they were much farther from shore than she remembered. Concerned, she started walking down the beach. And then she heard their screams. "They were screaming and crying that they were stuck," Ursrey recalled in an interview Monday. "People were saying, 'Don't go out there.' " Unwilling to watch them drown, Ursrey and her family swam out to them, but the rip current was much stronger than they realized and despite her best efforts to escape, they were trapped as well. All in all, Ursrey said there were nine people stuck in about 15 feet of water, including her mother, who suffered a massive heart attack during the ordeal and very nearly died.

Pop quiz: Rip tide grabs the kids. It gets the parents when they try to rescue them, and several other people attempting to help. The police call for the rescue boat, but it's too far away. You're standing on the shore, helplessly watching 9 people about to die in front of your eyes. What do you do?
Hopefully you'll do what the people on the Emerald Coast did that day.
"Come on. Grab my hand. We have to save them"
Human chain. 20 people. 50. 70. Some who couldn't even swim. All of them linking hands and reaching further and further out into the Gulf. 80 people. Finally a woman named Jessica Simmons from Alabama was able to reach the trapped people and hand them down the chain to safety.
God Bless Americans

Nom Nom Nom
People seem to like these gifs, so I'll give you one more:

Sploosh!
Science!

Bright flash of light marks incredible moment life begins when sperm meets egg

The thing I like best about this, aside from the fact that it's amazing, is that all of the news reports I've seen on it inevitably say that the flash of light occurs "at the moment life begins". Exactly. That's what we've been telling you pro-abortion morons for years now.

Tonight's ONT brought to you by going the extra mile: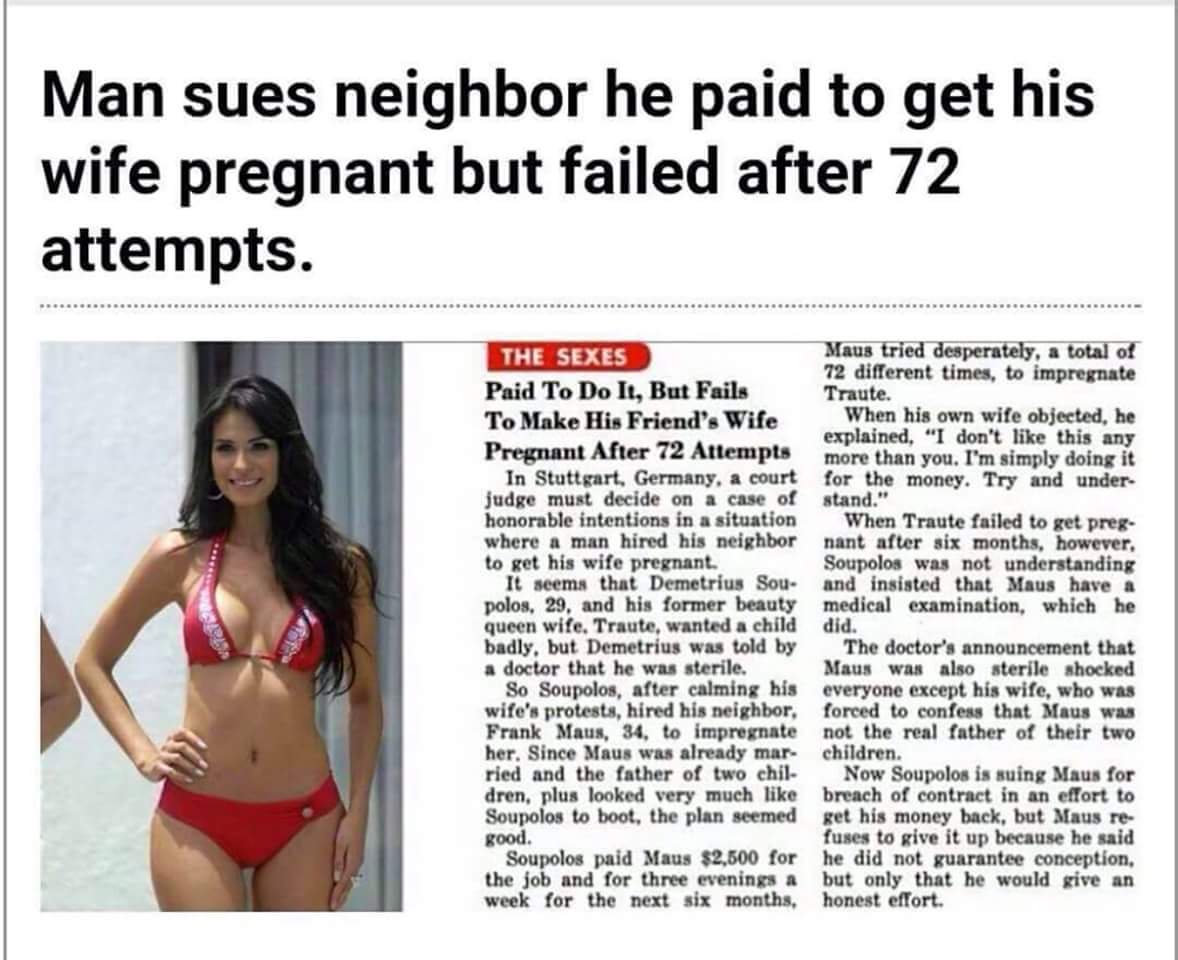 The Yahoo Group knows that the opening of the ONT was a gag Alfred Hitchcock used to play in crowded elevators. He'd get in, turn to his companion and act as if he was continuing a lurid story, and then walk off at his floor just before the good part, leaving an elevator full of googly-eyed people behind him.

posted by WeirdDave at
10:02 PM
|
Access Comments