« EMT 07/16/17
|
Main
|
Game Of Thrones Is Bad -- And Bad For You. Otherwise Known As: Erstwhile Conservative Writer Is Actually A Nagging Little Leftist »
July 16, 2017
Sunday Morning Book Thread 07-16-2017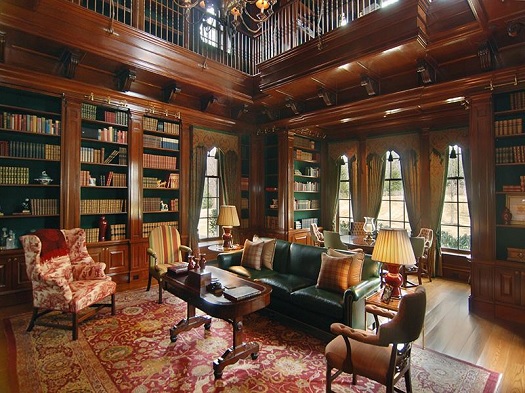 Brooklyn, New York Brownstone Row House Library
(Pic stolen from here.)

Good morning to all you 'rons, 'ettes, lurkers, and lurkettes. Welcome once again to the stately, prestigious, internationally acclaimed and high-class Sunday Morning Book Thread, where men are men, all the 'ettes are gorgeous, safe spaces are underneath your house and are used as protection against actual dangers, like natural disasters, or Literally Hitler, and special snowflakes do not last. And unlike other AoSHQ comment threads, the Sunday Morning Book Thread is so hoity-toity, pants are required. Even if it's these pants, which I don't know why they even exist, but supposedly you can get them for $60 at Nordstrom's.

Well, That's A Relief
You've all seen pictures of medieval chastity belts, right?
Well, apparently, they never existed:
When one considers the evidence for medieval chastity belts, as Classen did in his book The Medieval Chastity Belt: A Myth-Making Process, it becomes apparent pretty quickly that there's not much of it. First of all, there aren't actually all that many pictures or accounts of the use of chastity belts, and even fewer physical specimens. And the few book-length works on the topic rely heavily on each other, and all cite the same few examples.
Here's the book: The Medieval Chastity Belt: A Myth-Making Process:
"In this tour-de-force, Classen explodes the myth of the medieval chastity belt, but he also does more. He reveals how the myth came into existence and how it grew over time. In doing so, he has written a witty and fascinating piece of intellectual and social history which transcends the boundary between the medieval and modern and is exemplary in its scholarship and balance."
But, but, patriarchy!
Of course, this is no longer true. Chastity belts do exist, but only as modern inventions. And incidentally, this includes male versions as well. You can buy them on Amazon, for Pete's sake. No, I'm not going to provide links. This is strictly a GAYOR (Google At Your Own Risk) thing.

It Pays To Increase Your Word Power®
DEPECULATION is the act of pilfering or embezzling public funds.
Usage: the progressive theory of taxation makes it scarcely distinguishable from depeculation.
Stranger Things
A Chicago research library is seeking help transcribing some magical manuscripts. What could *possibly* go wrong?
The Newberry Library in Chicago is home to some 80,000 documents pertaining to religion during the early modern period, a time of sweeping social, political, and cultural change spanning the late Middle Ages to the start of the Industrial Revolution. Among the library's collection of rare Bibles and Christian devotional texts are a series of manuscripts that would have scandalized the religious establishment. These texts deal with magic—from casting charms to conjuring spirits—and the Newberry is asking for help translating and transcribing them.
Aargh. Magic manuscripts. Conjuring spirits. Cursed knowledge. Don't these guys ever watch horror movies?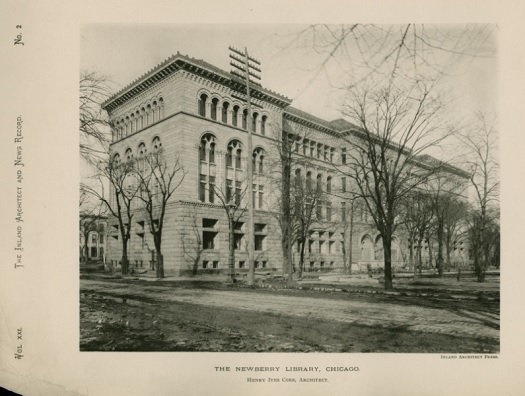 (Above Pic Is The Newberry Library Before It Was Sucked Into An Interdimensional Vortex Because Some Ignorant Fool Started Messing With Things Best Left Alone. Just Before He Was Eaten By A Cacodemon.)
(h/t Mark Huffman for this)

Well, Isn't This Special?
Apparently, working in the Obama White House was great if you wanted to grab a little mish:
A new memoir documents a Barack Obama White House in which a fratty speech writing team smoked, drank, told "dick jokes," and used their jobs to sleep with women.

David Litt, a former Obama speech writer, will release Thanks Obama: My Hopey Changey White House Years in September, the Daily Mail reports.
What, Obama staff memebers using the perks of their positions to indulge themselves at taxpayer expense? Where was Anderson Cooper? Where was Jake Tapper? Where was Geraldo Rivera?
He also discusses how romance was "almost painfully easy" for a White House staffer. At least one aide used his position to sleep with a "blonde D.C. newscaster," although Litt does not specify who. The aide regularly boasted about his conquest to his coworkers.
Whaa-? I thought all of this sort of groping and grabbing and bedding hotties was invented by Donald Trump! I'm absolutely flabbergasted.
The White House that Litt describes might be characterized as "fratty." He writes how the all-male, all-white, all-under-40 speech writing team drank, smoked, called each other "bro," and followed along with college basketball mostly to please Obama.
Aaaaaah! You can just *smell* the diversity!
When Litt was first hired by the WH, he was 24 years old. I have socks older than him.
I have no idea if any of this is going to turn out to be true. But you can be sure that the MSM will do its best to ignore or bury this book when it's released.

Moron Recommendations
Moron bensdad00 recommends an old book, Island gateway: The way of life of Ellis island, which he calls
An insightful overview of the American immigrant experience. Illustrated with fictional yet representative tales from 1846, 1910 and 1940 and interspersing those examples with a history of both US immigration and US alien policy, this book is a must read for anyone confused by modern education and media about the history of our so called 'melting pot'.
This 64-page book appears to be long out of print, but used copies are available on Amazon for as low as $2.75.
___________
Long-time moron Skandia Recluse has been doing some reading on modern-day Africa's "wars of liberation" and sent me some recommendations. The first is Koevoet! Experiencing South Africa's Deadly Bush War by Jim Hooper
Koevoet! has been an global bestseller since its release over 20 years ago. This new edition goes far beyond the original in capturing the courage, fear and intensity of South Africa's deadly bush war. Never before had an outsider been given unrestricted access to Koevoet, the elite South West African Police counterinsurgency unit...Author Jim Hooper spent a total of five months embedded with the semi-secret and predominantly black 'Ops K', which climaxed with one of the most vicious and determined infiltrations ever mounted by the communist-backed South West Africa People's Organization (SWAPO).
Skandia says:
...I found myself re-examining a strongly held conclusion that a robust and effective counter-insurgent operation would be sufficient to suppress a rebellion. That conclusion was then set aside, and a new conclusion was adopted; it is not a military problem, it is a political problem. Further reading re-established the first thought and added the second; it is a political and military problem. Winning on the battlefield is not enough. The anti-communists keep losing the propaganda war, the culture war, and the elections.
Heh. Kind of like here. No matter how many Republicans we elect, our country continues to slide down the path of cultural decay. I'm seeing stuff that I'd never thought I'd see in my lifetime. Like doctors pushing puberty-blocking drugs and HRT on children over and against the wishes of their parents because they think they're "trans". And here in Oregon, hearing radio ads for weed.
It's depressing.
Anyway, Koevoet! is available on Kindle for the low, low price of $2.51.
Skandia also recommends Selous Scouts: Rhodesian Counter-Insurgency Specialists by Peter Baxter
Selous Scouts: Rhodesian Counter-Insurgency Specialists by Peter Baxter:
Formed in 1973 by the legendary Lieutenant-Colonel Ron Reid-Daly at the behest of Rhodesian military supremo General Peter Walls, the Selous Scouts were to write their name into the annals of military history as one of the finest counterinsurgency units of all time, through their innovative pseudo-guerrilla tactics, brilliant reconnaissance operations into Zambia and Botswana and daring flying-column raids into Mozambique.
This short book (80 pages) includes details of the Nyadzonya/Pungwe raid Atrocity (Rhodesia's version of the My Lai Massacre).
Skandia remarks:
Winning on the field of battle is not enough when world opinion forces you to accept the results of 'free' elections that turns your country over to your enemies. (Which prompts the thought, if the US falls to the anti-capitalist, where do we go to find sanctuary?)
I remember Ronaldus Magnus once made a speech that said something similar. It went something like, "The United States has always been a beacon of hope and deliverance to the rest of the world. We are the country you could flee to if your own country failed. But if the USA falls, what then? There is no place left to go to."
Second look at Texit?
Mr. Recluse sent in some other recommendations, but I'll save them for a subsequent book thread.

___________
Don't forget the AoSHQ reading group on Goodreads. It's meant to support horde writers and to talk about the great books that come up on the book thread. It's called AoSHQ Moron Horde and the link to it is here: https://www.goodreads.com/group/show/175335-aoshq-moron-horde.
___________
So that's all for this week. As always, book thread tips, suggestions, bribes, rumors, threats, and insults may be sent to OregonMuse, Proprietor, AoSHQ Book Thread, at the book thread e-mail address: aoshqbookthread, followed by the 'at' sign, and then 'G' mail, and then dot cee oh emm.
What have you all been reading this week? Hopefully something good, because, as you all know, life is too short to be reading lousy books.


posted by OregonMuse at
09:01 AM
|
Access Comments