« Overnight Open Thread (24 Jun 2017)
|
Main
|
The Human Cost Of Government Regulation: 79 Dead In One Day »
June 25, 2017
Sunday Morning Book Thread 06-25-2017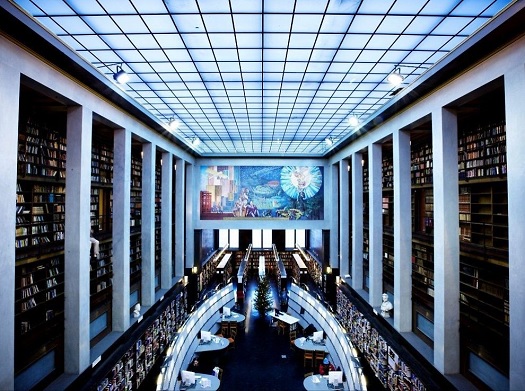 Central Public Library, Oslo, Norway

Good morning to all you 'rons, 'ettes, lurkers, and lurkettes. Welcome once again to the stately, prestigious, internationally acclaimed and high-class Sunday Morning Book Thread, where men are men, all the 'ettes are gorgeous, safe spaces are underneath your house and are used as protection against actual dangers, like natural disasters, or Literally Hitler, and special snowflakes do not last. And unlike other AoSHQ comment threads, the Sunday Morning Book Thread is so hoity-toity, pants are required. Even if it's these pants, which look like they can also be used as a sail for a good-sized yacht.

When The English Stopped Being Gentlemen And Started Fighting Dirty
Going all the way back to WWII for this:
In preparation for D-Day, a highly secretive British department known as Baker Street worked to drop 250 saboteurs behind enemy lines with one purpose: to stop the German army from sending supplies and reinforcements to Normandy. These guerillas were tasked with a massive coordinated sabotage mission to frustrate and block Hitler's war machine in any and all ways possible. Especially important was stopping Germany's most lethal division, the 2nd SS Panzer Division, Das Reich.

One saboteur destroyed all of Das Reich's tank transporters by replacing the axle oil with axle grease mixed with an abrasive, forcing the division to travel by road and damaging six out of every 10 tanks. A separate team then barraged Das Reich with sabotage after sabotage, including felling trees in their path and planting bombs beneath them. In the end, what should have been a 72-hour journey took Hitler's crack tank division 17 days—enough time for the allies to establish their beachhead.
All of this is detailed in the book Churchill's Ministry of Ungentlemanly Warfare: The Mavericks Who Plotted Hitler's Defeat by Giles Milton. The D-Day operations of this group was part of a larger, more comprehensive war effort:
In the spring of 1939, a top-secret organization was founded in London: its purpose was to plot the destruction of Hitler's war machine through spectacular acts of sabotage.

The guerrilla campaign that followed was every bit as extraordinary as the six men who directed it. One of them, Cecil Clarke, was a maverick engineer who had spent the 1930s inventing futuristic caravans. Now, his talents were put to more devious use: he built the dirty bomb used to assassinate Hitler's favorite, Reinhard Heydrich. Another, William Fairbairn, was a portly pensioner with an unusual passion: he was the world's leading expert in silent killing, hired to train the guerrillas being parachuted behind enemy lines. Led by dapper Scotsman Colin Gubbins, these men—along with three others—formed a secret inner circle that, aided by a group of formidable ladies, single-handedly changed the course Second World War: a cohort hand-picked by Winston Churchill, whom he called his Ministry of Ungentlemanly Warfare.
Perhaps this is the last great untold story of the Second World War.

It Pays To Increase Your Word Power®
'All their geese are swans' is a 17th century expression implying that everything that somebody says is wildly exaggerated or overblown.
Usage: All of CNN's geese are swans.
Liberty's Nemesis
An article entitled A Literary Guide To Hating Barack Obama appeared in The National Laughingstock last August. It lists the usual books by Jerome Corsi, Dinesh D'Souza and Michelle Malkin. But it does have one that I had never heard of before, Liberty's Nemesis: The Unchecked Expansion of the State
...a dense work that will never be a bestseller but that nonetheless offers the most enduring conservative criticism of the Obama years. "Liberty's Nemesis" (2016), edited by Dean Reuter and John Yoo and featuring some three dozen contributors, mixes scholarship, ideology and activism to argue that Obama has presided over an enormous and dangerous expansion of the administrative and regulatory state. "Its operations are so vast and its reach so sprawling that it lies beyond the control or comprehension of any one man or group of men," Yoo writes, making "rational management impossible."
Which is ironic, because the origin of the "administrative state" can be traced back to Woodrow Wilson who thought that government had grown too complex and technical for Joe Sixpak voters and politicians and instead, had to be managed by experts. So now apparently it has grown too complex even for the experts.
I'm glad to see that this issue has picked up a bit of traction. One of Glenn "Instapundit" Reynold's recent columns mentions The Administrative Threat by Philip Hamburger who traces the origins of adminstrative law back ever further:
Hamburger explains that the prerogative powers once exercised by English kings, until they were circumscribed after a resulting civil war, have now been reinvented and lodged in administrative agencies, even though the United States Constitution was drafted specifically to prevent just such abuses. But today, the laws that actually affect people and businesses are seldom written by Congress; instead they are created by administrative agencies through a process of "informal rulemaking," a process whose chief virtue is that it's easy for the rulers to engage in, and hard for the ruled to observe or influence. Non-judicial administrative courts decide cases, and impose penalties, without a jury or an actual judge. And the protections in the Constitution and Bill of Rights (like the requirement for a judge-issued search warrant before a search) are often inapplicable.
And it's just going to get worse. Unless it starts hurting progressives. Then we'll start seeing news stories 24/7 on the National Crisis caused by government agencies. They'll be using phrases like "unelected bureaucrats" and the "imperial presidency."

Moron Recommendations
Longtime moron fitzworth recommends the novel Close Hauled, about which he says:
Rob Avery's first novel, "Close Hauled", reads like a pleasant melding of Robert Parker's 'Spenser' series and John D. McDonald's 'Travis McGee' series, but set in modern day with the protagonist (Sim Green) living on a boat in a Southern California marina. The plot is intelligent, the writing smooth and unobtrusive, the logic sound, and the violence sudden. It's a great start to what I hope will be a long series (the second novel is already complete).
The Amazon blurb is quite long and not easily excerpted, so just go over there and read the whole thing.

What I'm Reading
I'm about half-way through The Hidden Truth: A Science Fiction Techno-Thriller, novel by moron author Hans Schantz that I've mentioned here before. The two main characters are high school science nerds, of the sort you used to encounter in the Heinlein juveniles, except that one of them devotes most of his time to trying to pick up girls, which is something you didn't see too much of in the old Heinlwin books.
who have stumbled upon a mysterious anomaly:
...a discrepancy between an online version of an old physics book and its pulp original, he quite naturally assumes there was an error made in its scanning. Investigating further, he discovers other 'discrepancies' between old physics books and their online copies, discrepancies which are all related to a particular and peculiar theory of electromagnetism. The more he investigates the clearer it becomes to him that there exists a century-plus long conspiracy to erase all evidence of the intriguing, though counterintuitive, theory. Before too long, the cabal notices the student&8217;s nosing about and the young man learns how deadly serious the conspirators are about suppressing that bit of knowledge.
Schantz has completed the sequel and I should have an announcement about it in next week's book thread.
___________
Don't forget the AoSHQ reading group on Goodreads. It's meant to support horde writers and to talk about the great books that come up on the book thread. It's called AoSHQ Moron Horde and the link to it is here: https://www.goodreads.com/group/show/175335-aoshq-moron-horde.
___________
So that's all for this week. As always, book thread tips, suggestions, bribes, rumors, threats, and insults may be sent to OregonMuse, Proprietor, AoSHQ Book Thread, at the book thread e-mail address: aoshqbookthread, followed by the 'at' sign, and then 'G' mail, and then dot cee oh emm.
What have you all been reading this week? Hopefully something good, because, as you all know, life is too short to be reading lousy books.

posted by OregonMuse at
09:05 AM
|
Access Comments