« Glen Campbell Releases His Final Album [Warden]
|
Main
|
Don't Leave Me This Way (MJ) »
June 11, 2017
Food Thread: The Moron Cookbook -- Submit Or Die
THE MORON COOKBOOK PROJECT
The lunatics and miscreants and dissolute layabouts responsible for this insane project put down their shakers and bottles and vodka enemas long enough to build a nifty web site for your submissions to the soon-to-be world famous Moron Cookbook! It has an easy-to-use form, and the rules are pretty simple, so get off your drunken, debauched butts and paw through your favorite recipes for that one special pineapple and lutefisk pot-pie recipe that you have loved ever since you were a little kid.
And don't forget drinks. Alcoholic if possible. That's probably one that I will be submitting, and if it gets chosen I will have to insist that anyone who makes it uses its proper name: The Dildo.
Cookies too. Lots of cookies. I like cookies. With chocolate. And butter. And sugar. And chocolate.
I have also heard rumors of recipes that make vegetables edible. I have no first-hand experience with anything of a sort, so I will have to trust our intrepid editors that they will weed out the obviously ridiculous ones.
******
From
The Political Hat,
Leo Tolstoy's Macaroni and Cheese Recipe
.
Bring water to a boil, add salt, then add macaroni and leave boiling on light fire until half tender; drain water through a colander, add butter and start putting macaroni back into the pot in layers -- layer of macaroni, some grated Parmesan and some vegetable sauce, macaroni again and so on until you run out of macaroni.

Put the pot on the edge of the stove, cover with a lid and let it rest in light fire until the macaroni are soft and tender. Shake the pot occasionally to prevent them from burning.
It's a perfectly reasonable recipe! I guess "vegetable sauce" is something like a Bechamel....
******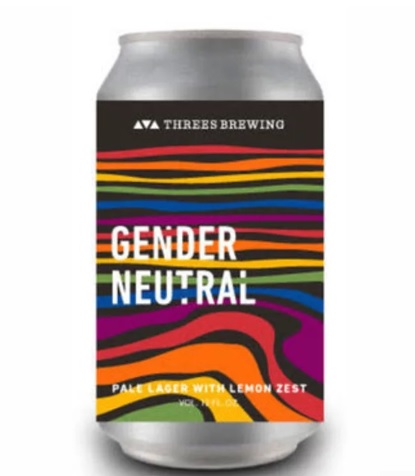 Brooklyn Brewery Announces 'Gender Neutral' Beer -- 'To Make a Difference About Issues We Care Deeply About'
It's from a Brewery in Gowanus Brooklyn called "Threes Brewing." It's not quite Hipster-Douchebag Central, but you can definitely get there quickly in your Prius, or even better on your CitiBike.

As we grow and are starting to get some attention, we think it's incumbent upon us to use whatever platform we have to make a difference about issues we care deeply about.

A lot of those themes broadly center around human rights. More specifically, LGBTQ rights are a topic close to most of the team here. We think it's ridiculous that in 2017 this is an issue, but apparently it still is."
First of all, maybe some of that time spent in Gender Equality and White Privilege class could have been more productively spent in grammar class.
we have to make a difference about issues we care deeply about.

Wow.
I sincerely hope that your beer-making is better than your writing.
No...that's a lie. I hope this place fails. I hope that when they try to expand their distribution to more than the 50 stores in Brooklyn that cater to red-diaper babies that the distributors look at them and laugh.
Second of all, How can a beer can label make a difference? They aren't donating to a cause, they aren't agitating for change, they are simply virtue-signalling that they love them some butt-sex and gender dysphoria.
For all I know this is a great brewery making great beer. But I will never know, because I will never buy anything from them. They chose to politicize their commercial products. They chose to enter the culture wars, and instantly alienated a large segment of their potential market. I choose to buy from their competitors.
Update:But I will let Moron commenter logprof have the last word...

This lager harmoniously combines vaginal yeast fermentation and west coast IPA hops. Our Pale Lager is like a traditional IPA but with a twist: it's fermented cold in male, female, and trans toilets and aged for extended periods. A blend of classic American hops along with our house brand creates a lemony, jizzy, and douchey hop aroma. A dry finish accentuates the pleasant smegma and taint bitterness and hop profile. Gender Neutral uses locally sourced strap-ons for the brewing process.
******
This is from Anne Burell,
but there are millions of recipes for fresh ricotta, and I'll bet most of them are good. It's easy, cheap, and the difference between fresh and the stuff out of the container from the supermarket is like night and day.
Ricotta
Ingredients
• 6 cups whole milk
• 2 cups heavy cream
• 3 tablespoons distilled white vinegar
• 1 teaspoon kosher salt
In a medium saucepan, combine the milk, heavy cream, vinegar and salt.
Place the pan over a medium heat and slowly bring the milk mixture to a simmer.
Simmer the milk mixture for 1 to 2 minutes, you will see curds begin to form.
Line a mesh strainer with several layers of damp cheesecloth.
Gently pour the curds and whey through into the strainer and let drain for 15 minutes.
Gather the cheesecloth together and gently squeeze some of the excess liquid from the ricotta.
Refrigerate or serve warm with drizzles of good olive oil and good bread.
&topic=world_news">

posted by CBD at
04:00 PM
|
Access Comments