« The Morning Report 6/5/17
|
Main
|
Is Britain Doomed? »
June 05, 2017
Mid-Morning Open Thread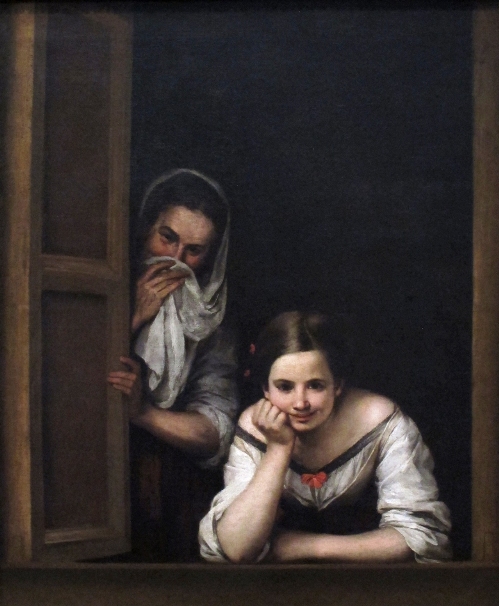 Two Women At A Window
Bartolomé Esteban Murillo
While Murillo is best known for works with religious themes, he also produced a number of genre paintings of figures from contemporary life engaged in ordinary pursuits. These pictures often possess a wistful charm; Two Women at a Window is a striking example. A standing woman attempts to hide a smile with her shawl as she peeks from behind a partially opened shutter, while a younger woman leans on the windowsill, gazing out at the viewer with amusement. The difference in their ages might indicate a chaperone and her charge, a familiar duo in upper–class Spanish households. Covering one's smile or laugh was considered good etiquette among the aristocracy.

The convincingly modeled, life–size figures, framed within an illusionistically painted window, derive from Dutch paintings that were meant to fool the eye.
Except...I think the Dutch Masters were better. But Murillo certainly gets a participation trophy for this work, which is pleasing in almost all respects.
Wait! Did I just value one culture over another? Oh my...I unreservedly apologize for my transgression. It will never happen again, and I will flagellate myself in the public square for daring to suggest that their are differences amongst cultures. One look around me should have shown me the error of my thoughts.
Oh, I'll be gone for a few days. A friend's child is having his Bar Mitzvah in the central synagogue of Riyadh.

posted by CBD at
09:45 AM
|
Access Comments