« Thread below the Gardening Thread: Competence [KT]
|
Main
|
Ace of Spades Pet Thread »
June 10, 2017
Saturday Gardening Thread: View from a hammock? [KT]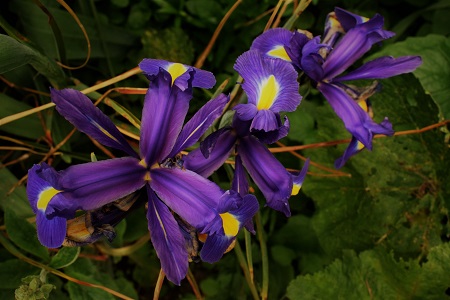 Irises grown and photographed by Sherpa_K2
Well, The Horde has come through with more great content this week. In Wednesday's ONT, Misanthropic Humanitarian included a video showing a few guys basically whittling a house. In Finland, if I remember correctly. I thought it was fascinating. Not exactly gardening, but sort of related in a House and Garden sort of way. They worked without electricity, probably in recognition of the Paris Accord. Or in preparation for the Zombie Apocalypse. Lots of trees there in the woods, but I think I would feel guilty watching them from a hammock. Even though I would not know how to help much.
In contrast, below the fold one guy in Norway has some fun building something a little more practical for most gardeners, a hinged hoop house covered with plastic. Just a guy playing around with some power tools and video equipment. Members of The Horde who have trouble with marauding squirrels or birds might substitute aviary wire for the plastic covering. A summer-weight row cover might be a good choice to keep insects out. I'm no whiz with power tools, but I might attempt something along those lines. Maybe with a little help. I would not be adverse to watching other people build it, though.

Some of us in The Horde take a more relaxed approach to gardening than others. And some appreciate gadgets, tools and hardscaping more than others. What is your gardening style? Do you sometimes work hard in order to be able to relax later? Are you all work all the time?
A Lurker's View from a Hammock
HammockPat writes:
Here's a photo of my girls Lady and Abby, with a view of the iris garden, taken in April, while reclining in the hammock.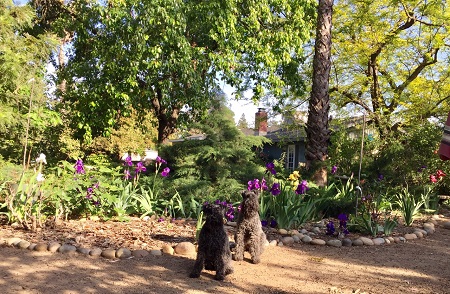 April, and already relaxing in the hammock, admiring beloved dogs and beautiful irises. Love the yard and the irises. And the dogs look like they know how to behave in a garden! Do you have any secrets you would like to share, HammockPat? Other than living in California?
Other Photos from The Horde
DeplorableJewells45 has some lovely columbines. Until the cactus blooms, "this is my sanctuary on a warm breezy evening. Me, my glass of wine and my pooch."
I always loved columbines growing up, especially when there was a breeze, or a hummingbird. One reason was the delicate foliage, which is about as close as people in some climates can come to a maidenhair fern. I think the foliage sets off the leaves of the other plants in Jewell's garden nicely, don't you?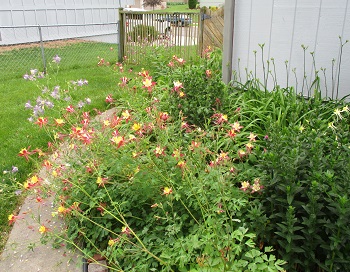 There are several species of columbine native to the USA and Canada, with others native to Europe an Asia. There are also hybirds. Some have long spurs, some have short spurs, some have no spurs. There are some double types, but I don't see the point, really.
The genus name of columbines, Aquilegia, comes from the resemblance of the petals to eagles in the minds of some. The common name "columbine" is taken from the resemblance of a drooping flower to a group of five doves huddles together when viewed from above. "Granny's bonnet" usually refers to the short-spurred common European columbine. In addition to hummingbirds and other long-beaked birds, some species of bumblebees and hawkmoths like certain species of columbines.
The Colorado Blue Columbine (A. coerulea or A. caerulea) is the state flower of Colorado. It is one of the longer-spurred columbine species. (Scroll down at the link) The signature color is pale blue, but it also comes in white, yellow and pink variations. It is likely a parent to the hybrids seen in Jewell's garden beds above.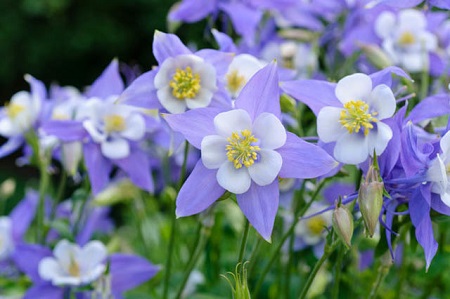 If you cut down columbine flower stalks after bloom, you may get a second bloom later. As most columbines are short-lived perennials, many people allow them to self-seed. Especially the species. Hybrids probably will not come true from seed, but if you are adventurous, you can see what the F2 generation will look like.
Kindltot took some close-ups of the local short-spurred wild columbines in Oregon, A. formosa. Can you imagine one of these flowers as 5 doves huddled together?
Small songbirds are especially fond of the seeds of this species. Columbine seeds and roots can be very toxic, though. Beware of nibbling on this plant. A few flower petals seem to be safe.
It grows mostly in the semi-shaded areas, not so much in the middle of pastures. The petals have those horn looking things sticking up with the knobs on the end. Those knobs hold nectar.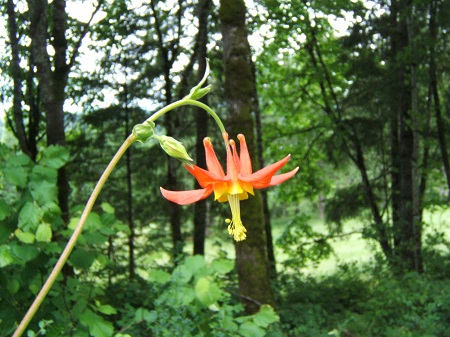 Mom had a plot of columbine at the corner of the back of the house and when I was a kid we would nip the knobs off and suck the minute amount of nectar out. I don't think Mom was OK with that, but she was the one who showed us how to do it.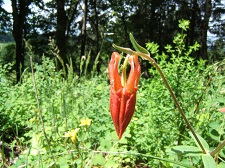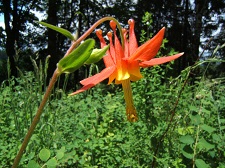 Sherpa_K2 sent in some great tomato plant photos in addition to the iris photo at the top of the page. There are more flower photos for later, too:
Greetings from Port Townsend Washington which is left of Leon Trotsky. I use car tires for heirloom tomatoes. Tomatoes love heat and the car tires create heat from the black surface of the tire. They are referred to as Kentucky tomato holes or as we jokingly call them white trash tomato holes. .

Sandy loam and composted soil mix. We grow bamboo so it comes in handy for staking the tomatoes. There are 38 tomato plants in this berm of car tires.

Here is a list of the tomatoes you see in the pictures:

Green zebra, siletz, black krim, red zebra, orange cherry, candy's old yellow, black cherry, orange cherry, black Russian and Paul Robeson.

Post Script: Thank you for all you folks do at Ace. The voice of reason and sanity.
Siletz is the only tomato on that list I recognize as being particularly suited to the Pacific Northwest. Let us know now the others turn out. Especially Green Zebra, which I would expect to be tart in cool summer weather. I also want to know where you walk when those tomato plants get bigger.
Today's Mystery Plant
Well, mystery variety, anyway. The famous Pat*, who does those great garden reports from Idaho's Treasure Valley (sometimes on Sundays - check back), writes,
This is a photo of an iris I would like help identifying. The plants are a good 4 feet high, grow from rhizomes, and are beardless. Each stem has 1-2 main flowers at the top, and 1-2 secondary flowers that bloom later, along the stems. (In my "Sunset Western Garden Book", they most resemble Siberian Iris, which would make sense given our cold winter climate.)
Does anybody recognize this gorgeous iris? Our third type of iris today.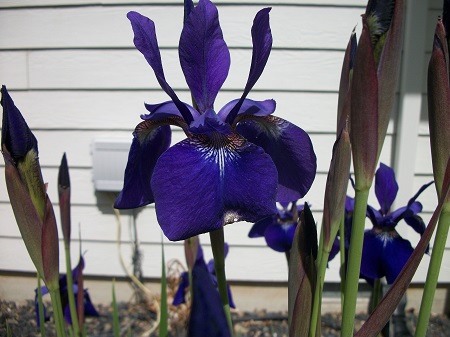 Today's REAL Mystery Plant
DJ (Texas Lurker) has sent in photos of a plant that is a mystery to me.
Plant is a single stalk, 1 to 2 feet tall. Not a common wildflower in the Dallas area, as I've only seen a few plants in one location so far. But that may be because I'm in the suburbs . . .

Blooms in May. Flowers 1 inch to maybe 1 1/2 inch long, in a sort of cascading spike. The flower tubes appear to be 'closed' with greenish white 'hair' on the outside of the tube tenting into the middle. The whole plant is fuzzy enough that it has a whitish sheen.

I take pics of suburban wild flowers, birds, butterflies and occasionally draw/paint them.

And I visit Ace Daily, just am not the commenting type. But I have not been able to identify this plant and its driving me a little crazy.
Can we help a lurker out? I am curious, too. The flowers don't look very pollinator-friendly. I have a guess about the family this plant fits into, but I've never seen a flower quite like this. Wouldn't be surprised if it, or some of its relatives, were poisonous.
The first photo shows details of those hairy flowers.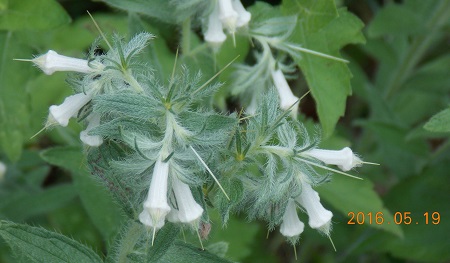 The second photo shows the single flower stems coming up among other wild plants. This photo shows what the leaves look like.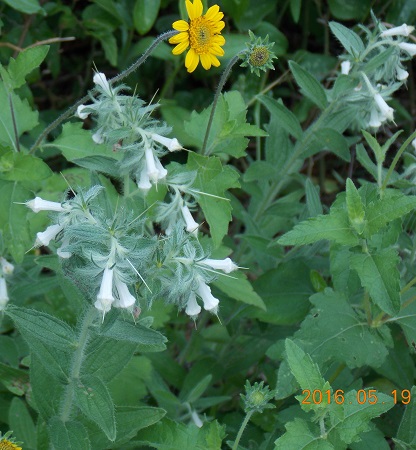 The third photo features those hairy flowers against DJ's hand: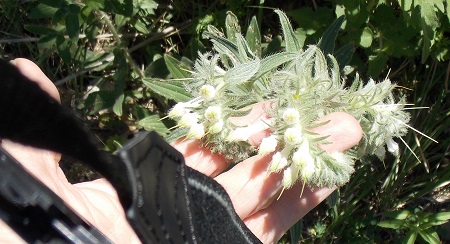 Gardens of The Horde
A high temperature of 72 degrees is forecast here tomorrow. This is June in the San Joaquin Valley! Pelargoniums and roses are loving it. I should have planted green beans.
Anything going on in your garden?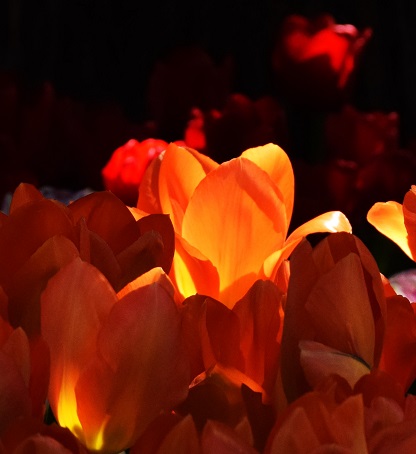 Tulips grown and photographed by Sherpa_K2
If you would like to send information and/or photos for the Saturday Gardening Thread, the address is:
ktinthegarden
at g mail dot com
Include your nic unless you want to be a lurker.

posted by Open Blogger at
12:10 PM
|
Access Comments