« If CA, NY and WA Want To Destroy Their Economies; Let Them!
|
Main
|
A Detailed Mathematical and Statistical Analysis, Including Ordinal & Logistic Regression as to Why Hillary Lost the Election (MJ) »
June 04, 2017
Food Thread: Moron Test Kitchen...You Will Never Find A More Wretched Hive Of Scum And Villainy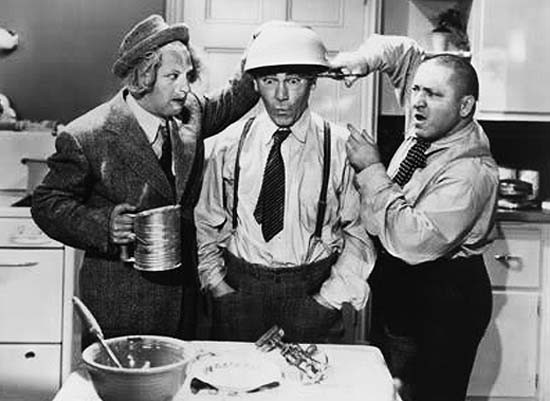 Well, you maniacs finally did it. I warned you and I warned you and I warned you. But did you listen?
No.
A Moron Cookbook is now a definite possibility (if the organizers can stay sober). And that means recipes. And sharp objects. And fire. And arugula. Wielded by Morons.
You people are crazy!
Some rules from the organizers below the fold.
Please submit only recipes you have a right to use and let us know where they came from -- we'd rather not be sued by your Aunt Millie over her mashed potato recipe for improper attribution.

Your recipe submissions are voluntary and you will not be compensated, other than the chance to be included in the prestigious first edition, which you will have to pay for.

We recognize that we have some accomplished Chefs, but recipe simplicity is a virtue.

Recipes must use actual ingredients found on this planet, and must result in food that is edible by humans or Morons.

The intent will be to break even and provide the cookbook to you at cost. In the event there are any proceeds, they will be donated to charitable organizations such as Fisher House or Toys for Tots.

No recipes for long pig will be accepted unless accompanied by documented evidence of testing.

Your email is needed in case we have questions about your recipe submission and it will not be published. Your AoS screen name will be published.

[I may have added one or two...]
As soon as the details are worked out I will post a link to a really nifty website with a form into which you can type your recipes. In the meantime, please riffle through your files and choose the finest examples of your regional cuisine, or your mom's meatball recipe, or even that rockin' carrot chili recipe that you have been holding onto for a special occasion.

******
Today is the sixth edition of:
"Liquor Cabinets: A Study By And Of Morons."
From a local Moron (Hoboken) who has attended a Moron Meet-up!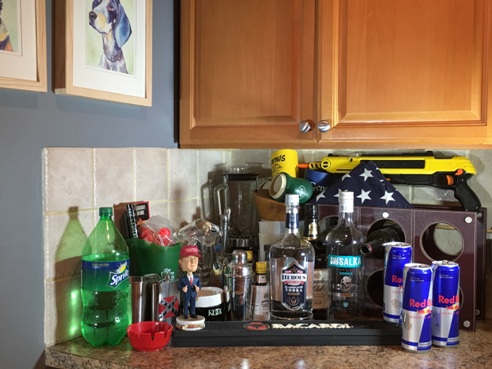 I remember you looking for some "crappy liquor cabinet" shots along with the nice ones -- this should fit the bill. Nothing stays full very long so this is right on the kitchen counter. As a former bartender, I've got all the doo-dads to make real cocktails, but the house special and 99% of what goes out to everyone is a Vodka/Sprite/Red Bull in equal parts. That's a Bug-A-Salt in the back, there. Highly recommended and fun.

I commissioned a local painter and friend for the two pup's watercolors top left.

******
Regular commenter ibguy is showing off that he married very, very well. This is what comes out of the kitchen while he hangs out with us...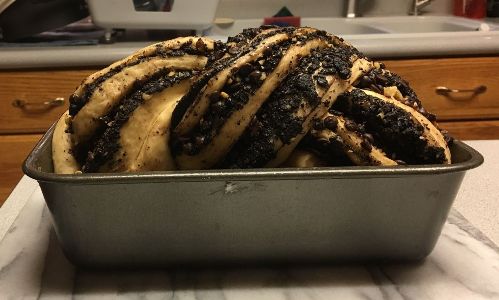 And...

The recipe is from
King Arthur Flour
, which is a solid place for well tested recipes and interesting and sometimes eclectic stuff. They also have a cooking school and store in Vermont, and as stupid as it sounds, it's a blast to go there and wander for a bit.
******
I found this
over at the NYT
a long, long time ago. It's a simple general recipe that can be modified to suit your taste. And it's quick, which makes it a good last-minute meal. Hell, just use a pancake batter recipe without the sugar and you can ignore the NYT and Mark Bittman, which is almost always a very good plan.
Tortillitas With Shrimp


1/2 cup chickpea flour

1/2 cup white flour

1/2 teaspoon baking powder

Salt and freshly ground black pepper

1/3 cup chopped onion or scallions

About 1/2 cup raw shrimp, chopped, or scallops or other shellfish or fish

2 to 3 tablespoons chopped chives, parsley, thyme or cilantro

Olive oil.

1. In a bowl, combine flours and baking powder with salt and pepper. Add a little more than a cup of water and stir to combine; consistency should resemble pancake batter (if batter is too thick, add more water, a little at a time). Stir in the onions, chopped seafood and herbs.

2. Put a large nonstick skillet over medium-high heat and film its bottom generously with olive oil. When oil is hot, pour in half the batter until it fills center of pan; spread gently with a spoon to form a large pancake.

3. Cook about 3 minutes, or until pancake is set around edges; flip pancake and continue cooking for another 3 minutes, then flip it again and cook for another 30 seconds or so, until it is crisp on outside but still moist inside. Remove from pan and serve immediately, while remaining batter cooks.
Yield: 4 or more servings.


******


Food tips, extra Pappy van Winkle bourbon and other goodies:
cbd dot aoshq at gmail dot com

posted by CBD at

04:00 PM

|

Access Comments