« Saturday Evening Movie Thread 06-03-2017 [Hosted By: TheJamesMadison]
|
Main
|
EMT 06/04/2017 »
June 03, 2017
Overnight Open Thread (3 Jun 2017)
Keep it up journalists. Now I know why it was published at 5pm on a Friday leading into a holiday weekend. 'Kushnergate' was based on an anonymous letter.

In other words, the WaPo relied on a walk-in letter from a person it can't identify, who relied on an alleged account by Russia's top diplomat about what was discussed with Kushner. No wonder the paper hedged its "scoop" by repeatedly using the term "apparent" throughout the story.
I bet you could send in a notarized letter with corroborated facts with sources dishing on the Democrats and it would never see the light of day at the WaPo. And they wonder why no one loves them, listens to them, and rates them as one of the most untrustworthy organizations out there.
Politicization
I know I avoid going to certain sites of folks that I used to visit and read up on their postings in their non-political realm of expertise, but due to their idiotic shrieking about political stuff, I just don't want to even give them the pleasure of internet traffic. I'll still poke them on twitter and try to set them right but they ignore facts like the plague. Oh well. Their loss but a sad state of affairs. When 'We Rate Dogs' went to the dogs.
Good Question
How can Ginsburg participate in Travel Order case after her 'campaign' statements about Trump? Heh. Previous statements count for thee but no for me.
Killer Tomato
Cup O' Joe
I actually did not know this until a few days ago. The possible origination of the phrase 'Cup of Joe'.

That all abruptly changed in 1914, during President Woodrow Wilson's administration. His Secretary of the Navy, Josephus Daniels - a teetotaler - issued General Order No. 99, banning alcoholic beverages from all naval property, effectively abolishing even the sacred officers' wine mess. It was hardly a popular change, even with John Q. Public.
China
When a downturn hits, and it will someday, China is going to be screwed. 'Ghost collateral' haunts loans across China's banking system.
News Bloopers
VA Governor
Oh man, this outta be interesting. Ralph Northam's ancestors owned slaves. I'm sure the same folks that are tearing down Civil War statues might have an issue but will be conflicted because he's a Democrat.
Church of the Flying Spaghetti Monster
I had no idea this was a thing. Dedicated Pastafarian photographed with colander on his head for his AZ driver license.
Cat Video
Tonight's ONT brought to you by 25 evil and angry kitties: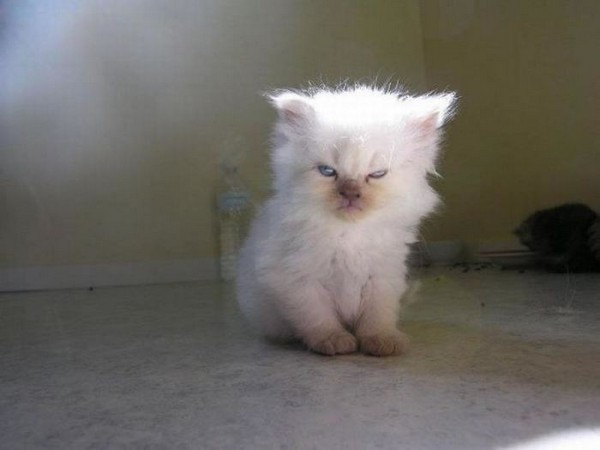 Top image via.
Notice: Posted by permission of AceCorp LLC. Please e-mail overnight open thread tips to the cob of your choice or CDR M. Otherwise send tips to Ace.

posted by CDR M at
10:02 PM
|
Access Comments