« EMT 06/04/2017
|
Main
|
If CA, NY and WA Want To Destroy Their Economies; Let Them! »
June 04, 2017
Sunday Morning Book Thread 06-04-2017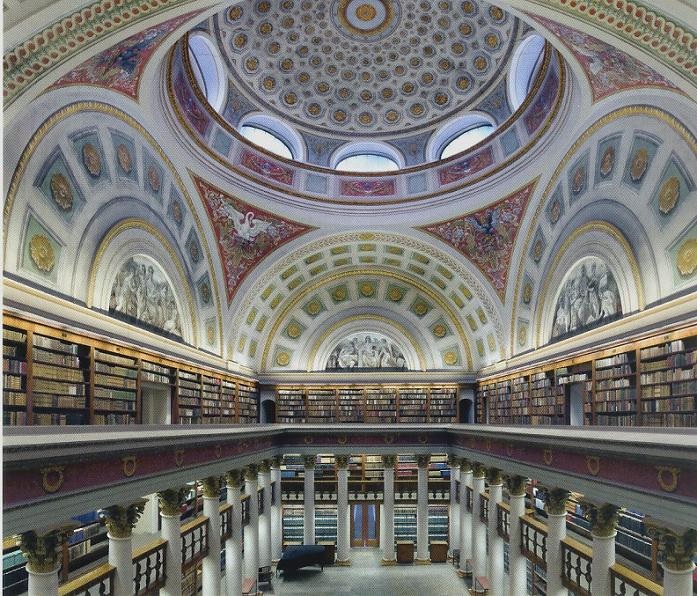 National Library of Finland, Helsinki


Good morning to all you 'rons, 'ettes, lurkers, and lurkettes. Welcome once again to the stately, prestigious, internationally acclaimed and high-class Sunday Morning Book Thread, where men are men, all the 'ettes are gorgeous, safe spaces are underneath your house and are used as protection against actual dangers, like natural disasters, or Literally Hitler, and special snowflakes do not last. And unlike other AoSHQ comment threads, the Sunday Morning Book Thread is so hoity-toity, pants are required. Even if it's these pants, which look like some article of clothing other than pants. Like the model put on a shirt as pants by mistake.
WARNING: Reading the AoSHQ Sunday Morning Book Thread can be dangerous to your financial health. So perhaps it would be best if you locked up your credit cards for a few hours, or until the madness passes.

Pic Note
I might as well admit it before somebody points it out: yes, this pic is a repeat, sort of. Thanks to my faulty memory, I had forgotten I had posted a pic of Finland's national library before, only I didn't discover this until it was to late to look for another. It was a couple of years ago, so maybe the new morons won't know.
And by the way, I'm still accepting photos of the personal libraries of you morons. We're having a lot of fun with those, so by all means, send them in. The best photos are high-resolution shots where the titles can be read. This is so the other morons can browse through your reading material and pass judgment upon it.

The Moderate Muslim
Off and on I've been looking for attempts to combat Wahabism or jihadism, or whatever you wish to call it, from other Muslims. So a couple of weeks ago I came across A Battle for the Soul of Islam: An American Muslim Patriot's Fight to Save His Faith by Zuhdi Jasser
Among the unsettling social shifts in the wake of 9/11 was a division here in the United States, often sadly along party lines, between those who believed every Muslim was a potential threat and those who believed no Muslim could do wrong. In a compelling and balanced must-read, [Zuhdi Jasser], a recognized expert on terrorism and a patriotic American—lays bare the crucial differences between Islam and the spiritual cancer known as Islamism and persuasively calls for radical reformation within the Muslim community in order to preserve liberty for all.
But reviewers point out some flaws in Jasser's approach:
"My Islam," he frequently notes, isn't supremacist, nor intolerant, nor violent. He approaches religion as a spiritual journey and, applying a very American approach, feels free to reject the features of his religion which are illogical, anachronistic, irrelevant, unconstitutional, or absurd.
This sounds about right. That is, there is no such thing as *my* Islam. As Islamic scholars have pointed out, there is only Islam. And as this reviewer notes, picking and choosing what you want and discarding the rest is a very western, actually very American, approach to religion. We are the land of virtually unlimited choice, and we tend to bring this thinking into spiritual matters.
Another thorny point is Islam's relation with non-believers and other religions. Jasser claims that "the Qur'an teaches respect for other's religious beliefs." Really? Islam is not an aggressive, proselytizing, conquering religion?
Finally, it's not like the jihadists are inventing something foreign or radically different than anything that as ever appeared in Islam before. The jihadists are reading the Quran. They're reading the hadiths. As Jasser (presumably) does. So my question has always been, which interpretation is correct, and why? Christianity has had a nunber of "back to the Bible" movements, perhaps the jihadis are part of a "back to the Quran" movement. In which case it is westernized Muslims like Jasser who are the ones on the outside looking in.

It Pays To Increase Your Word Power®
PANAESTHETISM is the theory that all matter has consciousness.
Usage: William Kristol's dopey columns probably come from a crock of panaesthetic sourdough starter.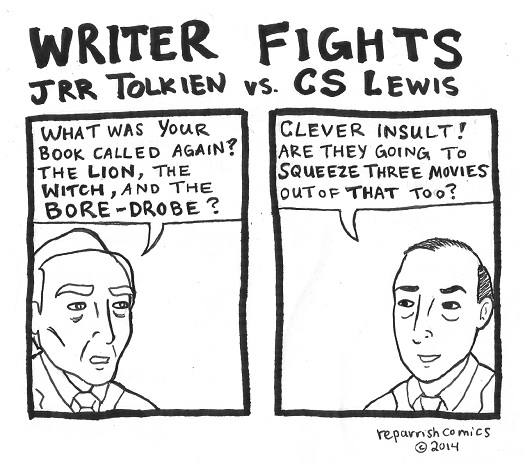 A New Tolkien Book
Believe it or not, he started working on it one hundred years ago:
"Beren and Lúthien," a story that Tolkien recounted in a chapter of his posthumously published "The Silmarillion," was edited by his son Christopher Tolkien..."Beren and Lúthien" is set in the Middle Earth world, several thousand years before the "Lord of the Rings" books. The novel tells the story of a romance between Beren, a human, and Lúthien, an elf.
It's sort of a forerunner of the Aragorn-Arwen relationship in LOTR. Here's the story:
Essential to the story, and never changed, is the fate that shadowed the love of Beren and Lúthien: for Beren was a mortal man, but Lúthien was an immortal elf. Her father, a great elvish lord, in deep opposition to Beren, imposed on him an impossible task that he must perform before he might wed Lúthien. This is the kernel of the legend; and it leads to the supremely heroic attempt of Beren and Lúthien together to rob the greatest of all evil beings, Melkor, called Morgoth, the Black Enemy, of a Silmaril.
I think this would make a great HBO miniseries. This is old-school epic fantasy, and if they do it right, it'll make GoT look like weak beer.
Here is something I did not know:
The story was likely meant as a tribute to Tolkien's wife, Edith. The headstone that marks the grave where Tolkien and his wife are buried is engraved with the names of Beren and Lúthien.
Beren and Lúthien is pretty spendy, $16.99 for the Kindle edition.

Book Giveaway
Moron author naturalfake will be giving away 10 copies of his novel "Wearing the Cat - The Complete Novel" Volumes One and Two.
The Giveaway starts on June 4, 2017 and ends on July 4, 2017.
Each of the 10 winners decided as by Goodreads will receive the paperback version of the novel.
More details at the goodreads giveaway link.

Books By Morons
Another lurking moron author outed himself to me earlier this week. Dave Welch would like to let you know about his new novel, Chaos Quarter: Horde, which is the 3rd installment of his Chaos Quarter series. Dave says
The book is mostly action-adventure in a scifi setting. While it is not political, I do lean conservative-libertarian, and tend to write from that perspective, so I think there may be some stuff in there that other readers of Ace of Spades might find interesting.
Disgraced pilot Rex Vahl is tapped for a suicide mission: infiltrate an interplanetary power known only as the "Hegemony" and discover what hides behind their veil of secrecy. I like the description of the crew that is sent with him:
What does Rex have on his side? His co-pilot is a former prostitute with tiger-striped skin. His gunner is a traitorous ex-nobleman wanted by his countrymen. His engineer is a laid-back cyborg exiled for asking one too many questions about God. Add in a woman genetically engineered to have no free will, and you get his motley crew.
Since this is the third book in the series, you should probably read the first two space operas first, starting with Chaos Quarter, and then the sequel, Chaos Quarter: Imperial Ambitions.

___________
Don't forget the AoSHQ reading group on Goodreads. It's meant to support horde writers and to talk about the great books that come up on the book thread. It's called AoSHQ Moron Horde and the link to it is here: https://www.goodreads.com/group/show/175335-aoshq-moron-horde.
___________
So that's all for this week. As always, book thread tips, suggestions, bribes, rumors, threats, and insults may be sent to OregonMuse, Proprietor, AoSHQ Book Thread, at the book thread e-mail address: aoshqbookthread, followed by the 'at' sign, and then 'G' mail, and then dot cee oh emm.
What have you all been reading this week? Hopefully something good, because, as you all know, life is too short to be reading lousy books.


posted by OregonMuse at
09:02 AM
|
Access Comments