« Memorial Day Thread
|
Main
|
Open Thread »
May 29, 2017
Memorial Day
Colonel Stanley Litowitz flew B-17s with the 8th Army Air Force, 96th Bomb Group, completing 27 missions in "Stingy" (pronounced sting-y) before moving on to other planes.
He crashed twice, once at Honington Repair Base...

I couldn't get my gear down and I crash-landed. It was smooth like baby's breath. I think it was 1944 and the Col. was with me. It was [B]F109s and F[w]190s. Fortunately no one was hurt
And once at his home base...
I got two engines out and I limped home and I landed at Snetterton Heath, my base.
Quite the braggart.
Colonel Litowitz loved to fly low-level training missions, and had a reputation as a "buzzer," mostly of the British, which got him an "Article 109" and docked $100 once. He also had a big heart, and after the war was a great friend and mentor to his first cousin, a young private stationed in Germany and then France. He would take this army private to the officers club to drink, and such was Litowitz's reputation that nobody would complain. Of course that may have been because his wife Marion (Mickey) was a rare beauty!
Colonel Litowitz had a massive stroke in 1978, but fought back to the point that he was driving again and visiting his cousin!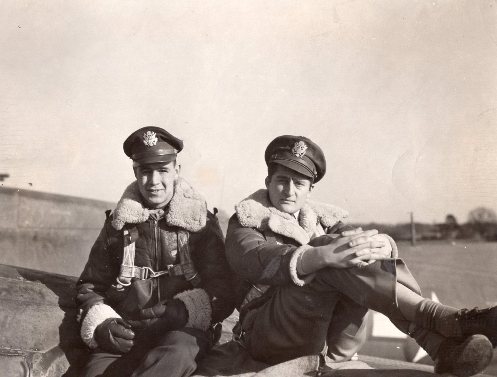 Left 1st Lt Richard F. Lemanski Pilot 42-31576
Right 2nd Lt. Stanley Litowitz Pilot 42-38193
Photo courtesy of American Air Museum In Britain
Colonel Litty (he shortened his name after the war) was buried at Arlington National Cemetery, next to his wife, on May 24th 2017.
That army private was my father.


posted by CBD at
03:22 PM
|
Access Comments