« Montana Election Post
|
Main
|
The Morning Report 5/26/17 »
May 25, 2017
Thursday Night's ONT Sucks
(Note: Montana election thread below)
I'm really in an IDGAF mood tonight because of a lot of things, so don't expect a lot out of the ONT, I just don't feel up to coming up with a theme or giving a lot of commentary. Lets start out with a language lesson: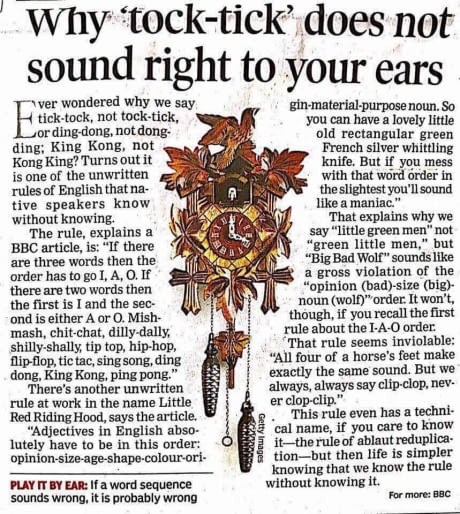 I don't know about y'all, but I find that kind of neat.
Cosmo Sucks

After the terrorist attack in Manchester this week, many people rose to the occasion magnificently, as people always do. Of particular note was how the Sikh community responded. Like this fellow: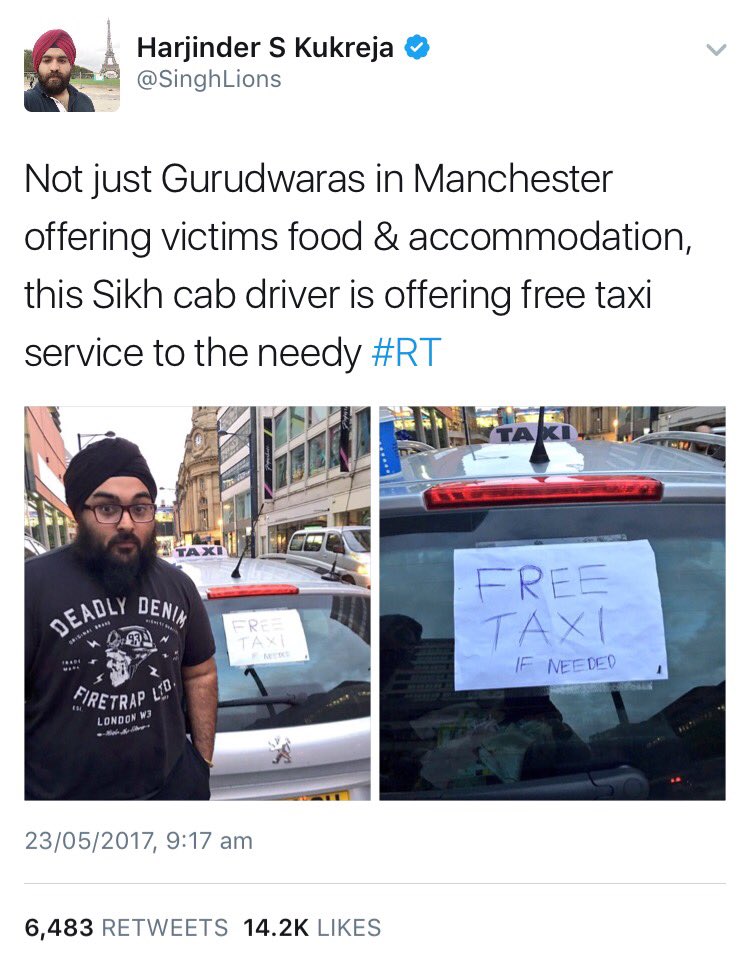 Of course, none of this is surprising, as the Sikh community has a long history of dealing with Muslim violence. Cosmo asks to use the photo in reporting the story stateside. Oh, that's nice, you might think, it's a good story, be some nice publicity for the Sikhs.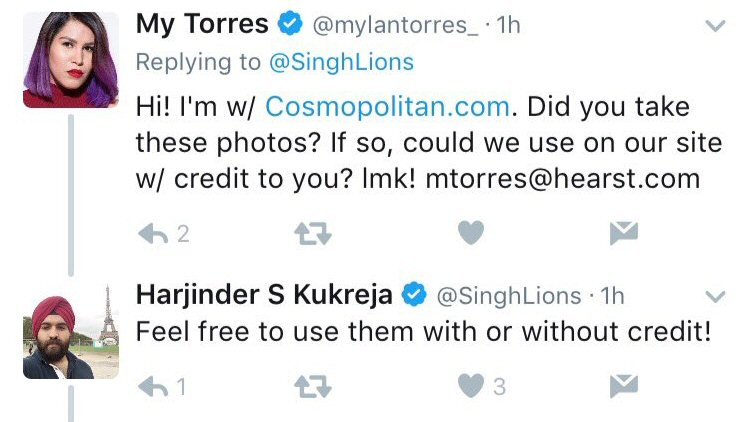 So Cosmo runs the story: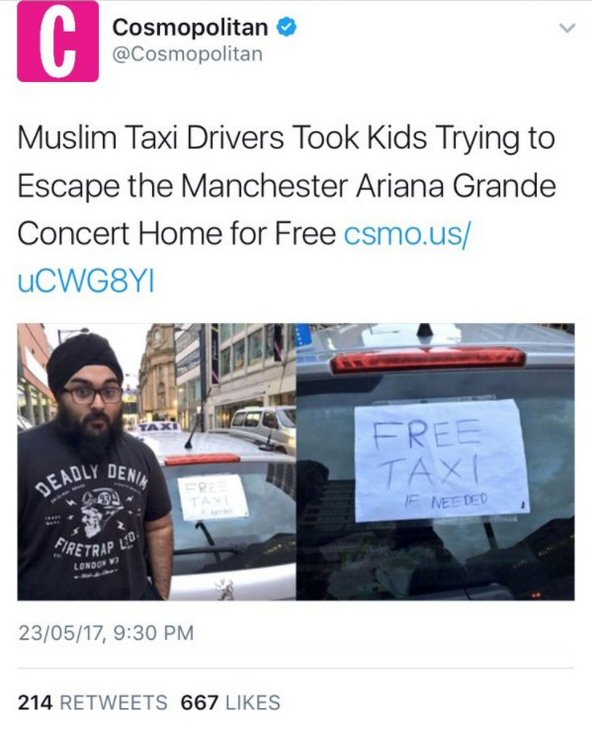 This isn't an accident, the driver was correctly identified in the source material. This is a deliberate LIE to feed a narrative. Fuck you Cosmo.

Democrats Suck
An inconvenient truth indeed, one that's real this time.

The Media Sucks
ABC Stabbed Tim Allen In The Back
Tim Allen's show was cancelled despite its being the second highest rated comedy on ABC. Why? Because it features generally conservative values. Now they are so determined to quash anything that doesn't go along with the narrative that they are willing to lose money to do it.
Silver lining:
See the update, it looks like Fox is going to pick up Last Man Standing, so score one for the good guys (and for serendipitous show titles).

Postmodernism Sucks
How French "Intellectuals" Ruined the West: Postmodernism and Its Impact, Explained
Hey, look, a theme seems to be developing! Is this another example of spontaneous order?

Washington Sucks

Why Everything You Think You Know About Foreign Policy Is Wrong: How Gladwellian Internet 'hot takes' fueled the new echo-chamber press that enabled Obama's foreign policy—and still rules Washington

The ONT's Theme Sucks

It certainly does. Enough with this already. What doesn't suck? Well, people suck, but dogs certainly don't, so here's a story that starts out sucky but has a happy ending:

Actually, People Don't Suck, People Are Amazing If They Get The Chance To Be
Why the human brain is our most precious commodity
Between 1960 and 2015, world population increased by 142 per cent, rising from 3.035 billion to 7.35 billion. During that time, average income per capita adjusted for inflation increased by 177 per cent, rising from $3,680 to $10,194. Moreover, after 56 years of human use and exploration, the vast majority of the commodities tracked by the World Bank are cheaper than they used to be – either absolutely or relative to income. That was not supposed to have happened.

According to conventional wisdom, population growth was to be a harbinger of poverty and famine. Yet, human beings, unlike other animals, innovate their way out of scarcity by increasing the supply of natural resources or developing substitutes for overused resources. Human ingenuity, in other words, is "the ultimate resource" that makes all other resources more plentiful.
Related:
The inconvenient truth about food banks: The rich are getting richer - and so are the poor
Seems to me there's a pithy saying in there somewhere. I dunno, maybe something about a rising tide....Hmmm, I'll think on it
Children Don't Suck
Watch until the end. Love the kid's reaction to the cheer.

Pecan Pie Doesn't Suck

And in Texas, they sell it in vending machines!
God bless Texas

North Korean Architecture Doesn't Suck
Actually, I bet that it does. Would you go up in a skyscraper built by slave labor? I wouldn't. Still, it is imposing in a Soviet kind of way.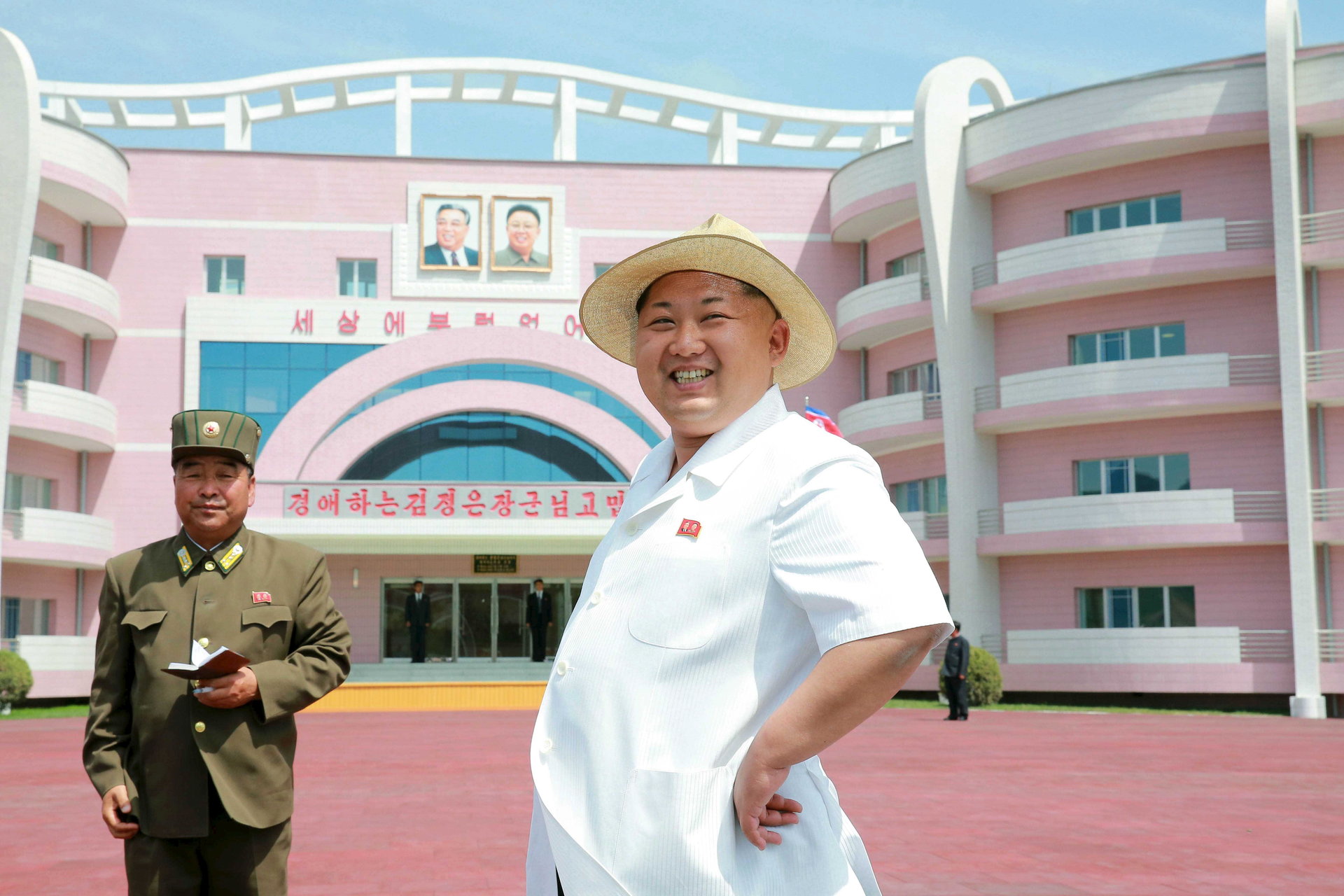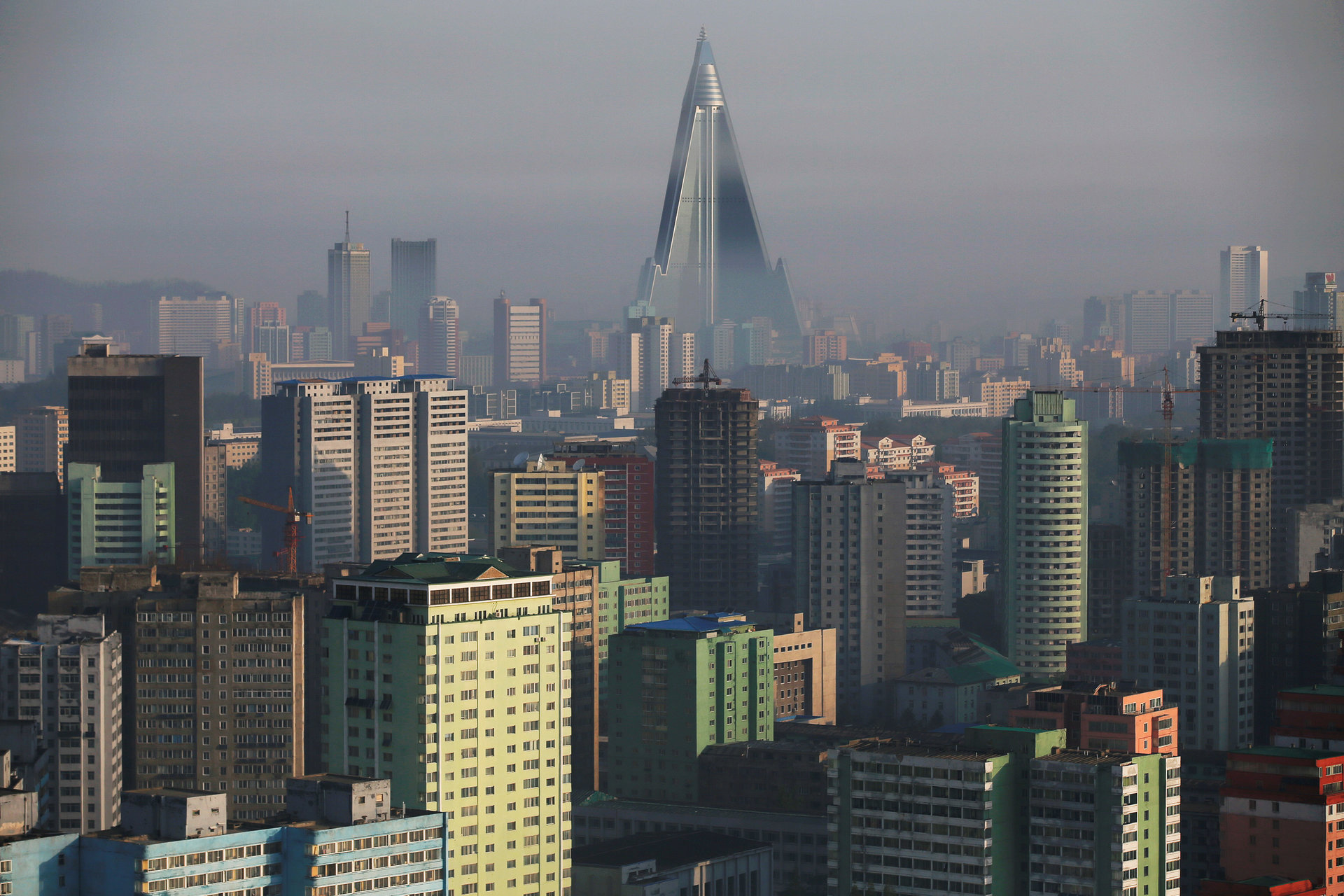 North Korea's obsession with huge, weird buildings
Mothers Don't Suck

Our Mothers as We Never Saw Them

It takes a long time before we can become comfortable with our parents as other adults, and even longer before they do the same to us. I don't know if the relationship ever equalizes completely, but when it does it is extremely rewarding. Still, it's weird looking through old photographs of my parents before I came on the scene. I have a picture of my dad as a young man riding a camel in Egypt as he traveled around the world. I can get intellectually that the young man in the picture is the same man, he certainly exhibits the essential himness that I know from him as a human being, but in that picture, he's not DAD, a figure that has filled (I want to say dominated, but without the negative connotation) such a large part of my life. I can't connect, there's no common frame of reference. Parents are people too. Weird, huh?

Fandom Doesn't Suck

It can be weird though. Man flushes his friend's ashes down ballpark toilets across the land
Speaking of fandom, this weekend is the lacrosse final four in Foxboro. My beloved Towson Tigers will be putting the spurs to Ohio State Saturday, and then (hopefully) crushing either Maryland or Denver on Monday. I'll be up there all weekend, if any Boston area Morons want to meet up drop me a line, my nic at gee, mail!, and we'll see what we can arrange.

Puns Don't Suck

The World's Punniest Humans Are Heading to Texas
This guy. Wow. I bow to the master.
Invective Doesn't Suck
It fuckin' blows!
The Very First Written Use of the F Word in English ( 1528 )
Not so fast, Luke, there is another. My sister? Your mother! AND the horse she rode in on!
Historian understood to have found first use of word f*** in 1310 English court case

We started with language, so lets end there with language. Tonight's ONT brought to you by frosting:
No, CHOCOLATE frosting:

The Yahoo Group doesn't suck.


posted by WeirdDave at
10:02 PM
|
Access Comments