« Thread below the Gardening Thread: Cows and the Alamo [KT]
|
Main
|
Ace of Spades Pet Thread »
May 27, 2017
Saturday Gardening Thread: The Horde before summer [KT]
Welcome to this week's AoSHQ Gardening Thread! Some great photos from The Horde are featured today, without much information on plants unless it comes from the photographers.
In a recent comment thread, Don included a link to a close-up of a Desert Bluebell, Phacelia campanularia, that he grew last year. "It did fairly well here in Kansas, blooming until midsummer, and it was very, very blue." Check out some of his flower photos in their original size. Inspiring. Go ahead. You won't regret it.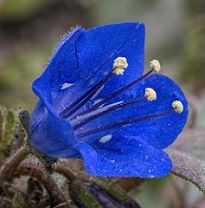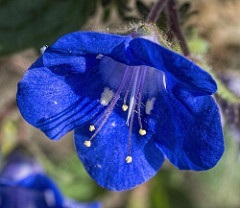 My thinker is moving at about sloth speed after faraway anonymous committees of experts deigned that my previously acceptable migraine medication regimen is no longer acceptable. Time will tell how well my brain adjusts to the change in meds. I will just say that I have not been at my best this week. So I have turned to The Horde for help.
KT's mind chasing an obvious point this week
Here is some superfluous, but interesting, information about sloths. In case you were thinking of going on an all-leaf diet.
To start out, here is one of Kindltot's beautiful nature photos from Oregon. "A fine reminder of why I love spring".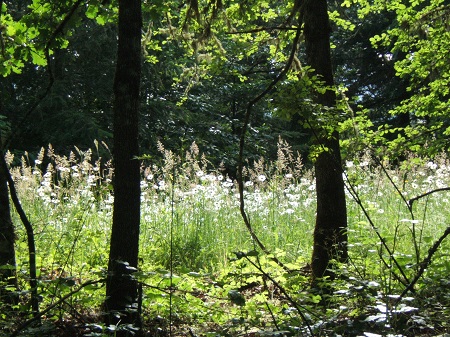 I love the color contrast and composition in Naughty Pine's photo, especially if it was accidental:
This is from my front yard aka The Garden Of Misfit Plants. This was a spindly tulip from an Easter arrangement a year ago and the crawling flowers come from a 75-cent leftovers at Lowe's. The violets are volunteers. The hosta? I moved it last year but must have missed some roots!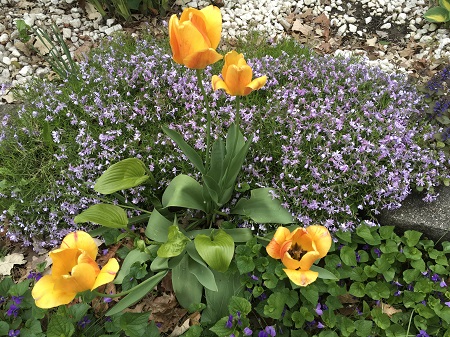 Budman wrote about the following two photos:
This is what I have to put up with every day from my office on the back patio.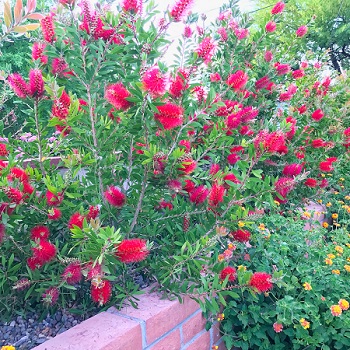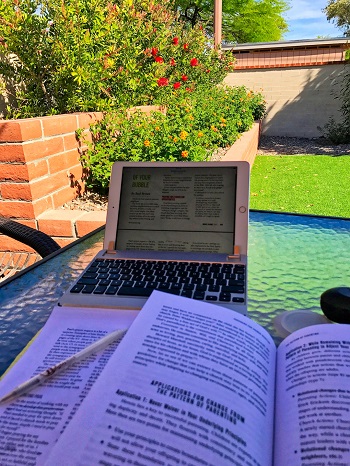 Wish the view from my office were that nice. I could stand to spend part of the Memorial Day Weekend there. How about you?
Lantana was a trooper during our drought, I will have more to say about the plants featured in Budman's garden later.
JQ Flyover included some links to photos of her Clematis vines. Here is her "nearly feral" C. montana along with some Dr. Ruppel. See more at the link. Wow.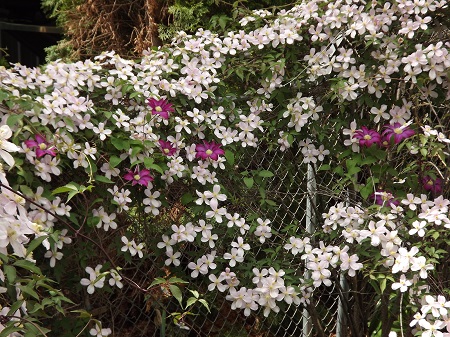 This is what my garden produce looked like about this time of year a few years ago. But somebody stole most of our apricots this year under the cover of darkness. Stripped two trees. Well, one (a true apricot) didn't have much fruit. The Aprium did. And the fruits were lush this year because of the cooler weather. Drat.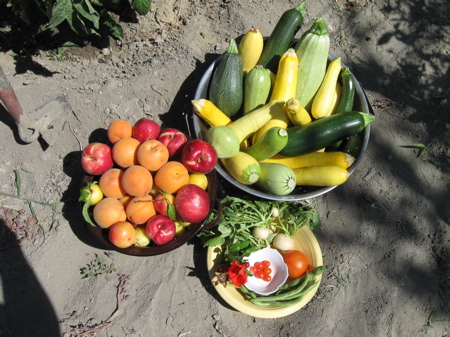 On the other hand, the Arctic Star Nectarines are still hard this year, probably also due to the cooler weather. Didn't get around to planting squash, green beans or turnips this year. Life got in the way. We have harvested a few really good cherry tomatoes, though. The pomegranates are blooming on schedule.
We're still thinning nectarines. Hard to thin enough the first time around. Looks like we didn't thin enough the year that photo was taken, either.
On the theme of contributions from The Horde, remember that you can check back to see late contributions to the comment threads here. There were some great late comments last week.
Anything going on in your garden?
California Girl (not CaliGirl) sent in the following Mystery Flower from a recent retreat in the California foothills. Care to take a stab at identifying it? The plants are about 3 inches high.
To be continued next week if all goes according to plan.
If you would like to send information and/or photos for the Saturday Gardening Thread, the address is:
ktinthegarden
at g mail dot com
Include your nic unless you want to be a lurker.


posted by Open Blogger at
12:10 PM
|
Access Comments