« EMT 05/28/2017
|
Main
|
Food Thread: Memorial Day Edition »
May 28, 2017
Sunday Morning Book Thread 05-28-2017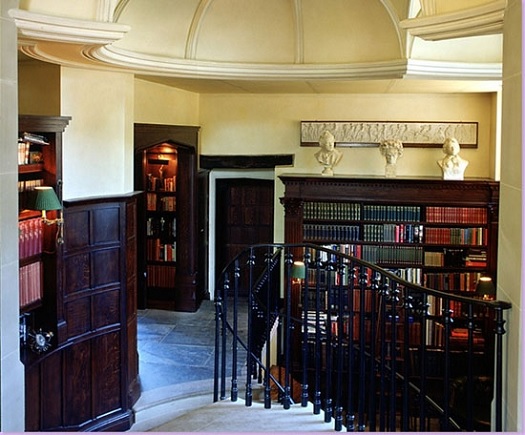 Sting's Personal Library, London
Good morning to all you 'rons, 'ettes, lurkers, and lurkettes. Welcome once again to the stately, prestigious, internationally acclaimed and high-class Sunday Morning Book Thread, where men are men, all the 'ettes are gorgeous, safe spaces are underneath your house and are used as protection against actual dangers, like natural disasters, or Literally Hitler, and special snowflakes do not last. And unlike other AoSHQ comment threads, the Sunday Morning Book Thread is so hoity-toity, pants are required. Even if it's these pants, and would you care to know that the guy in the yellow cap who's wearing those ugly pants is Justin Bieber? Yeah, me, neither.
"Buying books would be a good thing, if one could also buy the time to read them"
--Arthur Schopenhauer

The Universal Library
but according to this very lengthy Atlantic article, Google once planned a project to scan every book in the world:
Google's secret effort to scan every book in the world, codenamed "Project Ocean," began in earnest in 2002 when Larry Page and Marissa Mayer sat down in the office together with a 300-page book and a metronome. Page wanted to know how long it would take to scan more than a hundred-million books, so he started with one that was lying around. Using the metronome to keep a steady pace, he and Mayer paged through the book cover-to-cover. It took them 40 minutes.
OK, so the scanning process needed to be improved. And Page managed it, so Google was able to move forward with the project:
By 2004, Google had started scanning. In just over a decade, after making deals with Michigan, Harvard, Stanford, Oxford, the New York Public Library, and dozens of other library systems, the company, outpacing Page's prediction, had scanned about 25 million books. It cost them an estimated $400 million. It was a feat not just of technology but of logistics.
$400 million is serious coin. So what happened? Legal problems. A bunch of authors filed suit, claiming massive copyright violations:
Instead of asking for anyone's permission, Google had plundered libraries. This seemed obviously wrong: If you wanted to copy a book, you had to have the right to copy it—you had to have the damn copyright. Letting Google get away with the wholesale copying of every book in America struck them as setting a dangerous precedent, one that might well render their copyrights worthless. An advocacy group called the Authors Guild, and several book authors, filed a class action lawsuit against Google on behalf of everyone with a U.S. copyright interest in a book. (A group of publishers filed their own lawsuit but joined the Authors Guild class action shortly thereafter.)
I suppose it's hard to claim "fair use" when you're copying the entire book.
This piece has lots more about the Google case, and an interesting discussion about the history of the impact of technology on copyright protection - starting with the rolls of music used by player pianos.

It Pays To Increase Your Word Power®
A SLABBERMENT is a sloppy mess.
Usage:
The Republican Party is a SLABBERMENT.
Maxine Waters' hair is a SLABBERMENT.
Ace's knees after a martial arts bout are a SLABBERMENT.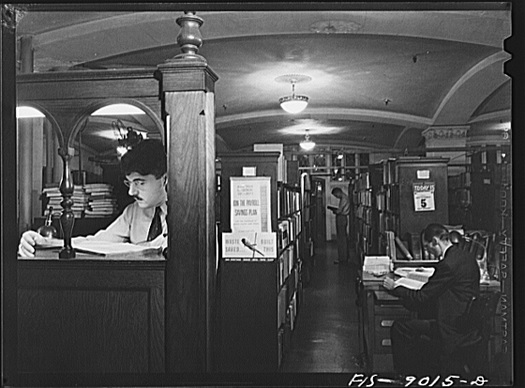 Library of the New York Times, 1942
Not shown: Walter Duranty's Pulitzer Prize
Pic Note
H/T to The Political Hat who found it in a photographic essay, A Day In The Life Of The New York Times – September 10 1942. Those were the days when it was easier to pretend that the NY Times was an actual newspaper, rather than a left-wing bullhorn. You should go over there and scroll through the other vintage photos, they're quite interesting. Being a radio geek, I especially liked the photo of the radio room. I don't recognize the receiver the op is using, it looks kind of home-brew. Also, I wonder if there are any newspaper employment opportunities today where knowledge of Morse Code is a job requirement?

Well, Dangle My Modifier
"Laughing merrily, the cake was cut."
I've always remembered this example of a dangling something-or-other (participle? participial phrase?) from a lecture in an English class many years ago. To emphasize the point, the teacher displayed a silly drawing of a laughing cake that was being sliced in half.
Here's a list that claims to be The best misplaced and dangling modifiers of all time. Not all of them are good, but there are a couple of gems here:
"With his tail held high, my father led his prize poodle around the arena."
"I saw the dead dog driving down the interstate."
(h/t FenelonSpoke)

Book Sales
Every now and then, your local library, or other liberaries close by, will have a book sale to raise money for this or that. Frequently, you can get great deals on old books. This week, I stumbled on a site, BookSaleFinder.com, that collects information on book sales all over the country and makes it available. Just click on your state on the main page to find out the dates of book sales in your state.

Books By Morons
The fourth installment of moronette author Sgt. Mom's Luna City Series, entitled, appropriately, Luna City IV (The Chronicles of Luna City Book 4), available on Kindle, has now been published in a paperback edition:
Welcome to Luna City, Karnes County, Texas … Population 2,455, counting a new arrival from Alaska. Change is in the wind, what with plans for an expansion of the neighboring Mills Farm spa and resort by the corporation which owns it. Meanwhile, a catastrophic fire has forever altered the appearance of the Age of Aquarius Camp Ground and Goat farm, where former celebrity chef, Richard Astor-Hall (previously known as Rich Hall, the Bad Boy Chef) – still on the run from his former life – is wrestling with his commitment to the community as a member of the Luna City Volunteer Fire Department… and his attraction to Miss Kate Heisel, the star reporter for the Karnesville Daily Beacon. Drastic changes are in store for many other Lunaites as well, in this fourth installation of the Chronicles of Luna City.

___________
New moron author Patrick Leigh has just published his first book, a flintlock fantasy novella entitled Perdita Nightshade: An Errand in Kraken Cove:
When you're a Half-Orc living in a world of prejudiced Humans, Elves, and other beings, everyday tasks like shopping can become immense challenges... and Perdita Nightshade always did love a challenge. But she's not just another brooding Half-Orc with a chip on her shoulder. She's learned what it takes to overcome others' preconceptions about people like her. Perdita's got a rapier wit, impeccable fashion sense, a whole repertoire of smiles, and good, old-fashioned sex appeal at her disposal. And fortunately, you can find just about everything in Kraken Cove, a prosperous harbor on the frontier continent of Arcadia. Unfortunately, you can find all kinds of trouble. Perdita's no stranger to trouble, though, and she can give as good as she gets, using her arsenal of guns, knives, swords, and even a few spells.

Join Perdita Nightshade in this flint-lock fantasy as she outfits herself and executes a personal vendetta – with potentially world-changing ramifications. In the process, she will make new friends, encounter ruthless enemies, and even draw the attention of a few divine entities.
Kindle price $2.99.

___________
Alec Lloyd, another new moron author e-mailed me yesterday to tell me:
I've got a few books the 'rons may be interested in. I just published "Rise of the Alliance," the second book in a four-book series. The first book is "A Man of Destiny." If I can get the gizmos to work properly, "A Man of Destiny" will be a FREE DOWNLOAD starting on Thursday to help folks catch up.
A Man of Destiny is the first of a projected four book science fiction adventure series:
While the leaders of four thousand settled planets bicker amongst themselves, the frontier worlds threaten open rebellion. The only thing the politicians can agree on is that Maxim Darius must never become Premier. With the help of a renegade knight and a smuggler-turned-mercenary, Darius will stun them all.
The sequel is Rise of the Alliance.
Lloyd has written another novel, Scorpion's Pass: A Tale of Love and War, that looks interesting:
Miss Elizabeth Woodley had never thought seriously about marriage until the dashing Marine Captain Cedric Forrester swept her off her feet. No sooner had she caught her breath than the powerful Lord William Higsby made his own offer for her hand. Now Elizabeth must make a fateful decision that will determine her happiness and the status of her family as well. Little does she know that the fate of all three will be determined in the bloody valley known as Scorpion's Pass. A.H. Lloyd's imaginative second novel, Scorpion's Pass sets the society and culture of Regency England against a backdrop of desert-roaming warships and mysterious not-quite-human savages. A blend of the historical and fantastic, Scorpion's Pass is a tale of love and honor in a time of war.
The Kindle edition is $2.99.

___________
Don't forget the AoSHQ reading group on Goodreads. It's meant to support horde writers and to talk about the great books that come up on the book thread. It's called AoSHQ Moron Horde and the link to it is here: https://www.goodreads.com/group/show/175335-aoshq-moron-horde.
___________
So that's all for this week. As always, book thread tips, suggestions, bribes, rumors, threats, and insults may be sent to OregonMuse, Proprietor, AoSHQ Book Thread, at the book thread e-mail address: aoshqbookthread, followed by the 'at' sign, and then 'G' mail, and then dot cee oh emm.
What have you all been reading this week? Hopefully something good, because, as you all know, life is too short to be reading lousy books.

posted by OregonMuse at
09:00 AM
|
Access Comments