« Saturday Morning Weird News Dump
|
Main
|
Saturday Gardening Thread: Get Away! [KT] »
May 20, 2017
NOT the Gardening Thread: Squirrel! [KT]
Serving your mid-day open thread needs
Los Angeles Basin, 1920: Douglas Fairbanks plays the part of Zorro ("Fox" in Spanish). Zorro will continue for several decades to defend commoners against tyrannical government agents, with flair.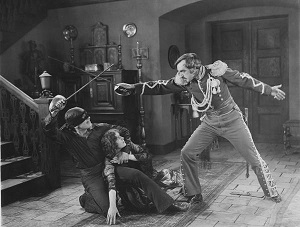 Zorro
Los Angeles Basin, 2017: Government agent defends fox squirrels against gendered, racialized, and speciesist thinking.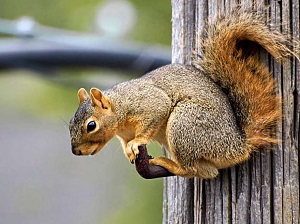 (Sort of) Zorro-like squirrel
From the link below the photo, a few samples of the horribly prejudiced language describing these squirrels in the popular press. From the Bay Area, no less:
Our native western gray squirrel, an elegant steel-gray creature, won't beg for peanuts in the park and shuns human company. To fill the squirrel gap, various people at various times introduced eastern fox and eastern gray squirrels.

Fox squirrels were most likely brought in for companionship rather than as a food source, despite the long tradition of squirrel cuisine back East. Apart from the classic Brunswick stew of the Southeast, we have a friend whose French Canadian grandmother was renowned for her squirrel-stomach pie (best prepared in the fall, during the nut harvest.) . . .

Why have they been so successful? Eastern fox squirrels produce two litters a year, compared with one for the western gray. They're more tolerant of open areas, including parks and suburbs. And they have a much broader diet, including such improbable items as eucalyptus pods. They'll also raid nests for eggs and young birds.
In the Los Angeles area, the Eastern Fox Squirrel seems to be frequently associated in the press with scattered trash. Far away in Australia, Tim Blair noticed this important academic paper coming out of Cal Poly Pomona:
Californian academic Teresa Lloro-Bidart - official faculty advisor to "Liberal Studies Students with Last Names from Ri-Z" - considers the crucial eastern fox squirrel situation in Los Angeles.

Obviously, since we're talking about garbage-harvesting lower mammals here, this necessarily involves many extremely complicated feminist posthumanist theories . . .
It alarms me that this paper was apparently written by someone from the
College of Education and Integrative Studies.
Given that the shift in tree squirrel demographics is a relatively recent phenomenon, this case presents a unique opportunity to question and re-theorize the ontological given of 'otherness' that manifests, in part, through a politics whereby animal food choices '[come] to stand in for both compliance and resistance to the dominant forces in [human] culture'.
This is someone with responsibility for teaching and advising future educators and integrators? The sentence above makes me want to see public universities plagued by squirrels and other electrical insulation-chewing and garbage-strewing wildlife. Help kids find somewhere better, and cheaper, to learn about life.
If you read J.J. Sefton's links last week, you might have noticed the following passage from Daniel Greenfield:
Snowflakes. Oversensitive. We've all heard those accusations leveled at college students. Are millennial college students really an oversensitive generation? Or are they right to be oversensitive.

Two types of people are sensitive; the entitled and the endangered. It's reasonable to be paranoid about subtle social nuances if you live in a totalitarian state where the wrong word or look will be punished. Where someone is always watching for even the most minor acts of political incorrectness.

College students are afraid. And they should be.
It wasn't long ago that leftist environmentalists were denouncing all human-aided movement of invasive species like the Eastern Fox Squirrel. Who wouldn't be afraid when the intellectual mob in control of your academic environment suddenly moves on to feminist posthumanist support of the squirrel invasion? Who knows what direction posthumanism could take next?
Random forms of subversion against posthumanist feminism
Maybe you could take an almost-college-age kid with you when you Take a Vet Fishing. Some kids could use a break from the classroom and the video screen.
Or perhaps you could keep writing like this:
The North American woods are not inhabited by monkeys but we do have squirrels. And like their primate counterparts; they're very agile, curious and they'll wreck havoc on the artifacts that have come to define modern American life; roof eves, electrical insulation, gardens and birdfeeders. . .
And somehow, I don't think that distracting squirrels with sex is exactly the solution that The Academy currently prefers to address the problem of highly-gendered squirrel journalism.
You could point out that there are black squirrels in the East, too. Natural variants of Eastern Gray Squirrels. Haverford College has a "pristine performance comedy group" called Her Majesty's Black Squirrels. They bring fake speakers to campus, do fake art exhibits, etc. Why not follow suit, without university sponsorship? Could be fun.
I also noticed that in the Spanish translation of the academic abstract which is the primary subject of this post, "the fox squirrels" are "las ardillas zorro". Why not "zorra" or "zorras"? It's complicated. But it might have something to do with slut-shaming female foxes in certain countries. Think of the academic trouble you could stir up by becoming indignant over differences in gendered animal names in various countries.
Bonus language note: Best Spanish translation of accountability.
NOTE:
This thread originated as a tangent from the Gardening Thread. There is also squirrel-related content in the upcoming Gardening Thread. But most of it is more practical, I think. Hope this doesn't confuse anybody.
Have a great weekend.

posted by Open Blogger at
11:07 AM
|
Access Comments