« Kentucky Derby Thread
|
Main
|
Overnight Open Thread (6 May 2017) »
May 06, 2017
Saturday Evening Movie Thread 05-06-2017 [Hosted By: TheJamesMadison]
Unpopular Opinions: Part 1
So, we all have seen a bunch of movies, and we all have our opinions. Most of the time when there's a consensus on a movie I tend to agree with it, in large part, but there are exceptions. There's the movie that everyone falls over themselves to love and the movie that everyone throws hate at with reckless abandon, and then us, on the side, meekly raising our hands saying, "I liked it!" or "I hated it!"
Today, we'll deal with those where we are in the minority of the crowd that liked the movies that everyone else seemed to hate. Next week, we'll do the opposite and talk about the movies that we hate that everyone else seems to love.

Definitions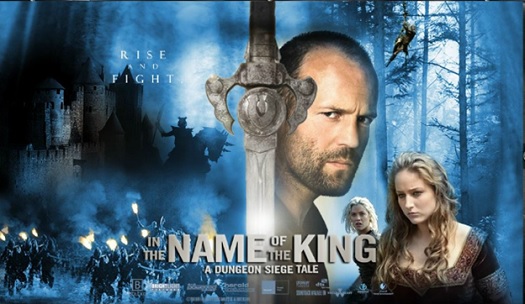 We don't need to be too strict here, but I think it'll help if in each circumstance we're talking about which consensus and whether there actually is one or not. So, there are a few groups to think of when saying whether "everyone" hated a movie.
1) Critics - Obviously, this is going to be part of the equation
2) Audiences - Using something like IMDB to gauge this would be helpful
3) Our own perception - "Everyone seems to hate it"
Unless we're talking about Uwe Boll movies, I'm not sure if we'll find a real consensus across all three for a whole lot of movies in general, much less with movies that we individually like (or you could have tastes similar to Red Letter Media and love actually terrible movies like Samurai Cop simply because they are so uniquely terrible). And that would be fine. That's the sort of thing that we're looking for, but only part.
We also want to find those movies where you think that other people have simply misjudged a movie for some reason. They "missed the point", or got distracted by something we consider unimportant (think of the 4 elements of narrative and their priorities for different people). My two examples below are of this latter variety.
Conan The Barbarian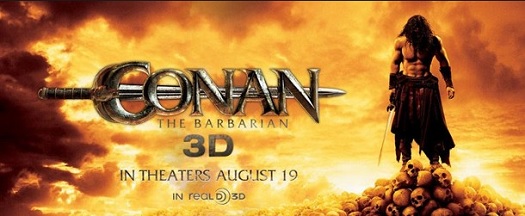 No, not the John Milius movie with Arnold, but the one from a few years ago. This is a minor example because I don't actually think the movie is good, but I've never had a conversation with someone who thinks that it's anything other than terrible. When I do get talking about this movie, which I think is okay (not recommendation worthy, but also not condemnation worthy), I find myself slowly arguing that the movie is better and better than I actually think it is.
Critics didn't like it either. Red Letter Media, my go-to for modern movies, was completely dismissive of it. And yet, I still, every once in a while, turn it on and enjoy it for the bad guy (played wonderfully by Stephen Lang), Rose McGowan's campy bad girl performance, Jason Momoa's solid performance as Conan, and the weird black magic elements that seem very reminiscent of the original Robert E. Howard stories.

Prometheus



Critics generally liked Prometheus. It's got a 70% on Rotten Tomatoes and my main man, Roger Ebert, gave the movie 4 stars, but it seems to be difficult to find people in the real world who actually liked the movie. My dad and brother both hated it and sort of hate me for encouraging them to see it. I've yet to find anyone at the Horde who will defend the movie with any sort of conviction. Most of my real world friends who have seen it are fairly "Meh" on the movie, and yet I love it completely. I've seen it half a dozen times. I bought the 3D Blu Ray the day it was released. I absolutely love it.
I think that the disconnect between me and many people in regards to Prometheus is in regards to character actions that people (including Ace) find unfitting to the situation. Ace, in his own way , phrased this as the movie incorrectly what he called the Institutional Phase of space travel. He wrote that because this was the early stage of space travel, there should have been very stringent screenings around everyone involved, filtering out any potential loose cannons from the crew. I, however, disagree. I think that a mysterious mission that its sole, private, funder put together without telling any of the crew where they were going to why would have trouble getting those sorts of level headed personalities who were also experts in their fields to agree on a 5-year (2+ there and 2+ back) journey into deep space. With that in mind, the idea of not quite the best, but certainly very good, scientists who make radical and extreme choices (like going on a 5-year journey into deep space without knowing where or why they were going) would make not purely "scientific" choices on the fly does not seem extreme to me.
Looking at the movie that way, suddenly a biologist who doesn't act like he knows he's in a horror movie when he sees a new creature isn't really a problem. A mohawked geologist who freaks out at ancient dead alien bodies seems within reason. An archaeologist who sees that there's an oxygen environment and takes off his helmet even though they're in alien tunnels seems like it might be something that he would do. In other words, none of these things that bother other people bother me at all, and I'm able to love the movie for it.

That Being Said
I don't have a larger point here (thank God), except to ask the rest of you what are those movies that you love or even just like that it at least seems like the rest of the world detests?

Revisiting on Older Post
My mother reads the HQ, and these posts. As far as I know she never comments, but she is the one who introduced me to Ace of Spades early in 2009. She sent me a response to the post about Excitement and I asked her if I could share her response here.
Two points:

1) What irritates me most about all of that ...Reaction Industry, I guess...is that a fan is not anticipating a spontaneous work of art...they are anticipating a commercial product that's been made with full self-consciousness of a commercial product, and with all that that entails. It's like these people are willing prisoners.

2) The yearning for an experience of absorption/excitement/elevation is one that I find reflected, for me, not with movies, but with books - when you grow up as a reader, and you remember those days of just sitting, for hours, absorbed in a book and in thrall to its world, and if it is a series, being able to look forward to the next one...that's a feeling that usually gets lost in adulthood. Perhaps not for genre readers? I don't know. But whether it be because of maturity or time or just the different nature of the books one reads as an adult, it's a feeling I miss. Once in a while I do rediscover it, and in the oddest places. I started reading Wilkie Collins a couple of years ago and found myself in that - can't put it down - mode again, and sometimes Trollope takes me there, too. But I'm always looking.

Movies of Today
Opening in Theaters:
Guardians of the Galaxy Vol. 2
Next in my Netflix Queue:
Cop Out
Movies I Saw This Week:
You Don't Mess With the Zohan (Netflix Rating 3/5 | Quality Rating 2/4) Poster Blurb: "One of Adam Sandler's best movies, and yet still not very good."
X: The Man with the X-Ray Eyes (Netflix Rating 3/5 | Quality Rating 2/4) "It's final moments almost save the movie. Almost."
Swiss Army Man (Netflix Rating 2/5 | Quality Rating 1.5/4) "I so wanted to like this, but it's weirdness becomes off-putting without any real payoff."
The Apartment [Rewatch] (Netflix Rating 5/5 | Quality Rating 4/4) "A great classic. Touching and cynical in just the right amounts."
Starsky & Hutch (Netflix Rating 3/5 | Quality Rating 2/4) "Meh. Pretty funny at times, I guess."
Mr. Holmes (Netflix Rating 3/5 | Quality Rating 2.5/4) "Diluted, unfocused, and broken narrative undermine a fine performance from McKellen."
Fantastic Beasts and Where to Find Them (Netflix Rating 2/5 | Quality Rating 1.5/4) "A mess of a movie that's more concerned with starting a franchise than telling a story."
Contact
Email any suggestions or questions to thejamesmadison.aos at symbol gmail dot com.

posted by OregonMuse at
08:23 PM
|
Access Comments